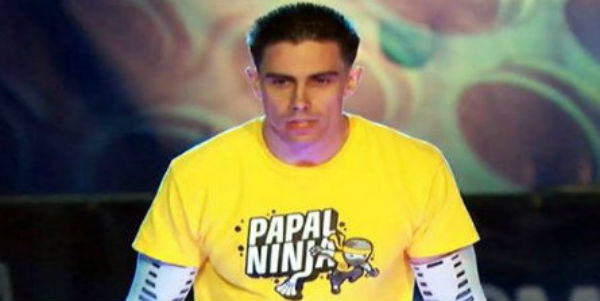 Network TV is one of the biggest platforms to talk from the heart about the Faith — provided you're allowed to do it. Fortunately, the producers of NBC's obstacle-course competition show "America Ninja Warrior" allow the contestants to be who they are — and if that's people of faith, so be it.
And when the show returns on Monday, July 11, with the Los Angeles City Finals, at least two devout Catholics — Sean Bryan and Joe Moravsky — will be competing to move to the next step on the way to the giant Las Vegas finals course called Mount Midoriyama.
If you're just catching up on "American Ninja Warrior," here are some highlights from the show so far:
By the way, also this season there was rabbinical student Akiva Neuman, the "Rabbi Ninja," who competed in a kippa and a tzitzit. He didn't make it past the qualifier, but he showed that being a serious student of the Torah — along with a husband and father — can still leave time for keeping in shape.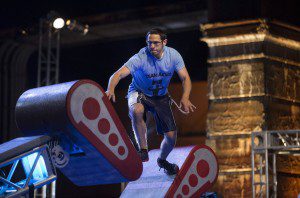 First up on the City Finals' Team Catholic is a veteran competitor, "Ninja Weatherman" Joe Moravsky from Connecticut. I did an email interview with him for the Faith and Family Blog from Catholic apostolate/production company Family Theater Productions, where I am Social Media Manager. Click here for the whole thing, but here's a taste:
Is there a connection between athletic discipline and the Faith?

I believe there is a link between athletic discipline and Faith. I always trust in God to provide the path for me … and my job is to be open to any changes (even if I might not like them). It's hard but it's important.

It says in your Twitter bio that God is #1 — how does that play out in daily life?

"God is #1″ is important because it's a reminder for me (and my fans) to put God first … especially in times of need!

Not everyone can be a Ninja Warrior, but how can watching the show have a positive impact on people's lives?

You're right, not everyone can be a Ninja Warrior … but that's because everyone has their own individual strengths, goals, and physical/mental abilities. BUT, watching the show is a good reminder to never give up on your dreams and goals… and no reason to not do something is too great to stop you.
In the same blog, I also previously profiled Sean Bryan, the "Papal Ninja," who rounds out Team Catholic for the City Finals. Her's how he describes himself on his Facebook page:
Cal Physics GYMNAST turned NINJA with an MA in Theology. Dominican by education & Salesian at heart. Works to animate the sleeping giant of Catholic laity.
And here's how he's described at LayMission.net:
Curriculum Team,Development Team,Project Director

Sean is the Lay Mission Project Director and curriculum team member. Sean received his bachelor's of arts degree at UC Berkeley, where he studies physics and was on the men's gymnastics team. After graduation, he spent four years in various Salesian ministerial settings while discerning his vocation. In 2015 Sean completed his Master of Arts in Theology with a Salesian Studies concentration at the Dominican School of Phillosophy & Theology. His Masters thesis analyzed the ecclesiology inherent to documents of the Second Vatican Council, and proposes the Scriptural notion of liturgy as an interpretive lens that elucidates the relationship between formal ritual worship and its integrated expression in everyday life. His exploration led to practical applications geared toward the animation of the faithful, including the Lay Mission Project itself.

Sean is also known for his participation in the NBC show American Ninja Warrior, where he has taken on the identity of the Papal Ninja, stealthily accomplishing the mission of the One who sent him on a mission to the secular realm.

#PapalNinja
Here's a quick look at him in action:
I reached out to Bryan to ask if he also wanted to do an email interview, and he responded with detailed and thoughtful answers to my questions. It's a must-read.
If you don't mind telling us, what led you toward the priesthood in the first place? How did you discern it wasn't for you?
I recall, when I was a young boy, seeing the priest during the elevation at Mass, and often getting a sense of awe, not just at the Eucharist, but also by the mere fact that a human was involved in this mysterious and phenomenal event. I saw priests as special, but with that came the perception that they are people to whom I couldn't relate.
When I was in high school at Seton Hall Prep, I encountered several priests who made me realize they are normal people who happen to have really special jobs. One of these priests was chaplain for my brother's wrestling team, and I would often talk to him during the matches. I felt comfortable around him and asked him questions about the Faith and about life. I thought that my often cynical questions would shut him down, but he actually encouraged me to keep at it because I was "asking the right questions."
When I went to college across the country, I was surprised to see that he continued to accompany me throughout my faith journey, primarily through writing. He encouraged me to go on a retreat. This led to a series of events which led to being on the student ministry team at the Newman Center. My experience as a student minister at Cal gave me an understanding of my own spiritual gifts, and put me on the track of vocational discernment.
At the time, I knew – in theory at least – of the importance of the role of the laity in the Church, but I certainly did not understand nor appreciate it much. On top of all that, I knew God was calling me to explore further, and my faith told me that even if the priesthood wasn't right for me, that God wanted me to go down a path of exploration.
After taking my whole senior year to explore different religious orders, such as the Dominicans, Jesuits, Franciscans, as well as a few dioceses, I decided to go with the Salesians because of how their spirituality resonated with me.
I entered into their formation program; I lived with them, prayed with them, and ministered with them in several different works for the next four years. Although I became even more convinced that this spirituality was for me, there were several things that didn't quite sit well inside. I wasn't quite sure what to make of it and went through a difficult few months to figure out how to let go because I felt so invested.
I made somewhat of a leap of faith and left formation to pursue a Masters of Arts in Theology at the Dominican School of Philosophy & Theology. While I was there, I was able to better see, understand, and appreciate the lay role in the Church more profoundly. I began to appreciate my spiritual gifts to a greater degree, and recognized them truly as God-given, and that these gifts were bestowed on me not for myself, but as a gift meant to be given to others. I was able to get out of my own way and simply trust.
I realized that the Lord has not and will not abandon me, in spite of my weaknesses. I became acutely aware of God's providential care throughout my life, and was able to take my discernment day-by-day, still planning for the future, but letting go of some level of control. It was then that I realized the Lord was calling me to a particular place and to function as a layperson in a particular way.
But you know what they say, the best way to make God laugh is to tell him your plans.
You said you came back to your faith in college — which is when a lot of people lose theirs. How did that happen?
For many, college years seem to be a time of exploration. It's a privileged time in the lives of young adults when they're often learning how to be an adult. As such, they are often open to new experiences and ideas. It's a time where passions are excited for better and for worse.
I chalk it up to providence and the movement of the Spirit in my life which kept me on the right track. While I was on the student ministry team at Cal, I had the blessing of being able to walk with so many other students during this pivotal time of human growth. I had a privileged place in their spiritual journey, which gave me perspective on my own.
Although it's not a good idea to go into ministry for one's own sake, I can say through experience that the minister is often just as much of a recipient of God's love as the one to whom he or she ministers, and that's what kept me focused on my faith life.
As a young man, what do you want to say to other young Catholic men about the importance of practicing the Faith?
I can give all sorts of general advice that won't necessarily speak to all young men, nor help them in their particular circumstances. Sure it would help a few out, but even better is the Word of God, which is living and effective, and sharper than a two-edged sword (see Heb 4:12). It will speak to your heart, and guide you, and you will encounter our Lord in his Word.
So the best advice I can give with respect to personal devotions is to READ SCRIPTURE! Read it, and contemplate it. Study it, and know that the Lord is inviting you to know him intimately through it.
My experience has led me to be a strong believer in Bible roulette – you know, when you're in a moment of crisis, or confusion, or hope, and you get the crazy idea to flip through the pages of the Bible and read whatever passage you finger stops at.
In spite of the fact that I have experienced more than a few powerful moments of grace in that "game," I wouldn't recommend it as a regular practice, nor would I recommend cathartically choosing a Scripture passage that seems fitting for you in the moment.
No, regularly read scripture! Read it systematically, or simply choose one of the readings from the Sunday liturgy, or of the liturgy of the day. The Lord will speak to you, and the more you do this, the more you will find the Word with you throughout the day!
For good resource on how to pray with scripture in the style of Lectio Divina, that works for the average busy-person, check out the Lay Mission Project's how-to:
We don't really have a developed Catholic system of physical conditioning — like Tai Chi or martial arts. If you were to develop one, what would it be?
I'm not so sure we need one of our own, so I wouldn't try to develop one from scratch. Instead, if I were asked to develop one, I would probably prefer to develop a way to integrate Catholic tradition into another physical conditioning discipline.
For me, it's enough to recognize that our bodies are temples of the Holy Spirit (see 1 Cor 6:19-20), and that anything we do for the benefit of our bodies — especially if done with intention — works toward strengthening its walls, and can be an act of devotion in-itself.
What is the benefit to the spiritual life of athletic endeavor?
In spite of the long-standing "mind-brain" debate that continues among psychologists, theologians, philosophers, and physicians (among others) – which I have no intention of delving into in this interview – there seems to be an intricate connection between the spiritual with the psychological, the psychological with the physiological, and the physiological with movement, and therefore exercise and athletic endeavor.
Although I am not an expert in neither psychology nor physiology, through experience I find that there is an intricate connection between the two – and perhaps that's one way of approaching the interface between athletic endeavor and the spiritual life.
Simply put: as humans, we are both spiritual and physical beings, and although we often have a tendency to treat these things separately, it's important that we recognize that our spiritual condition often effects our physical well-being, and our physical condition affects our spiritual well-being.
You're the Papal Ninja — why did you choose a name that sets such a high bar?
I like to think of the name Papal Ninja as more of a description rather than a title. As a title, it would be quite a high bar, but I guess – in a way – it keeps me accountable. But "papal ninja" as a description seems quite fitting for what I do.
My work with the Dominicans in animating the Lay Mission Project has deepened my appreciation for the role of the laity in the mission of the Church – to be leaven for the world, as Lumen Gentium encourages:
[Lay people] seek the kingdom of God by engaging in temporal affairs and by ordering them according to the plan of God. They live in the world, that is, in each and in all of the secular professions and occupations. They live in the ordinary circumstances of family and social life, from which the very web of their existence is woven. They are called there by God that by exercising their proper function and led by the spirit of the Gospel they may work for the sanctification of the world from within as a leaven. In this way they may make Christ known to others, especially by the testimony of a life resplendent in faith, hope and charity. (LG, 31)
In this way, I see the role of all laypeople as that of a papal ninja.
In an analogical sense, think of what a ninja is: a gifted person who stealthily helps to accomplish the mission of the one who sent him. Laypeople are likewise called by Christ to partake in the
secular mission of His Church by using their gifts to "work for the sanctification of the world from within as a leaven." As such, I am called to simply be myself, and live out the Gospel faithfully in the "ordinary circumstances" of my life, which in this particular case includes trying my best to witness the faith quite publicly.
Personally, I like being behind the camera (filming and editing), but the words of John the Baptist are encouraging, so long as I take them to heart, "I must decrease, that he may increase" (Jn 3:30).
Paradoxically – which is often the case with our Lord – in this situation my decreasing involves being on broadcast television, and growing beyond the discomfort for the sake of my calling, so that He may increase.
Have you heard from your bishop, a cardinal … or the pope?
Since the show aired, I have been getting quite a bit of unexpected recognition on the street, and the various gyms I go to, as well as at mass or other events in the Christian community. I have reconnected with young people to whom I once ministered while in formation with the Salesians, and have received feedback from lay people as well as the hierarchy of the Church.
But to answer your question more directly, I have heard from my Bishop since I frequently serve as his Master of Ceremonies, but I have not yet heard from any cardinals or the pope. If I heard from Pope Francis, it would certainly be quite a memorable and motivating encounter, and to be honest, it would be something I would cherish.
However, when I stop for a moment and recognize the extraordinary encounter always available to us in the Sacraments, most especially the Eucharist and Reconciliation, there is no comparison.
What do you want people to know about your brothers in religious life and the priesthood?
Know that they are ordinary people who live in an extraordinary manor. Although they strive for perfection, like all humans, they are week. Their extraordinary lifestyle brings some amazing spiritual perks, but also offers unique sorts of trials, temptations, and struggles.
And through all of this, they have quite literally given their lives for you. They pray for you, make themselves available far beyond the expectations of a full-time job, they take on your cares and struggles, and want nothing more than to see you flourish. Be gentle with them, be understanding with them, and love them as if they were a parent or sibling, especially if or when it's difficult to do so.
At the same time, help them to understand your commitments, your faith life, your joys and your struggles. They not only love to celebrate your success and happiness, but they need to also know of your competencies, and your knowledge. Since their role is primarily the care of the community of the baptized – including the governance of the Church – your life, experience, and knowledge of secular things is vital to their ordering of ecclesial affairs.
On top of all that, pray for them, let them know of your appreciation for them, and share your faith with them.
How does your prayer life intersect with your training — or does it?
I take quite literally, Saint Paul's admonition to pray unceasingly (see 1 Thes 5:17). Sure there are plenty of times throughout the day when I'm not aware of God's presence nor actively praying, but I am convinced that Paul was not being hyperbolic in this particular admonition of his. With this conviction I pray throughout the day.
Since all prayer is oriented toward union with God, so long as we seek union, we are praying. Thus I pray in both a traditional sense, as well as in a way that resembles more closely sharing moments with a friend. I talk to my Lord as if he is with me because I know that he is: he promised us that he is with us always (see Mt 28:20). I share with him my thoughts and feelings, my cares, and hopes (see Ps 55:22, and 1 Pt 5:7). I do this mostly while alone, such as when I'm working at the computer, but also most frequently in the car with the radio off while sitting in traffic or cruising through the many scenic drives of California.
And thus, when it comes to physical training, I am with the Lord. I am usually with others, so I do not speak to Him aloud, but I speak with Him before I attempt something difficult, or when I am struggling, or when I complete something skillfully, or simply recognize that I am safe.
When I am working out, Saint Francis de Sales often comes to mind. I find myself asking him for his continued prayers, and to help me imitate his humility and patience. I believe that it is through his intercession that I praise God in both my athletic success as well as failures.
Just as it takes a lot of hard work to strengthen muscles and train them in a way to develop good technique and to master complex skills in athletic training, so too in the spiritual life. In order to develop virtue, and to see with the eyes of Jesus – to perceive the world, our family, friends, and relationships as Christ would – we must have the discipline to practice true devotion.
So when I receive a burst of energy to overcome physical exhaustion by reminding myself that I can do all things through Christ who strengthens me (see Phil 4:13), I am actually disciplining my mind to make that same association with spiritual challenges. And when I fail at an obstacle, my spiritual discipline of recognizing God's goodness and deservingness of my praise kicks into gear as I recall Saint Paul's admonition to rejoice always and to give thanks in all circumstances (see 1 Thes 5:16,18).
Favorite prayer?
That depends on what is meant by "favorite," and what is meant by "prayer."  The most powerful and meaningful traditional recited prayer for me would be the Lord's Prayer (Our Father). It provides much to meditate on, and we are blessed indeed when the words become our own. I'm glad the producers chose that one as background audio for my short bio on the show.
The most centering and moving spiritual exercise that I practice, although I admit that I don't do it enough, is lectio divina – an ancient traditional practice of meditating Scripture that helps enable an encounter with our Lord in his Word.
Favorite saint?
That's an easy one, Saint Francis de Sales. He's known for his patience, humility, and his heart-felt writing style. I see Francis as a friend who prays for me, and encourages me throughout the day. Francis reminds me to savor the sweetness of the Lord in his Word, to enjoy life to the fullest, to put a priority on my relationship with Jesus, to see things through His eyes, to feel and to judge with His heart, and to act in accord with His will. Of course, this reminder falls by the wayside at times, but we must remain confident in our Lord's Mercy.
Images: Courtesy NBC, Sean Bryan
Don't miss a thing: head over to my other home at CatholicVote and like my Facebook page; also like the Patheos Catholic FB page to see what my colleagues have to say.