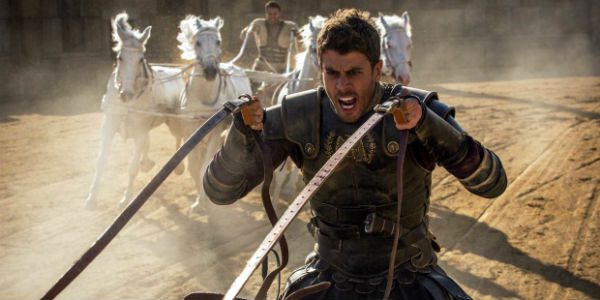 A couple of months ago, I saw a rough cut of "Ben-Hur" — out today in theaters across America — so I'm not qualified to give it a detailed review, especially since some of the chariot-race sequences weren't entirely complete. But I do have three key questions, and three answers.
ONE: Should you go see "Ben-Hur" on its opening weekend?
If you care about the future of big-budget, major-studio films sympathetic to the Christian audience, absolutely. Think twice about taking the kids, though, as the film is rated PG-13 for violence and disturbing imagery, mostly during the aforementioned chariot-race sequence (no horses were injured; that's the magic of CGI) and during a prolonged naval battle. (There is no sex or nudity, however.)
But the Christian audience has only itself to blame when faith-based producers like Roma Downey and Mark Burnett take on a project like this, spend a lot of money on it (reportedly $100M), and then flog it relentlessly and in person, while folks who might spend time and money to go see "Suicide Squad" or, Heaven help us, "Sausage Party" — and I personally know Catholics who shelled out for both — decide to sit this one out.
You vote with your dollars in Hollywood, telling them what you consider important and desirable. When major studios — Paramount and MGM, in this case — team up to turn out a movie that is unabashedly pro-Christian, they're looking to see if you care. If you don't, what's the incentive for them to keep doing it?
Or worse yet, they hand our stories over to secularists and/or atheists who have no respect for the source material, and we wind up with theological car wrecks like "Exodus: Gods and Kings."
Am I heaping on the guilt? You betcha.
TWO: How does it compare to the 1959 version, with Charlton Heston?
It doesn't. Put Heston out of your mind. That was another time, with another Hollywood, and another moviegoing audience. Most of the young folks we hope will show up for "Ben-Hur" and be inspired by its message of mercy and forgiveness probably haven't even seen the 1959 one, so let them judge the new movie on its own merits.
There was a miniseries version in 2010 — and I can't remember if it was any good. But, it's my personal opinion that the story told in 1959 couldn't be told today on the big screen. Nobody would finance a sincere, non-ironic religious movie for that amount of money ("Ben-Hur" was the most expensive film to date at the time), that ran that long (212 minutes, or three-and-a-half hours).
And, let's be honest, nobody, Christians included, would sit through it in a multiplex theater.
We'll always have the 1959 "Ben-Hur," but this is a different world.
THREE: Is the new "Ben-Hur" good?
I have my issues with it, especially the ending, but people much holier than me — like Bishop Robert Barron  and Sister Rose Pacatte — gave it thumbs-up, especially for its moral content. The sea battle sequence is terrific, and what I saw of the famous chariot race, while not a huge improvement on the original, is really good — and it's now in 3D, so there's that.
The basic bones of the story are there, and Morgan Freeman — as a horse-racing sheik — does what he does best, which is being Morgan Freeman (he also does some narration, because, Morgan Freeman).
Again, the ending bugged me, but I suspect that it's an effort to appeal to Evangelical audiences, whose tastes can be different from Catholics. And if they're happy, and that means the movie does well, fine.
Lastly, it's one of the few unapologetically Christian films you're going to see this year, with some thrilling action to boot.
You may want more, but you're not going to get it, if this one flops. It's obvious that people put their hearts and souls into "Ben-Hur," all you're asked for is some money and time.
It's worth both.
Image: Courtesy Paramount/MGM
Don't miss a thing: head over to my other home at CatholicVote and like my Facebook page; also like the Patheos Catholic FB page to see what my colleagues have to say.