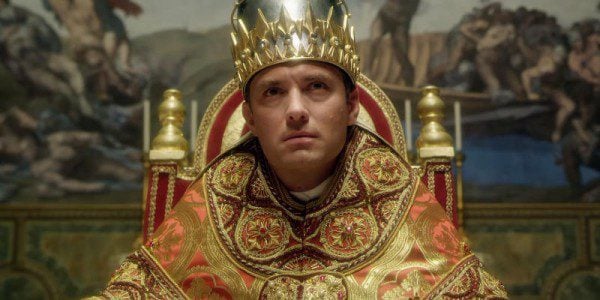 The first two episodes of HBO's upcoming limited series "The Young Pope," from director/writer Paolo Sorrentino, recently screened at the Venice Film Festival, and it looks like Catholics should take it about as seriously as they should take the latest Dan Brown potboiler. (Who's Dan Brown? Read this.)
Apparently, it was a bit of a hit, and there's now talk of a second season. Oh, joy.
Here's HBO's official description:
From Paolo Sorrentino, director of the Academy Award®-winning film 'The Great Beauty,' 'The Young Pope' tells the controversial story of the beginning of Pius XIII's pontificate. Born Lenny Belardo, he is a complex and conflicted character, so conservative in his choices as to border on obscurantism, yet full of compassion towards the weak and poor. The first American pope, Pius XIII is a man of great power who is stubbornly resistant to the Vatican courtiers, unconcerned with the implications to his authority.

The eight-episode series stars two-time Academy Award® nominee Jude Law as Pius XIII, and Academy Award® winner Diane Keaton as Sister Mary, a nun from the U.S. now living in Vatican City.
As I earlier reported:
This past weekend, during the summer edition of the biannual Television Critics Association Press Tour in Beverly Hills, I got a chance to ask HBO programming chief Casey Bloys about "The Young Pope."

Here's the exchange in its entirety:

QUESTION: Hi.  I have a question on "The Young Pope." Movies and TV, in general, don't have a great track record of getting the factual details right about the Catholic Church, let alone a lot of other things. So what sort of research are you doing on this?  How close to reality are you going to stick, or is this sort of a fanciful impression of what goes on?

CASEY BLOYS: I will tell you, in terms of the level of research that Paolo did, I know he did research. I am guessing there is some creative license, but it's not wildly ‑‑ it's not wildly inaccurate, but I'm sure ‑‑ fanciful is a good ‑‑ a good word.  There is some creative license there.
Now we have the first reviews:
From The Hollywood Reporter (which also supplied the title for this post):
Devilishly handsome and of uncertain intent, [the pope] refuses to let the canny head of Vatican marketing (Cecile de France) use his image or even show his face to the public, all to increase the air of mystery and power surrounding him. In his first homily to the overflowing crowds in St. Peter's, which he insists on holding at night, the clear sky is streaked by sinister lightning and the faithful are drenched in a sudden downpour. But that's nothing compared to the dire future he lays before their eyes as Catholics who need to think only of God, 24 hours a day. Could he be about to turn the Church into an extremist, fundamentalist organization? One thing is sure: his message has nothing in common with the love and brotherhood preached by the current Pope Francis.

Other alarming things: he drinks American filter coffee and breakfasts on Cherry Coke Zero. Oh, and he also wants to check out all the gifts sent to him, like an appalling kangaroo he has released in the Vatican gardens.
Oh, and this.
But the story is just warming up, and one has the feeling the Pontiff is so unpredictable he could swing either way, to God or Mammon. In a scene high up on the dome of St. Peter's, he tempts his humble confessor with immense power if he'll break the secret of the confessional and tell him all the cardinals' sins, at the same time informing him that he personally doesn't believe in God. The poor priest is so shocked he has to backtrack. Tipping into the outrageous, this scene may prove to be the limit for some devout Catholics, but one has to wait and see if some redemption is in store for Lenny.
From Variety
:
It's hard to imagine "The Young Pope" could ever have been conceived before the election of Pope Francis, the self-effacingly charismatic pontiff from Argentina whose chosen name alone signaled his intent to move the Curia towards a humbler, more all-embracing Church. In many ways, Sorrentino's Holy Father is the exact opposite: unabashedly American Lenny Belardo (Jude Law, in top form) takes the name Pius XIII, an unthinkable moniker in this day-and-age, given its connection to the divisive wartime Pius XII. However, Lenny won't be doing anything that's expected.

Nor will Sorrentino: his signature masterful compositions and mordant wit are of course on show, but where the director runs with his flights of imagination remains an endless source of delightful surprise. Take the opening scene, when the just-elected Pius XIII crawls out from underneath a Christmas-tree-shaped pile of naked babies in the middle of St. Mark's Square in Venice. He has a further nightmare, in which he makes his first pontifical address to the crowds outside St. Peter, urging his flock to embrace nearly every social activity traditionally forbidden by the Vatican, from gay marriage to sexual pleasure without the bonds of wedlock. The homily is delivered with the familiar bravado and studied artifice of a Midwest politician delivering a stump speech, which is the only element of this nightmare to carry through into Pius XIII's real life.
Here's what Sorrentino had to say, from The Hollywood Reporter:
At a press conference for the show, director/creator Sorrentino insisted his show is not trying to stir up any problems with the Catholic Church.

"It's a Vatican problem, not mine," he said. "And it's not even a problem, if they're patient enough to see it up to the end, they will understand that we simply tried to tackle with curiosity and with honesty, without taking a provocative stance, to investigate the contradictions and the difficulties and the fascinating aspects of priests and nuns, and one who's somewhat different from the others: the pope."

For Sorrentino, it also wasn't an accident that the character is so different from the current pope. "We depicted him very differently from the existing pope, but it's something that might happen," he explained. "It's possible that after a very liberal pope, there is someone that might have very different ideas. I think it's an illusion that the church has a longterm idea towards modernity."
And Law:
He continued, "It was almost as if the character Pope Pius XIII was a character that Lenny Belardo was playing. It was almost as if he was working out his own dilemmas and problems through his character. And it was only then that the pope I was playing started to make sense."
I don't know. Might be good for a laugh, if only for the "young pope's" choices of headgear, and the sight of Diane Keaton in a habit:
Image: Sky/HBO/Canal Plus
Don't miss a thing: head over to my other home at CatholicVote and like my Facebook page; also like the Patheos Catholic FB page to see what my colleagues have to say.