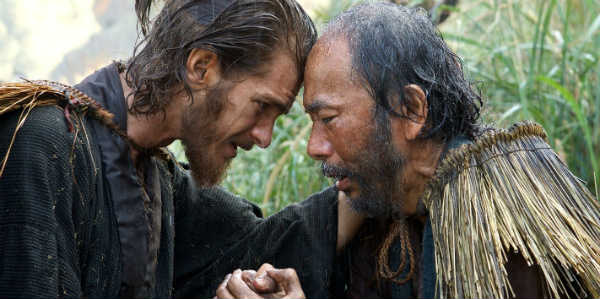 Should you go see Martin Scorsese's "Silence?" Speaking just for myself, I'm thinking … not.
I couldn't go to a screening of "Silence" because we had an event at the Hollywood offices of my current employer, Catholic production company Family Theater Productions, where I manage social media, blog and produce videos.
(What, you didn't know about us? Click here for our Website; here for our blog; here for our Facebook page; and here for our Twitter).
As time has gone on, and I've heard more and more about the film, I'm less and less interested in spending time or money seeing it.
So far, "Silence" has been awards-challenged, and not all the critics loved it. From the New York Post:
Some of the less reverent, least fanboyish film critics have been tearing the film to shreds. Women critics especially seem not to find much to love in the film's combination of emotional vacuity and endless repetition of scenes built around whether or not a Catholic can be coerced into stepping on an image of Jesus Christ.

"The torture porn is spectacularly inventive. But its commercial compromises may drive you to distraction . . . it is punishingly repetitive and, at nearly three hours, sooooooo, sooooooo long," wrote Deborah Ross in the Spectator (UK).

Even less charitably, Camilla Long of London's Sunday Times wrote, "What is this film actually about? If there is an actor who can persuade me that stamping on an image of Christ is a moment of thrilling drama, it is not Garfield . . . It is Scorsese at his most sentimental and his weakest. Halfway into its interminable 161 minutes, I realised that 'Silence' stood for something else as well: the silence of fans and critics, or anyone who might say what a flimsy, tokenistic, ego-driven brainfart it is."
Bishop Barron Weighs In
But the nail in the coffin for me was the reaction of Los Angeles' Bishop Robert Barron, probably the greatest Catholic media evangelist (since the death of Mother Angelica) and one of the Church's premier cultural commentators.
In his new video, he takes a firm stand, and it's not in favor of "Silence's" Jesuit protagonists:
So, go see this film if you like, more power to you, but maybe I'll catch it on cable. Maybe.
Perhaps before he did a film on the Faith and martyrdom, Scorsese should have decided whether he thought they were worthwhile.
Image: Courtesy Parmount Pictures
Don't miss a thing: head over to my other home at Family Theater Productions; also like the Patheos Catholic FB page to see what my colleagues have to say.