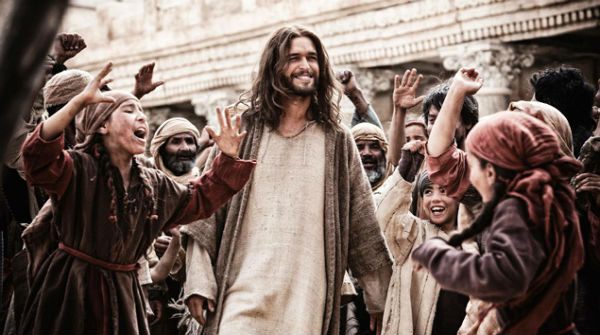 UP TV launches its "Easter Lives Here" programming event on April 9, Palm Sunday, with the network-TV premiere of the 2014 theatrical feature "Son of God."
Produced by Roma Downey and Mark Burnett, it's edited from the New Testament section of the hit 2013 History Channel miniseries "The Bible," and stars Portuguese actor Diogo Morgado as Jesus.
From the press release:
"I am so thrilled that Son of God will be playing on television this Easter Season, bringing the amazing story of the life of Jesus right into people's homes to enjoy together as a family," said Roma Downey, president, LightWorkers Media.

"We are excited to present Son of God during UP's annual 'Easter Lives Here' programming event," said Sophia Kelley, senior vice president, programming. "As the only network that brings families a celebration of the Easter season, it's a remarkable film to add to our powerful and inspiring lineup of movies."
Additionally, "Son of God" airs the same night on Telemundo, starting at 7 p.m. ET/PT.
Here's the rest of UP's slate:
EASTER LIVES HERE PROGRAMMING SLATE

Palm Sunday, April 9

• The Ten Commandments, 3 p.m. ET

• Son of God (Network Television Premiere), 7 p.m. ET & 12 a.m. ET

• The Passion of the Christ, 10 p.m. ET

Holy Thursday, April 13

• Son of God, 10 p.m. ET

Good Friday, April 14

• Son of God, 7 p.m. ET & 12 a.m. ET

• The Passion of the Christ, 10 p.m. ET

Holy Saturday, April 15

• The Ten Commandments, 4 p.m. ET

• The Passion of the Christ, 8 p.m. ET & 1 a.m. ET

• Son of God, 10 p.m. ET

Easter Sunday, April 16

• Son of God, 8:30 a.m. ET

• Facing the Giants, 11:30 a.m. ET & 9:30 p.m. ET

• Fireproof, 2 p.m. ET

• Courageous, 4:30 p.m. ET

• God's Not Dead, 7 p.m. ET

• Finding Normal, 12 a.m. ET
Also airing on Palm Sunday is the second-season finale of CNN's well-done documentary series
"Finding Jesus: Faith, Fact, Forgery,"
with an episode that explores the belief that the Apostle Thomas took Christianity to India. Click
here
to see a preview.
(Please continue to ignore the show before it, "Believer," by Muslim scholar Reza Aslan, which travels to the fringes of faith in an attempt to cast belief itself as bizarre, weird and frightening.)
History Channel repeats the 2014 two-hour documentary "Jesus: The Last 40 Days," which focuses primarily on the Shroud of Turin and efforts to recreate the face depicted on it. While it does feature reputable people like Eric Metaxas and Father Jonathan Morris, it gives way too much credence to discredited Gnostic texts like the "Gospels" of Thomas and Mary Magdalene.
As far as we know, the apostle Thomas never wrote a Gospel. The writing to which you refer is spurious and was composed by a member of a gnostic sect, probably in the late second century, which explains why it's not in the Bible. It was discovered, along with many other writings, in 1946 near the village of Nag Hammadi in Egypt. Our version comes to us in Coptic, but there seems to have been a Greek original behind it.

…

… we're forced to conclude that the Gospel of Thomas doesn't compare with the canonical Gospels when it comes to telling us what Jesus really taught.
Click
here
to watch the whole thing.
At 8 p.m., MTV airs the faith-friendly movie "The Blind Side," starring Sandra Bullock as a well-to-do Christian mom whose family adopts disadvantaged black youth Michael Oher, who goes on to become a football star at Alabama (and is now part of the Carolina Panthers of the NFL).
Lastly, TNT offers one of its innumerable airings of "The Hobbit: Battle of the Five Armies," based on the book "The Hobbit," by Catholic author J.R.R. Tolkien.
Image: Courtesy LightWorkers Media