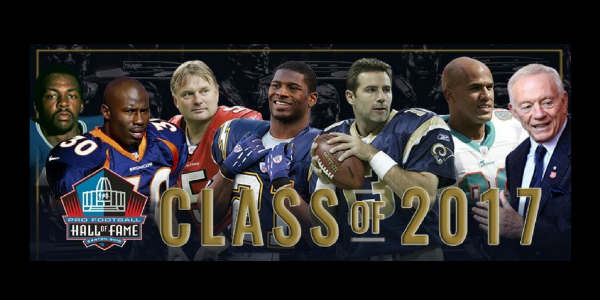 Former Baltimore Ravens center Matt Birk once told me of the intense spirituality that can come from playing professional football, saying, "This game will bring you to your knees, so you might as well start there." Well, God seemed to be the teammate of several of those inducted into the Pro Football Hall of Fame in Canton, Ohio, on the night of Saturday, Aug. 5.
With heartfelt, often deeply emotional thanks to wives, parents, siblings, children, coaches, teammates and friends, players also raised gratitude on high for the opportunity to play the game they loved (excerpts here and here). It was a beautiful, moving night. God never cares who wins the game, but He cares deeply how playing the game, and just living life, affects the souls and salvation of all involved.
Few sports can boast so many men willing to stand up in front of friends, family and a TV audience and proclaim their faith and the power of prayer.
The first man inducted was strong safety Kenny Easley, former star for my team, the Seattle Seahawks. A powerful and eloquent Christian, he also spoke of his organization, FaithHasMe.org, which has the goal of saving young people from violence and bad influences.
Not all the speeches that followed from defensive end/outside linebacker Jason Taylor (full video here), kicker Morten Anderson (full video here), running back Terrell Davis, running back LaDanian Tomlinson, Dallas Cowboys owner Jerry Jones (full video here) and quarterback Kurt Warner honored God, but many did.
Here are just a few Christ-centered quotes from that night.
Kenny Easley (full text here; full video here):
I'd like to start by sharing a passage from the Bible I've leaned on, counted on and trusted with all certainty through the years.

Philippians 4:6: "Be anxious for nothing but in everything by prayer and supplication. With thanksgiving, let your request be made known to God."

I was first nominated for the Hall in 1997. Twenty years later (be anxious for nothing) the Hall of Fame was dropped on the shoulders of Kenny Easley like a pair of shoulder pads. Some folks said I deserved to be in the Hall earlier. I don't believe that. Others say maybe he didn't play long enough. I don't believe that, either.

But my pastor, Tyrone Armstrong here tonight, has said many times, "There is a season for everything." And while we sometimes try to figure it out, God has already worked it out.
Terrell Davis (excerpts here; full video here), who suffered from debilitating migraines as a child, lost his father and wound up facing someone holding a shotgun on him at 14:
Thank God someone talked the guy out of pulling the trigger,'' Davis said. "When I got home, I laid in my bed, I closed my eyes and I vividly relived every moment over and over again. I spoke out loud to God and I promised I would never find myself in that situation again. I knew that I had to change my life. … That night I was determined to walk away from the irresponsible life I had been living forever.
LaDanian Tomlinson (excerpts
here
; full video
here
), speaking of discovering that his family name came from a slave owner:
People stop me on the street because they know me as LT the football player, but after football people have begun to recognize me as LaDainian Tomlinson, Not simply for what I did as a football player but for who I am as a man. The family legacy that began in such a cruel way has given birth to generations of successful, caring Tomlinsons.

I firmly believe that God chose me to help bring two races together under one last name — Tomlinson. I'm of mixed race and I represent America. My story is America's story.

…

On America's team, let's not choose to be against one another. Let's choose to be for one another. My great-great-great grandfather had no choice. We have one. I pray we dedicate ourselves to being the best team we can be, working and living together, representing the highest ideals of mankind. Leading the way for all nations to follow.
And lastly, Kurt Warner (full text here; full video here):
I want to conclude with one last moment and one last thank you. To the One who, without a doubt, has left the deepest mark and has become the cornerstone of my life.

In the early stage of my career, I had a chance to stand at a podium similar to this, in front of millions of people after Super Bowl XXXIV. In that moment, I made sure what I did was say thank you to this person for what they've done for me. Many felt I was thanking Him for orchestrating a Super Bowl win, or making my passes fly straighter, or causing my opponents to make more mistakes. But those people had it all wrong. The gesture was my way of acknowledging how fortunate I considered myself for the moments He had given me. Thanking Him for the trials which prepared me for this platform. For showing me that with Him, the impossible becomes possible. And for choosing me for the lead in this once-in-a-lifetime role.

Now, love it or hate it, that opening scene captured the imagination of the sports world, and the words became the heart of my story. The rest, as they say, is history. Bringing us to this: The famous last words, and the only place this extraordinary journey can end.

His final moment was for me. Mine is for Him. Thank you Jesus!
Take a look:
Next Sunday, I'm off to StubHub Center in Carson, California, to attend a preseason game between the Seahawks and the Los Angeles (formerly San Diego) Chargers. Provided that the first-string players take the field, I'm hoping to see Evangelical QB Russell Wilson and Catholic QB Philip Rivers square off.
Whichever team wins, I know Christ will definitely get the game ball.
Image: Courtesy NFL Hall of Fame
Don't miss a thing: head over to my other home, as Social Media Manager at Family Theater Productions; and check out FTP's Faith & Family Media Blog.