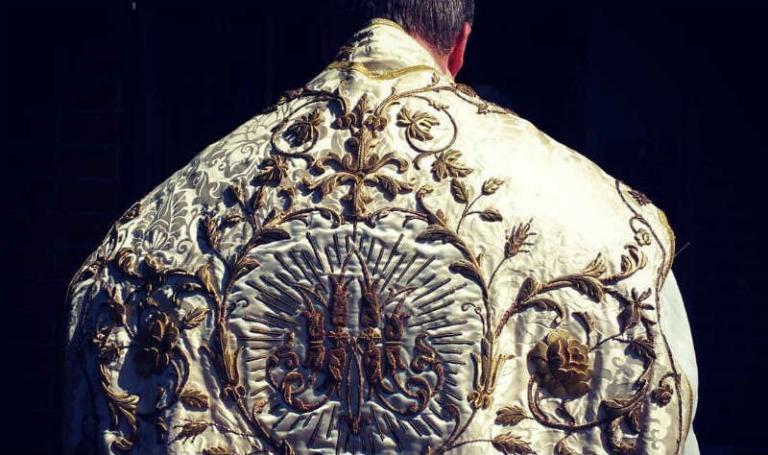 When the annual festival of wretched fashion excess known as the Met Gala decides to celebrate the beauty of Catholic tradition, you know that it's going to be a bumpy night.
But, as deathbed Catholic convert Oscar Wilde once observed, "The only thing worse than being talked about is not being talked about."
Now, that doesn't mean you're going to like what's being said, but there's a reason so many folks hang on the American president's every word, but not those of your garden-club president.
People are fascinated with the Catholic Church — or at least what they see of it from the outside. But let's be honest, if the outside looks drab and uninteresting, it's hard to get people inside. At its best, the Catholic Church is a fountain of gorgeousness, whether it's art, architecture, literature, music and even, yes, fashion, in its simplest sense as a way of dressing for effect (check out the vintage vestments at the top of this post).
On Monday, May 7, in New York City, the Met Gala – an annual fundraiser for the Metropolitan Museum of Art's Costume Institute — featured celebs walking the carpet and up the steps of the Fifth Avenue landmark, wearing outfits inspired by aspects of Catholic culture.
The event, a big deal in the fashion world, always has a theme, and this one came from a new Met exhibit, "Heavenly Bodies: Fashion and the Catholic Imagination."
Here's how Vogue described it:
Designed to create a dialogue between fashion and the masterworks of religious art in the museum's holdings, the show will be presented in a trinity of locations: the Anna Wintour Costume Center, the medieval galleries at the Met's Fifth Avenue location, and further uptown at the Cloisters. Central to the conversation will be the papal garb on loan from the Sistine Chapel sacristy, many of which have never been seen outside the Vatican, even in the 1983 Met blockbuster, "The Vatican Collections: The Papacy and Art."
The theme for this year's gala was "Sunday Best," and the event always features outrageous original designs on the red carpet.
The celebrity outfits ranged from the ridiculous to the sublime, but mostly clustered in the ridiculous area. Click here for The New York Times' rundown, but here are some highlights:
Rihanna in a bejeweled minidress and coat with a pope-type mitre.
Madonna — who's made a kind of cottage industry out of her Catholic apostasy — in a black Renaissance something with a crown of crosses and a fishnet veil (her musical performance was, well, it made the original "Like a Virgin" video look like pattycake).
Katy Perry in knee-high gold boots and giant angel wings.
Zendaya in Joan-of-Arc-inspired chainmail.
Ariana Grande in an actually rather lovely gown featuring art from the Sistine Chapel.
Sarah Jessica Parker in a gold-encrusted thing with puffy red hearts on it and a giant headdress that apparently has the Nativity inside.
Lana del Rey in a white dress with Mary's sword-pierced heart on it (with the swords sticking out), and a halo head thing with blue angel wings.
Greta Gerwig as a sorta nun, kinda.
You get the idea. There were actually some pretty dresses in there (Brooke Shields looked lovely in a blue ballgown) but pretty isn't the point of the Met Gala red carpet. Pretty won't always get you in the slideshow — but shocking may.
Do superficial, silly people never get beyond externals? Yep. Why should that surprise you? Do celebrities dress in edgy and provocative ways on a red carpet? Yep. Why should that surprise you?
Does someone actually think that wearing a rainbow cape is a groundbreaking, original protest statement? Apparently.
If you're an attention-seeking celebrity who knows more about lip fillers than liturgy, this is what you do. If you scan back through slideshows from earlier years, you'll see some pretty preposterous Met Gala outfits then, too.
But, I must say, having centuries' worth of the stunning visual language of the Catholic Church to draw from just demonstrated how beautiful our faith is, which shone through even in the most boneheaded fashion choices.
Reactions have ranged from indifference to outrage. Is it cultural appropriation? You bet, but nobody bothered about that, since no one in this particular world is worried about offending Catholics.
(UPDATE 5/9 — British TV personality and tabloid journalist Piers Morgan weighed in with a critique of the cultural appropriation — imagining what would happen if Judaism or Islam were disrespected in the same way. He mentions he was raised Catholic, laments lack of cultural formation from the nuns, but still considers himself Catholic. Hey, Piers, there are books, Websites and probably an RCIA program available near you, if you want to brush up on your faith. We've kept the Light on for you.)
And, Cardinal Dolan of New York and media darling Father James Martin, S.J. (the consultant on the exhibit), did show up.
Martin tweeted:
Actually said to me at the #MetGala tonight: "I love your costume." "Is that, like, for real?" "Funky outfit!" "You're the best dressed dude here, bro." (High fives me.) "You look just like the real thing." And, truly: "I love that you got dressed up as a sexy priest."
How nice.
Aside from Madonna, the Sistine Chapel Choir, currently on tour, gave a surprise performance at the gala, underneath projected images from the chapel itself.
Was there a battered soul in that audience who was moved by the music of heaven on Earth? I hope so.
To be fair, Dolan and the Vatican itself were supporting the exhibit, and Dolan spoke at a press conference this morning.
His full remarks can be found here, but this is a taste:
What's the Church doing here?

What is the Cardinal-Archbishop of New York doing here?

Well, because the Church and "the Catholic imagination," are all about truth, goodness, and beauty…

That's why we have great schools… to teach the truth;

That's why we love and serve the poor – to do good;

That's why we're into art, poetry, music, liturgy, and, yes, even fashion… to thank God for beauty…

…

In the "Catholic imagination," the True, the Good, and the Beautiful have a name: Jesus Christ, who revealed Himself as "the Way, the Truth, and the Life."

In the "Catholic imagination," the truth, goodness, and beauty of God is reflected all over… even in fashion. The world is shot through with His glory.
After all, the celebs are God's children too, and children do like to play dress-up.
Image: Kate O'Hare
Don't miss a thing: head over to my other home, as Social Media Manager at Family Theater Productions; and check out FTP's Faith & Family Media Blog, and our YouTube Channel