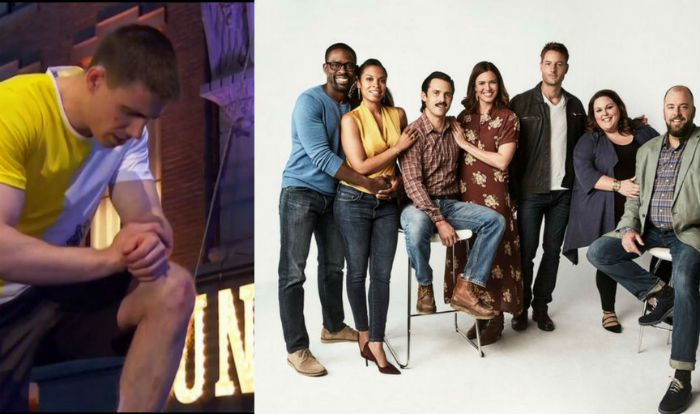 As expected, there's not a preponderance of faith- and family-positive programming on the list of Emmy nominations from the Academy of Television Arts and Sciences,, with a few notable exceptions, which I'm happy to name.
One caveat, I can only point up the faith connections I'm aware of, so if you know more uplifting moments in other nominated shows, speak up in the comments!
"This Is Us," 'The Crown" and "The Americans"– nominated for drama series
NBC's multigenerational family-centric drama "This Is Us" continues to explore the intricacies of married and single life in heartwarming fashion. It's not a series that showcases faith, and not all characters always act in ways we'd like, but they are three-dimensional human beings with relatable virtues and faults, and the show always comes down strongly on the side of good marriages and strong families.

Netflix's "The Crown" follows the life and reign of England's Queen Elizabeth I, who is also head of the Anglican Communion. In this past season, her sister, Princess Margaret, after having her first romance foiled by her beau's divorce, embarks on a wild affair with a man with, to put it mildly, eccentric sexual mores (you could just tell this wasn't going to turn out well, and the union ultimately ended in divorce).

But, it was enlightening to realize, as late as the 1950s, that the Anglican Communion held very similar views on the sanctity of marriage, divorce and remarriage as the Catholic Church continues to hold today, and to hear Anglican bishops defend them vigorously.

Also, the season featured the friendship between Elizabeth I and Billy Graham when the renowned evangelist visited England. This included an illuminating discussion in which the queen remarks that, despite her exalted position in her own church, she appreciates being an ordinary Christian, being instructed in a pew.

This is certainly not an attitude that Henry VIII, who broke from the Church when the pope wouldn't do as he wanted, would have endorsed.

Also, another nominated show, FX's Cold War drama "The Americans" has dealt with faith, when the teen daughter of the central couple — Russian spies posing as ordinary American spouses — declared her wish to be a baptized Christian. Even secular publication Vox noted that a kind of faith was at the heart of the show, writing:

We are all born into some belief system. Today we can swap one for another with minimal consequences, but we know we're doing it, rebelling against our upbringing, and we spend our whole lives figuring out how to live with two sets of values and voices in our heads.

As the culture and religion scholar David Dark likes to say, some of us are raised capitalist. Some are raised communist. Some are raised Christian. There are dozens of other possibilities. The Americans places those belief systems into conflict and asks an important question of its viewers: In whom, or what, do you believe? And why?

And what if you are wrong?
"Silicon Valley" and "The Unbreakable Kimmy Schmidt" — nominated for comedy series
It would be a stretch of monumental proportions to refer to HBO's often sophomoric, profanity-laced tech comedy as family-friendly (if you love it and have kids, send them to the neighbors). But, as I've noted before, there is an underlying morality to the show, in which virtue is rewarded and misdeeds ultimately boomeranging on the misdoer (including the main characters).

The show also has a quirky relationship to faith, with regular, non-derogatory, references to Christianity — such as, this past season, a wonderful turn of events causing a character to exclaim, "I feel just like Mary Magadalene on Resurrection Day!" This season, the fifth, also featured an episode called "Tech Evangelist," which took a comic but pointed look at anti-Christian bigotry among tech types.

Last year, I saw creator Mike Judge (who went to a Catholic high school) at an event and asked him about the Christian shout-outs. He playfully explained that Hollywood is too squeamish to mention real religion unless it's to slam it, so he likes to toss in Christian references to tweak them.

And, worth noting that "Kimmy Schmidt" star Ellie Kemper is a practicing Catholic, and there have been faith-positive moments in the show.
"American Ninja Warrior" and "The Voice" — nominated for reality competition
"American Ninja Warrior" has a diverse group of contestants, several who are openly Christian and proclaim their faith (there was also a Rabbi Ninja). They include Catholics Sean Bryan, a k a the Papal Ninja, and Joe Moravsky, a k a the Ninja Weatherman. Bryan convinced Father Steven Gadberry to try out for the show this year, so we briefly had a Priest Ninja (after falling on the course, he says he'll be back). There's also Daniel Gil, the Kingdom Ninja; and Michelle Warnky, who often inks Scripture citations on her leg.

Also on NBC, "The Voice" — produced by "The Bible" producer Mark Burnett — often features Christian contestants, including, a few years ago, Jordan Smith. International versions of the show have featured singing priests and nuns (Sister Cristina Scuccia won in Italy), so people of faith are obviously welcome in the franchise.
NBC's
"Fixer Upper" — nominated for structured reality program
The HGTV reality show about rehabbing houses stars Christian couple Chip and Joanna Gaines, who just welcomed their fifth child, son Crew, to the family. Last fall, the Waco, Texas, couple announced that the fifth season of the hit show would be the last, as they're taking a break to focus on family and other businesses.

Relaxed, relatable and competent, Chip and Joanna Gaines have been a great example of how to keep faith and family together in the face of fame.
"Born This Way" and "Deadliest Catch" — nominated for unstructured reality program
The hit A&E series "Born This Way" focuses on the lives of young adults with Down syndrome as they navigate family, school, health, careers and relationships. It's a shame that a show has to exist to humanize our fellow humans, but that's exactly what "Born This Way" does for those born with an extra chromosome — and a lot to offer the world.

Also nominated is Discovery's "Deadliest Catch," one of my personal favorites. It's not about home and hearth, but it is about family, along with the benefits and perils of hard work and risk-taking. The show features brothers, fathers and sons, and even a father and daughter, and it talks a lot about the legacy we want to leave for those who come after us (and how to catch lots of crab).

Click here for a recent interview I did with F/V Cornelia Marie skipper Josh Harris, who now captains his late father's boat.
John Legend of "Jesus Christ Superstar" — nominated for lead actor in a limited series or movie
I quite liked NBC's live, semi-concert version of Andrew Lloyd Webber's and Tim Rice's rock opera based on the last week of Jesus' life. Since the lead role is usually played by a rock singer, smooth crooner Legend wouldn't have been my first choice as Jesus, but he pulled it off very well. He didn't quite get the big rock scream in the "Gethsemane" song, but he got darn close.
Click here to see the full, Netflix-heavy nomination list at Variety.
Image: Courtesy NBC
Don't miss a thing: head over to my other home, as Social Media Manager at Family Theater Productions; and check out FTP's Faith & Family Media Blog, and our YouTube Channel.