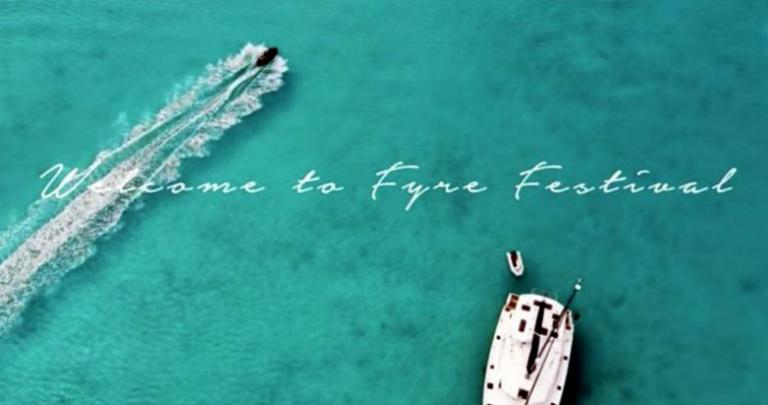 In the spring of 2017, an exclusive, luxury, once-in-a-lifetime event called the Fyre Festival was scheduled to take place on a Bahamian island. It was memorable, but for all the wrong reasons.
Netflix and Hulu are both offering original documentaries on the disastrous fiasco, coming from different perspectives.
What Was the Fyre Festival Anyway?
The brainchild of would-be entrepreneur Billy McFarland, the festival was meant to promote his app Fyre, which would allow ordinary folks to book celebs for their parties. After securing the cooperation of rapper Ja Rule and a boatload of models and other Instagram influencers, McFarland created a video and a social campaign that was a massive success.
But when it came to servicing the paying guests — most of them Millennials with apparently far more cash than sense — the promised swanky accommodations were mostly rain-soaked tents, there was no music, and the catered cuisine was — well, here's an infamous tweet.
The dinner that @fyrefestival promised us was catered by Steven Starr is literally bread, cheese, and salad with dressing. #fyrefestival pic.twitter.com/I8d0UlSNbd

— Trevor DeHaas (@trev4president) April 28, 2017
While few, if any, people had sympathy for the trustafarians and others who got bilked while seeking the ultimate Instagram experience, a lot of ordinary Bahamians and employees of all the various companies involved lost lots of time and even more money.
Ultimately, many people got in trouble, especially McFarland, who's now sitting in prison.
Netflix and Hulu Land on Fyre Island at the Same Time
Netflix's Fyre: The Greatest Party That Never Happened is produced by social-media and marketing company Jerry Media, which has inside knowledge as a part of the festival team, if not exactly objectivity. It's entertaining, but has more schadenfreude than substance. The hammer lands hardest on McFarland and partner Ja Rule (who is eating humble pie in front of audiences).
It also focuses on the creation of the videos that went viral on social media, featuring Instagram models, boats, beaches and hungry pigs.
Like Netflix's film, Hulu's Fyre Fraud spotlights the Internet influencers that helped Fyre Festival reportedly sell 95 percent of its tickets in 48 hours (for $1,500 to $250,000). It also has fun at the expense of the drunk, high young people who were willing to empty their trust funds or sell their possessions in search of the ultimate exclusive getaway. It adds in an interview with McFarland, which doesn't contribute much except for whatever pleasure you get from watching him look downcast and guilty.
(Interestingly, McFarland manages to call in during video interviews for people in both documentaries — leading me to wonder whether it was just coincidental or staged for effect. Even here, it's hard to tell what's real from what's manufactured.)
How FOMO Drives the Millennial Quest for Social Dominance
But Fyre Fraud dives deeper into the importance of influencer marketing to Millennials. Having grown up curating their lives on social media, the pressure is on them to produce an online life that emphasizes fun, friends, affluence and, most important, showing you got behind the velvet rope to party with the rich and/or famous.
Much of it's driven by FOMO — fear of missing out — and its twin desire to one-up everyone else. There's even a segment that shows people sitting on the tarmac in a private plane, posing for Instagram shots that look as if they're actually in flight.
This is the interesting psychological twist at the heart of both Fyre Festival films — the existence of fraud, fakery and hucksterism in the digital world, at a level that would put P.T. Barnum to shame.
People have always chased quick riches, often bankrupting themselves in the process. But FOMO also infects the moneyed investor class, causing them to throw millions and billions into the wind in hopes of finding the next Facebook or Google.
Recently, I was watching PBS' Victoria, in which the queen's butler lost all his savings and dreams of a prosperous future by buying into a fraudulent railroad scheme. So this is nothing new.
But at least he was investing in something he thought was real, that would accomplish something real — transporting people on a railroad. Today's FOMO victims, like those who went to the Fyre Festival or sit on those grounded planes, burn money chasing illusions of wealth or fun, often just to toss in the faces of their Twitter and Instagram followers.
Business Is Starting to Catch On
At least on the business side, a recent article in Adweek indicates that blind faith in influencers is fading away.
One of the documentaries said it best (though paraphrased for brevity): Fyre overpaid several macro-influencers to hype the festival, but it was one person with less than 500 followers who trended and dismantled the whole operation (NOTE: That would be the tweet above.)

When you think of the people that you really trust in your life, it's unlikely they're the Hadid sisters. Because we're social creatures, people trust their tribe of family, friends, coworkers, etc. If they tell you they're using a product they love, you're much more likely to adopt it.
Therefore, marketers should stop doling out $1 million for a single post. Shift to the opposite end of the spectrum, from macro-influencer to micro-influencer, and focus on the people who actually use your products, truly believe in your brand and can genuinely influence your target to convert.
Talk to Your Kids — Because the Influencers Certainly Are
I hope that, despite the rough language and images of bikini-clad models, some parents will sit with their middle-school age children and older to watch the Hulu documentary (there's a graphic sexual conversation in the Netflix one that means I can't recommend it), and discuss the effect of letting strangers in pictures have such a powerful effect on others' lives.
It goes without saying that a strong grounding in Christ, a focus on the welfare of others and a deep sense of charity might help people avoid these pitfalls. It's no guarantee, but if you're unmoored from a solid values system, your chances of drifting into the disaster increase exponentially.
And that goes for all of us.
Image: Netflix
Don't miss a thing: head over to my other home, as Social Media Manager at Family Theater Productions; and check out FTP's Faith & Family Media Blog, and our YouTube Channel.