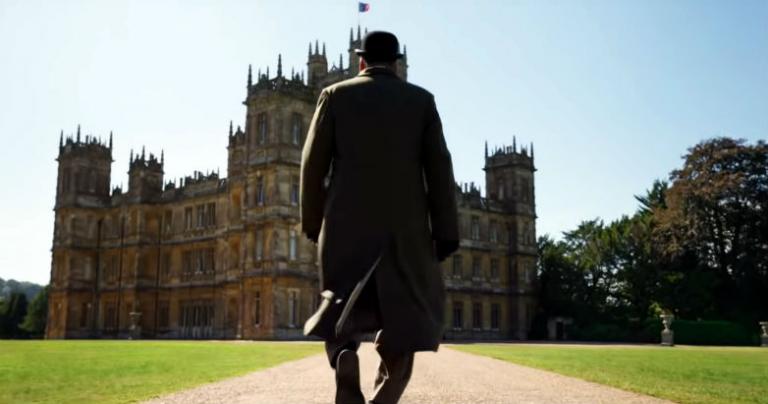 A teaser trailer came out last December, but now the full trailer for the film version of Downton Abbey is here, and as hoped for, it's juicy and full of familiar faces.
It's now 1927, and King George V and Queen Mary (Queen Elizabeth II's grandmother) are coming to visit the elegant Yorkshire estate of the Earl of Grantham, and the entire extended aristocratic Crawley family — along with servants current and past — gathers for a royal luncheon, a parade, a dinner and no doubt lots of romance, conflict and surprises.
Take a look:
Produced in Britain by and aired there on ITV, Downton Abbey became a giant hit in the U.S. after premiering a part of PBS' Masterpiece in the fall of 2010. The series ended after six seasons with an episode that aired in the U.K. on Christmas night, 2015, and in the U.S. on March 6, 2016.
Now it's back for a wrap-up movie, reuniting most of the original cast and set to hit theaters on Sept. 20.
The creator and writer of Downton Abbey is Julian Fellowes, a Catholic. I dealt with his faith an its impact on the series in a 2015 piece for CatholicVote (click here for that).
From the story:
As [Fellowes] told the U.K. Telegraph in 2011, in describing his usual weekend, "On Sunday, I like going to Church. I'm a Catholic so I'm conditioned to it. Quite apart from anything else, I think it reminds you that you're not in control of everything. I go to the local Catholic church and [my wife] Emma, who is Anglican, has the advantage of going to our incredibly pretty village church."

He and his wife have one son (apparently that was her wish), but the boy's godmother is Princess Michael of Kentpr, a Catholic whose marriage to Prince Michael of Kent (in a civil ceremony) knocked her Anglican husband out of the royal succession. While Princess Michael's children have been raised Anglican (they still could inherit the throne), she and her husband later followed their civil ceremony with a Catholic one.
As I also note, the topic of prejudice against Catholics in Britain came up in season three, when the youngest Crawley daughter, Sybil, married the family's Irish Catholic chauffeur, Tom Branson. Sybil subsequently died in childbirth. A fresh family crisis then erupted when Tom insisted on baptizing the daughter as a Catholic. That caused some of the most blatant anti-Catholic speech on the show, especially from the local Anglican vicar.
Since then, faith has not been front and center for the Anglican Crawleys.
From my earlier article:
Writing in the U.K. Telegraph in 2011, correspondent Robert Colvile noted the lack of churchgoing in the show, observing, "For a series that prides itself on its realism — and even has the word 'Abbey' in the title — it's a bizarre omission. Religion, and especially the Sunday service, would have been a basic element of life in such a community, part of the warp and weft of existence. Perhaps it's this godlessness, rather than any malice on the part of writer Julian Fellowes, that explains why Downton's residents appear to have such a peculiarly cursed existence?"
But, Downton Abbey has remained — and we like will continue onto the big screen — as a very well-dressed and beautifully appointed soap opera about an era in which Britain's aristocratic past was forced to give way to modernity and a more egalitarian future.
The show looks back with some nostalgia, but not all are convinced.
Catholic convert Timothy Stanley doesn't think much of the series. In a piece for History Today in 2013, the British historian and journalist denounced the cozy picture the series paints of the relationship between upstairs and downstairs.

"It is hard to imagine," he wrote, "another people in the world who would make such a warm drama out of such a potentially miserable era. Imagine if a U.S. company relocated the show to the Deep South in the 1910s. Would it paint a similarly rosy picture of master-servant relationships in the era of segregation? Yet the British continue to suspect that they lost something special, even moral, when their society graduated from an aristocratic empire to a modern democracy."
Will you be going to see the Downton Abbey movie?
Image: Focus Features