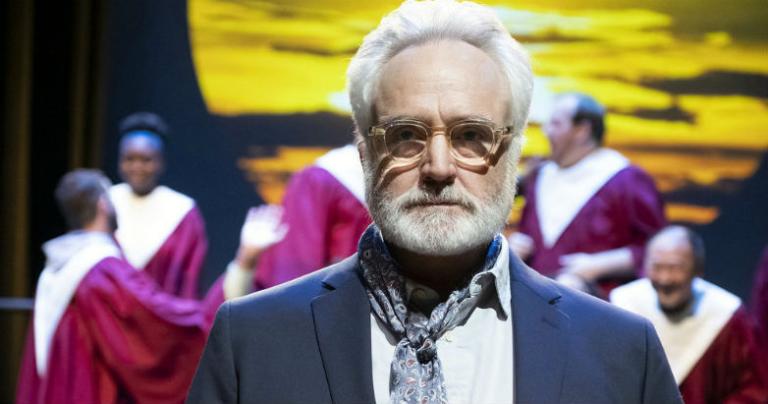 In the comedy Perfect Harmony, premiering Thursday, Sept. 26, at 8:30 p.m. ET/PT, on NBC, Bradley Whitford plays a grieving, suicidal husband who sits outside a small-town Kentucky church and asks for a sign — and gets one.
Princeton music professor Arthur Cochran (Whitford) doesn't think he can live without his wife Jean, but just as he's about to end it all, he hears a terrible sound. Refusing to die with the sour notes of a terrible church choir ringing in his ears, he charges into Second First Church of Cumberland (you might laugh, but there really is a Second First Church) to set things right.
Despite being drunk, Arthur analyzes the choir members with Sherlockian precision (being least able, of course, to see his own faults). Although he's irascible and unpleasant — but he's played by Whitford, who makes that palatable — he endears himself to the choristers, vowing to help them battle their rivals, a local megachurch called the Church of Perpetual Grace (which no Protestant megachurch would ever name itself, but I digress), in a choral competition.
It's also personal for Cochran, as his wife had a history with both Perpetual Grace and its toupee-wearing pastor (John Carroll Lynch) — who refused to allow her to be buried in his church's cemetery.
In the course of a half-hour, we hear the Hallelujah Chorus and Amazing Grace, and get a peek at something called Dona Nobis Pacem. There's one more song, but I won't spoil the surprise.
The pilot stuffs a lot into a half-hour (some shows would have strung the plotlines out for at least half a season), but it's quick-witted, charming and thoroughly enjoyable.
Perfect Harmony (official site here) has fun with its characters but doesn't — at least in the pilot — make fun of Christians. The congregation and its pastor are kindhearted, loving, faithful people, who embrace Arthur Cochran despite his brutal honesty, drinking and general crabbiness.
Also starring are Spencer Allport, Anna Camp, Will Greenberg, Tymberlee Hill, Rizwan Manji and Geno Segers.
As for the music, one of the executive producers is Grammy Award-winning Swedish-born film, TV and music producer and musician Adam Anders, whose long list of credits include Fox's musical Glee and music for The Passion on Fox.
And he has a more personal connection to church music. At the recent TV Critics Association Press Tour in Beverly Hills, he explained:
My parents are ministers and missionaries, and they were the music directors, and I grew up in this world. So when we met to talk about this, I was like, "Oh, my gosh. You just described my mom." So to me, Arthur is my mom, so, very strange. She was very critical musically. But it's just a very grounded thing for me, and "Glee" was more fantastical, and we kind of broke all the rules there in a real cool way. So, for me, it's very fun to do the opposite. You know, let's explore a completely different approach.

…

And we were talking about the singers in America, if you want to look, are in churches. Music's incredible in churches. … So it's really fun to be able to work with that as a jumping‑off point. And we try to be as grounded as possible, and obviously there's some wish fulfillment as well. But I think our rule here is we want it to sound like it would in a good church choir that knows what they're doing.
Lesley Wake Webster, the creator, writer and also executive producer of Perfect Harmony, is a Kentucky native who also attended Princeton — and she has a church-music background as well.
I grew up singing in church choir, going to church. My grandfather, who Bradley's character is modeled on, was a choir director by trade, and he went to Westminster Choir College, which is a fancy, fancy chorale college — he would always impress upon me — and at the end of his life, he was living in rural Kentucky. My grandmother had passed away, and he got to a very dark place. He was surrounded by people who weren't like the people he had gone to school with. He was a little bit of a snob and an outsider.

But the thing that brought him sort of back to life and gave him meaning was directing this little choir, and he was standing in a circle with people singing who had radically different beliefs and had been raised differently, but together they made something really beautiful, and that's really what we want to bring to this.

Yes, it's set in a church, but it's really about people who are each other's family and find each other. And they do that through music and through friendship, and my experience in various church choirs and glee clubs has been it is really hard to dislike other people if you're standing in a circle singing with them.
As for Whitford, he did go to Julliard (but for drama, not music) — and he has attended an Episcopal church in Pasadena. He said:
I was actually raised Quaker, and bizarrely, one of the things I disagree with Quakers about is there's no music. So I didn't grow up in a church musical tradition. We sit in the silence and love each other, not a great television show.
But he added that he also sang and grew up playing the viola.
All of the members of the show's choir use their own singing voices. Deep-voiced Geno Segers was in high-school choir, and he added:
I'm from Winston‑Salem, N.C., and I had the privilege of going to the Greater United ‑‑ the name was so long that I just called it Grandma Baptist Church. And the only reason I looked forward to going was because of the choir, and I mean it felt like I was literally in a movie listening to this choir every single Sunday. So I didn't sing in the choir, but I did get exposed to really good Southern Baptist church choir singing.
Tymberlee Hill, who grew up attending Mount Olive Baptist Church in Virginia Beach, Virginia, also said:
I did [sing in a choir] when I was young, from probably 5 to 12. My family is very much a part of the church choir. Everybody in my family sings, plays piano. And my grandmother taught music and was also the minister of music at our church.

So I was a soloist for the youth choir and they would travel me all around for years from church to church to do competitions and to just be the guest. They have guest choirs at Baptist churches on Sundays. On fourth Sundays, you'll have a guest choir come in. And so we would travel as guest choirs. And I sang all the way through maybe freshman year of college.
The pilot was entertaining and not offensive to Christians, so go ahead and give Perfect Harmony a chance.
Image: Justin Lubin/NBC
Don't miss a thing: Subscribe to all that I write at Authory.com/KateOHare
And, head over to my other home, as Social Media Manager at Family Theater Productions; and check out FTP's Faith & Family Media Blog, and our YouTube Channel.