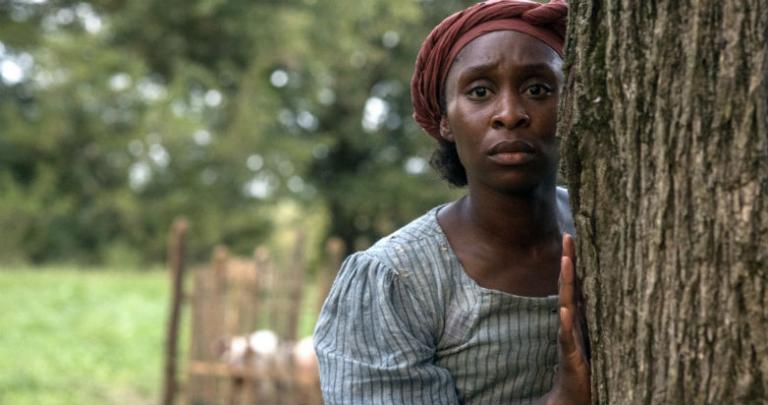 Today's glut of fictional female movie heroes usually has the advantages of superpowers and advanced technology and weapons. In real life, tiny Harriet Tubman took on slave hunters and a host of other mortal perils with nothing but guts, wits and, sometimes, a pistol. Harriet isn't quite as awesome a movie as she deserves, but it's well-done and long overdue.
A bit slow in places, and sometimes surprisingly tame and formulaic considering the subject matter, Harriet — which hits theaters on Friday, Nov. 1 — stars British film and stage actress Cynthia Erivo (who gives a great performance and gets to also show off her gorgeous singing voice a bit) as Tubman, an African-American woman born into slavery as Aminta "Minty" Ross in 1822.
After suffering a head injury as a child, Tubman — who, when free, took her mother's first name, Harriet, and paired it with her husband's surname — suffered from "spells," during which she had vivid visions and dreams. Devoutly Christian, Tubman believed they were communications from God.
As Harriet recounts, in 1849, Tubman escapes on foot and makes her way to Philadelphia, where she teams up with other African-American abolitionists (two are played by Leslie Odom Jr. and Janelle Monae). Although she made it out, Tubman is determined to free her husband (Zackary Momoh) and family, and this begins her frequent trips back and forth over a 100-mile distance to lead slaves to freedom.
Nicknamed "Moses," she becomes an important conductor on the Underground Railroad, and even leads a Union Army raid.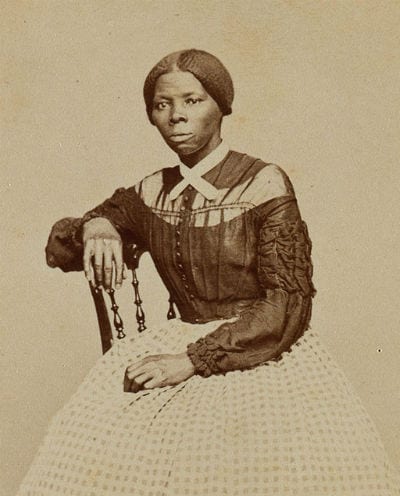 Along the way, Harriet loses her first marriage and tries to save her nearest kin. I won't give away the end of Tubman's life, but considering what she achieved, it's hard to argue she wasn't receiving divine assistance.
Said director Kasi Lemmons (who co-wrote the screenplay with Gregory Allen Howard, from his story) in an interview with David Sims of The Atlantic:
Sims: The film foregrounds Tubman's religious devoutness, and the role that dreams and visions played in her life. Those are things audiences may be less familiar with.

Lemmons: It certainly surprised and intrigued me. I didn't know how critical and essential [that intense spirituality] is to the Harriet Tubman story. When I started doing the research, I realized that you're really omitting something if you try and tell the story without that, because when she talks about herself, she talks about that.

Sims: It can be tough to sincerely engage with her beliefs—she's telling people she's having visions of what's going to happen in the future—and the film doesn't think about those ideas as fanciful.

Lemmons: I took a position, you know what I'm saying? I took her word for it. She spoke about it very forcefully and with great certitude; there's no ambiguity in the way Harriet talked about [her visions].
Erivo, who went to a Catholic girl's school in England and, according to the New York Times, identifies as Catholic, talked to my fellow Patheos writer, DeWayne Hamby, and said:
"What was wonderful about playing Harriet and diving into that part of her is that it gave me access to my own faith. It made me braver in my prayers. It made me want to pray, and not be afraid to do it out loud if I needed to. That's the thing that was really wonderful."
Harriet's chief adversary in the movie is Gideon Brodess, played by British actor Joe Alwyn (who, BTW, is Taylor Swift's significant other). Gideon's the son of the original slaveowner and grew up with Harriet. But his family farm is small and not doing well, and after the patriarch's death, he and his widowed mother are desperate to hold onto the slaves they have, the number of which determines their standing in the community.
Earlier this week, I had a chat with Alwyn, who spoke about Gideon in this way,
He's not a good guy. And what he stands for, as does his family, is obviously repulsive and abhorrent. It was hard to connect with that in any way. Well it's impossible to connect with that. And what was interesting though, as a way to try and latch onto who he was as a character, is to think about any human element that you could find in that person that you can pull and stretch to fit something of your own understanding.

With Gideon, he would've been a young boy who would have grown up with Harriet and been a friend and there would have been an innocence and a purity between them until a certain age when he would have been told that that's not the way the world works, and that's not acceptable. and there's a line drawn between the two.

And the amount of confusion that must've left in him must've just been so strange. And I think throughout his pursuit of her and interactions with her, you can hopefully sense that very tangled feeling inside of him and whether that's a deep, buried love for her or whatever it is. I don't think that was even a language that he had to describe it or a language at the time that would allow whatever that was to be.

So, I think he's someone who's deeply confused, and confusion is something that you can try and hold onto, whoever you are. And of course also the ideas of obligation and loyalty to a family, albeit a horrible family. The more human things like that I tried to understand because trying to connect with what they did is impossible.
Harriet also stars Clarke Peters, Vanessa Bell Calloway, Tim Guinee and Vondie Curtis-Hall (who is Lemmons' husband).
The film is PG-13 (for thematic content throughout, violent material and language including racial epithets).
Images: Glen Wilson/Focus Features; Swann Galleries, via Wikimedia Commons
Don't miss a thing: Subscribe to all that I write at Authory.com/KateOHare