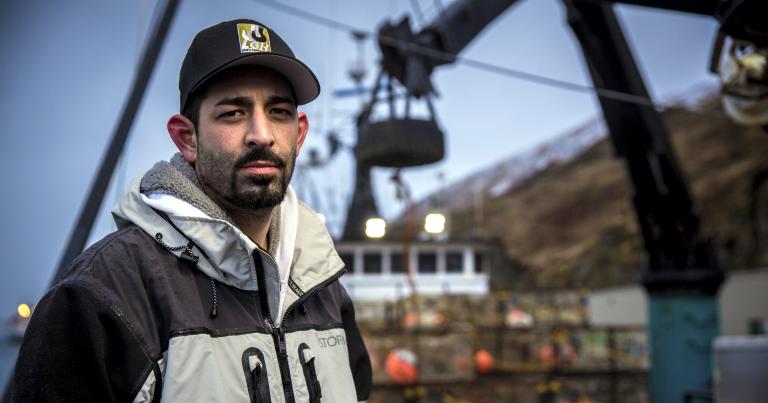 For crab fisherman Josh Harris, his life as a son, a brother and, now, a father, has played out in front of the millions of dedicated fans of Discovery's Deadliest Catch, airing Tuesdays.
16 Seasons for Deadliest Catch (and Me)
I've been writing about the show since its first full season in 2005, and I met Josh's father, Capt. Phil Harris of the F/V Cornelia Marie, not long after that. In 2009, I met Josh and his brother Jake at a lunch with Phil during a Discovery Channel event in Beverly Hills. It was between Phil's recovery from a pulmonary embolism and the early-2010 stroke that eventually killed him — which didn't stop him from eating cheeseburger sliders and popping out for a smoke.
"I remember that," says Josh Harris, calling in from his home near Seattle, Washington, the home port of his Bering Sea fishing vessel, "at the Beverly Wilshire."
The Future of Deadliest Catch: Bloodline
Fans also got an extra shot of Harris in May in the short-run spin-off Deadliest Catch: Bloodline, when he and Cornelia Marie co-captain Casey McManus headed to Hawaii to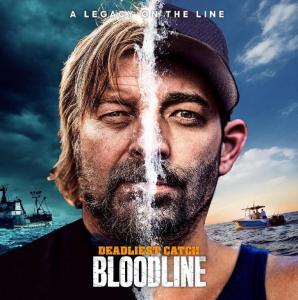 investigate some of Phil's fishing charts of Hawaiian waters. Complete with hand-written notations, they came to light during a renovation of the once-battered crab boat.
Says Harris, "It sounds like we'll be going and doing it again. … And possibly end up having a new company that could be making money. That'd be pretty amazing."
Harris: Father and Son
Capt. Phil Harris was one of the show's most beloved participants, and viewers got a front-row seat to his alternately loving and contentious relationship with his two sons (and, by the way, fans who know of Jake's troubles with substance abuse, etc., will be happy to hear that Josh says he's "doing quite well.")
"It brought us closer together," Josh Harris says of TV's effect on his relationship with his dad. "Without the show, I don't know if I would've gone back to the boat. It was a sink-or-swim type of deal with me and the old man, and the world got to watch. So, it was kind of a cool deal.
"I got to spend the last little bits and years of my father's life with him. Because, regardless of the show or not, he wasn't going to change the way that he lived. So, it was cool to get to have that experience with my dad. He loved helping people, and he got to help millions of people.
"It's been a wild ride."
Harris: Father and Daughter
Now in his mid-30s, Harris is a single father, as I first found out when he texted me a baby picture. But Kinsley Ella isn't a baby anymore.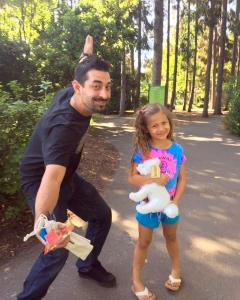 "She's seven," he says, "going on 30. She's actually going to be a part of the show, too. So that's been pretty cool. I've got to make it home for a birthday. … She's a natural. She just tells me how life is, through a seven-year-old's eyes."
While Kinsley Ella didn't get to meet her grandfather, she can eventually watch many hours of him on episodes of Deadliest Catch.
"It's cool," says Harris, "because there are a lot of good memories there. And she can get to see me growing up. When she gets older, and she's old enough to understand that type of stuff, it'll be really cool for her. I've got faith in that.
"It's definitely interesting, because she's starting to realize that our family is on TV, and it's not a normal thing. She's taken it well. She likes helping out. She likes being helpful at school and helping others. So, that's the most important thing."
Asked what he's learned about being a father through being Phil Harris' son, Harris says, "He was such a wild man. The fishing industry's changed. We're not gone as much. Just, to try to be home. Now, we're blessed with technology being the way it is, so I get to talk to my daughter a lot. That's really helpful. We didn't have that kind of technology with my dad."
Harris is a man's man, raised by a man's man, but he loves being a girl dad.
"I was like, 'Man, I hope I get a boy. I hope I get a boy.' Then I had a girl, and I was like, 'OK, we got a girl.' But now, I'm just like, man, I'm really, really happy that I got a girl. I absolutely love my daughter. She's amazing. She's definitely a chip off the old block. So, it makes me nervous.
"But at the same time, she's got a great heart, just full of life, full of goofball, and she's a great leader. She's got great manners She's really tall. Scary. She doesn't act like she's seven when she talks. She has a bigger vocabulary than I do. She definitely is into the fact that I still smoke cigarettes, and we're working on that. I'm switching over to e-cigarettes."
Pandemic and Parenting
Speaking of health, earlier this year, Harris fell ill. He was treated for the flu, but Harris later found out that he actually had COVID-19.
"I didn't even know that I had it," he says. "It'd take a lot to kill me. Oh, man, that virus probably got inside me and was like, 'What the hell is happening?' So I gave it a ride."
The experience — and the constant danger of life at seas — also contribute to how Harris thinks about what matters in parenting.
"Just come home whenever you can," he says. "And always say that you love. Tomorrow's never promised. Never want to leave a phone call with a fight, that's for sure. Tomorrow's not promised. It's an important fact. Let that little person know that you love them. That's a big deal in a kid's life, and I know it was in mine."
Harris has even taken his daughter out fishing for Dungeness crab.
"She seems to be a natural at crab. … I tell you what, she's a wild one. God can only imagine what's going to happen when she becomes a teenager."
And on Father's Day…
As for Harris' big Father's Day plans, he says, "I'm going to try to negotiate some putt-putt golf. I enjoy doing it; my kid likes doing it. So, weather permitting, we're probably going to do some putt-putt golf."
Image: Discovery Channel (banner, 'Bloodline'); Josh Harris
Don't miss a thing: Subscribe to all that I write at Authory.com/KateOHare