On Aug. 14, on Amazon Prime Video, the world finally gets to binge Mark Burnett's Eco-Challenge, as I did for years.
As an entertainment journalist, I used to get VHS tapes (remember those?) of a full season of episodes and plowed through them at maximum speed. Now, you get to do the same.
From 1996 to 2002, first for Discovery and then for USA Network, Burnett produced Eco-Challenge — which bills itself as the World's Toughest Race — a combination of an adventure/expedition race and a thrilling reality show. Teams comprising seasoned racers and intrepid amateurs crossed hundreds of miles of varied terrain in locations from North America to the South Pacific, using grit, determination and every sort of outdoor skill.
Unlike many reality shows which pit human against human, Eco-Challenge is a team of people facing the impersonal, unforgiving forces of nature. Also, teams finish together or not at all.
Amazon's version of Eco-Challenge (click here for the Amazon website), shot in 2019, takes the race back to the last location where it happened, the island nation of Fiji, home to beaches, tropical forests, rivers, waterfalls and soaring, cloud-shrouded mountains.
Teams must paddle, swim, climb, bike, run and walk (and occasionally ride horses), risking injury, drowning, illness, heat stroke and hypothermia, to reach designated checkpoints by a designated time. Miss one, and you're done.
(Click here for a great rundown on how the race was mapped and constructed.)
One new element is the addition of a host. For Eco-Challenge: Fiji, that's former British military member and outdoor adventurer Bear Grylls (Man vs. Wild). He pops in and out along the race to talk to competitors and show the audience the challenges they face.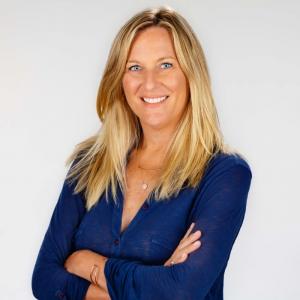 On the Eco team since the beginning is Lisa Hennessy, who's been executive producer of many shows, including many of Burnett's, and returns in that role now.
Considering the state of the world in 2020, one might wonder why anyone would volunteer for such hardship. Hennessy has a theory:
When you watch people push themselves past what you think the human body and the human spirit can do, it's inspiring. It just shows how much stronger we are as humans.

And, for me, always, the base of Eco-Challenge is teamwork. You are the strongest when you work together as a team.

With what's happening today and, and what we're all going through, that's a really great message, in terms of our strength when we all work together. You're only as strong as your weakest member. A lot of us are really weak right now. It's a really difficult time. It's challenging for really every person on the planet right now.

I think that [Eco-Challenge is] showcasing and sending the message of, let's help each other. Let's help each other when another person is down. Let's help each other be stronger and push ourselves, because really we're all right in the middle of a big grand adventure for the entire world right now.
As powerful as humans think they are, when we're faced with Nature — whether it's a virus, a storm or some other natural disaster — we're reminded that we're still small creatures in a big world, and we never really know what's coming next.
Says Hennessy:
There's so much unknown. And what Eco-Challenge is really about it, is the unknown, in terms of what is around the corner? It's what you do next, what the next discipline is and and how tough is. We're all on that path together in a weird way. This is a grand adventure, because we don't know what's going to happen with COVID. We don't know what's around the corner.

It just helps us be stronger and, and really look after each other and applaud and cheer on people who have really done the extraordinary. Because we're all doing the extraordinary right now.
Eco-Challenge is also an international race. Eco fans will be happy to hear that formidable veteran racer Nathan Fa'avae, whose team won the last Eco race in 2002, is back with Team New Zealand.
There are teams from Australia, Brazil, Canada, Costa Rica, Estonia, Fiji, Guatemala, India (including twin sisters who summited Everest), Japan and Spain. There are also several U.S. teams, including an African-American team (which includes two LGBT members), a team with the average age of 66, and a team featuring military veterans with disabilities.
Mark Burnett is a rather public Christian, but, for whatever reason, religious faith isn't part of conversations on Eco-Challenge: Fiji, but neither is it denigrated at any point. Conversations about gender and LGBT issues are in the context of inclusivity and encouraging all people to test themselves and explore the great outdoors.
One male LGBT competitor starts out in his preferred outfit of a Speedo, and all I could think was, "Yeah, that's not gonna last long." (You'll have to tune in to see if I was right.)
Several teams contain family members. There's a strong pro-family message throughout, especially with one competitor racing with his father, who's a veteran racer facing the early effects of Alzheimer's, and a veteran racer competing with his now-grown daughters.
While some of the physical and emotional perils of the race may be too intense for very young children, Eco-Challenge: Fiji is suitable for family viewing (but with a couple of mild bits of language). If the world wasn't on lockdown right now, it'd probably also result in a lot of vacation bookings to Fiji, not least for its warm and welcoming inhabitants.
And, in case you were wondering about the Eco bit of Eco-Challenge, Hennessy says:
The production as a whole, because it's an army of people, there was no plastic. So, no plastic water bottles, and our catering for the teams was pack-in/pack-out. That includes human waste, which no one really likes to talk about.

We have very strict environmental protocol guidelines. … You wouldn't even know that we were there after the racers go through.
What's the ultimate lesson of Eco-Challenge: Fiji? Here's how Hennessy puts it:
I tell people this, because I really did learn it through Eco, and I have it as a principle in my own life, is that the best thing you can do in the hardest of times is, just do one step in front of the other. That's all we can do right now, put one step in front of the other.
If you've finished watching and want to learn the final results, click here.
Take a peek:
Images: Amazon, Lisa Hennessy
Don't miss a thing: Subscribe to all that I write at Authory.com/KateOHare