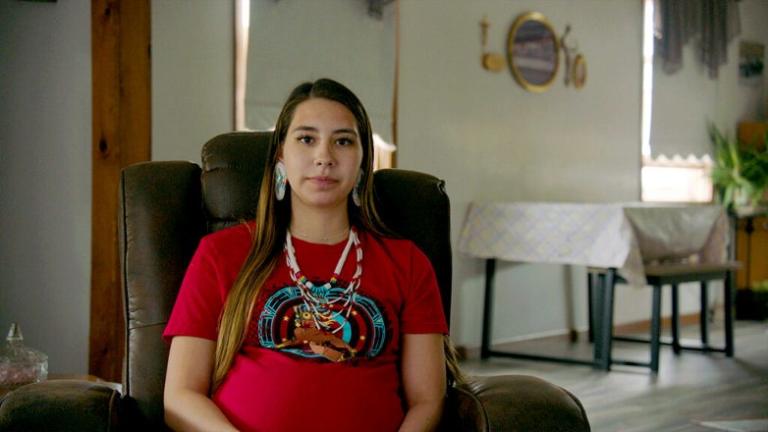 Hiding in Plain Sight: Youth Mental Illness premiered on PBS  in late June, but it's still streaming until July 26 at PBS.org and at the PBS app. The four-hour documentary takes an in-depth look at a variety of issues facing today's youth, through their own voices and those of experts.
Produced by Washington, D.C., PBS station WETA, Florentine Films and Ewers Brothers Productions, the film (official site here) has Ken Burns as executive producer, but the real engines behind it are two brothers, directors and co-producers Erik Ewers and Christopher Loren Ewers.
Both have long worked for Burns' Florentine films, with Erik as senior editor and co-director, and Christopher as cinematographer and co-director.
How did Hiding in Plain Sight: Youth Mental Illness Come About?
In a phone interview, Erik says, "It really began when Ken literally asked us to do it through his broadcasting station in D.C,. the PBS station, WETA. And he does this a lot for colleagues because he chooses his own topics for the most part.
"I think Ken knew to pick us because Chris and I do have had a lot of personal experience. We knew nothing about mental health growing up, but we did know something about mental illness that ran in our family.
"Ken had personally witnessed and acknowledged my mental-health struggles when I've been working here with him over the past 32 years. So, I think he intuitively knew that we might be a good fit for it."
Talking to Many, Because Mental Illness Affects Many
Hiding in Plain Sight: Youth Mental Illness talks to more than 20 young people about their mental-health struggles, along with providers, advocates, family members and friends. The interviews cover a variety of issues in two episodes, called Resilience and The Storm (Spanish versions are also available online).
From KenBurns.com:
It affects all ages, in families both rich and poor, healthy and dysfunctional. Trauma can be the trigger — from personal crises such as divorce and neglect to environmental disasters, racial injustice and pandemics. Over time, the symptoms can progress, and lead to increasingly extreme behaviors — like eating disorders, self-harm, and thoughts of suicide.

The issues surrounding mental illness are extraordinarily complex. The risk factors are daunting, the economics bewildering, and the politics contentious. But the most important step — and often the most difficult one — is to start talking about it. Hiding in Plain Sight will bring that conversation into homes, schools, the workplace, and community organizations across the country.
Says Christopher, interviewing in tandem with his brother: "There's not a single one of us that isn't affected by mental-health struggles, on a spectrum.
"And until we're all able to collectively acknowledge that in ourselves and then be empathetic to that with each other, just like we are when we have the flu or cancer, until we're able to do that, no real progress is going to be made in that matter."
The Effects of COVID and Societal Upheaval
Many today are talking about the effect of COVID lockdowns, loss of education and social isolation. COVID affected even the production of the film, and it's reflected in the content.
Says Christopher, "We refer to it in the introduction when we go through the list of different kinds of traumas that you can experience. And we end with pandemics, and you see two girls in masks looking at each other, like 'What is going on?'
"And then we have a little section where we talk about the year 2020, with all the political divisiveness in the country, with the racial barriers that had been unfortunately put back up in our country. And then on top of all of that the MeToo movement; on top of all that, COVID.
"So we dedicated a section of the film to acknowledge what kids are going through today and to let our youth explain why they think it's different from past generations."
Erik emphasizes that, while isolation can exacerbate mental illness, and mental illness can cause isolation, it's never treated in isolation.
He says, "Education is so lacking on this topic. That's why this film we feel is so potentially important to parents and families across the country, because it opens that dialogue. It brings that awareness to both of them.
"And if you can find yourself in this film, which so far, almost everyone who has watched it has said that they see themselves, even Ken Burns himself, that if we can see ourselves in this film, then we relate. And if we relate, we start that path to wellness."
The Double-Edged Sword of Social Media
The film also deals with the pervasiveness of social media, both the good and the bad.
"We tried really hard," says Erik, "to balance out that chapter with the negative versus the positive, just to give the viewers: 'Yes. It can be damaging, but it can also be a place where you find your community.' There's a duality to the whole concept of social media.
"I think my favorite part of that whole discussion is what [interviewee] Alexis said, which is, 'I hate it when parents say, you shouldn't be spending much that much time on social media.' She says, 'What do you think you did to us? You put a laptop or an iPad or an iPhone or a movie in front of us and said, "This is how you play."' I'm guilty of it. I did it to my kids."
The film also deals with LGBT issues, emphasizing the belief — currently prevalent in psychology circles — that any mental-health issues associated with those are more caused by outside attitudes than by any innate problem.
Challenging Viewers to Listen to the Stories
Overall, the four hours are almost entirely composed of talking-head interviews, so it can seem dense to more casual viewers. But Erik insists this is intentional, with the goal of being comprehensive in depicting a broader swath of ethnicities and backgrounds, along with different illnesses and symptoms.
He says, "We were like, 'Listen, if this is going to make a difference, we need to make it truly relatable. And we need to figure out a way to bring the stories of these collective youth to the American public so that everyone can find themselves in the film.'"
To anyone who might find the format challenging, Erik says, "To that person, I would want to seriously sit down and say, 'How committed are you to your own children or to your own community or to yourself when it comes to mental health?'
"When you just want to say, 'Oh, it's too dark. I don't want to watch it,' I think that's sad, honestly."
Going Forward …
In addition to streaming, the film is available on DVD. The Ewers brothers plan events centered on the film in the fall and hope it will continue to be used by organizations, schools, businesses and others to bring awareness to mental-health struggles.
Says Chris, "We're allowing people to see what it really is. Let's stop beating around the bush. Our kids are in crisis right now. Many of them are in crisis, and we need to start listening, or it's going to get worse.:
Images: WETA/PBS
Don't miss a thing: Subscribe to all that I write at Authory.com/KateOHare.