I do not know if there is a better way to be serious about just that than the Way of the Cross. Praying station to station.
As I've mentioned, I recently prayed it in Jerusalem, on a cold, wet, snowy pre-dawn morning.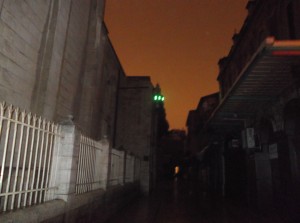 We used Archbishop Fulton Sheen's text.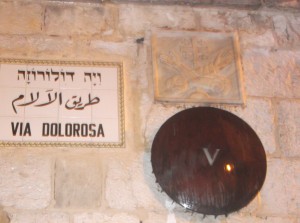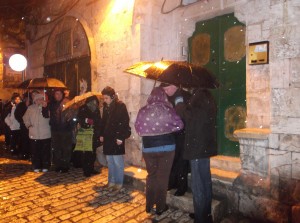 But you don't have to be physically on the Via Dolorosa to be jarred into attention. Here is how Archbishop Sheen presents the first station:
Pilate, the time-serving politician, stepped forward on his sunlit portico. On his right stood Christ, the Just One, who came to give His life for the redemption of many. On his left stood Barabbas, the wicked one, who has incited a revolt and taken a life. Pilate asked the mob to choose between the two: "Whom do you want me to release to you, Barabbas of Jesus?" How would I have answered that question had I been in the courtyard that Good Friday morning? I cannot escape answering by saying that the question belongs only to the past, for it is as actual now as ever. My conscience is the tribunal of Pilate. Daily, hourly, and every minute of the day, Christ comes before that tribunal, as virtue, honesty, and purity. Barabbas comes as vice, dishonesty, and uncleanness. As often as I choose to speak the uncharitable word, do the dishonest action, or consent to the evil thought, I say in so many words, "Release unto me Barabbas." And to choose Barabbas means to crucify Christ.
So today I have been given the choice: Crucify Him? How did I choose? How will I choose?
It's brutal.
And by the Sixth Station, we are to understand that "There is only one way we can become exactly like Him, and that is by suffering."
But it is and there is hope — this is the whole point of it, of Christ subjecting Himself to this, to us.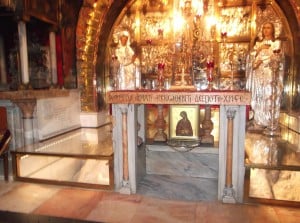 At the Ninth station —  Jesus Falls the Third Time — Sheen writes in the reflection prayer:
You have taught me that there are two kinds of person I can be: a person who falls down and stays down, or a person who falls but gets up again. By this, your third fall, you purchased for me the grace of rising again each time I fall. The devil would give up the world to make me his own. You gave up your very life to keep me for yourself, to show me that I am worth saving.
Is there a greater consolation than this? Is there anything else to live for? So why do we chose Barabbas again and again?
Confronting these questions is living Lent. Confronting these questions is walking the walk of Christianity.
Do we even ask them? Minute to minute? Hour after hour? At day's end?