Dopey because I probably should be immune to media bias by now. I probably should be more at peace with the realities of the world such that I no longer would yell at my computer screen as I read the Time "Most Influential" list. I've already commented over on my home base (National Review Online) about Cecile Richards's entry, an ode to Planned Parenthood and all it represents culturally and politically. But now I have to say a few words about the entry on Cardinal Dolan.
Firstly, I should be grateful: Thank you, Time, for including him at all.
But now to my question: Why did Jon Meacham, who seems a very pleasant man and writer, write the entry on Cardinal Dolan?
If Sandra Fluke gets to write the entry on Richards, shouldn't like a George Weigel or, I don't know, a young-ish but not so young woman who attended a D.C. Catholic school with a known opinion on abortion and a deep affinity and committment to the Catholic Church (to stay on the Fluke model) or someone write the entry on Dolan? Someone who not only likes  him but is inspired by him (to use the Fluke model again)? Who gets what motivates the guy? Who is on the same team? And when I say the same team, I do not mean anything political. I mean this: Jon Meacham, the author of the Dolan entry, writes that Cardinal Dolan is
a warm prelate who leads his flock more by charm than fiat.
Now, I, of course, know what Meacham intends here. Cardinal Dolan doesn't come across as an iron hand, insisting you do what he says you do. (But then I don't know many priests or bishops who do.) He welcomes you, he invites you, he meets you where you are. He is eminently pastoral.
And he also challenges you. He doesn't just manage to get authentic Catholic teaching some air time. He leads in the most personal and political — he surely has had to do that of late, in defense of religious liberty itself — and cultural ways. With the emphasis on the first part, the pastoral part. Because the latter are only ever as good and healthy as the former, the fundamental.
But here's my problem with the word fiat as it was used in the Time piece: The man is all about fiat. It's at the heart of what we believe. That cross is about surrender. Christ's self-sacrificial love which we believe we are called to enter into. It's about Yes — the fiat of a young virgin in Nazareth. Of a humble carpentar, who offers a model of living as a man of wisdom and virtue. Of the Son of God, who showed us the Way to live, the purpose of our lives, offering us everything. Of each and every one of us, every moment of the day, we pray.
The Time entry is written like the author never prayed with Timothy Michael Dolan at the consecration, never saw the intensity of this priest's prayer on the altar. And given the Fluke-Richards model, that just does not seem right.
Cardinal Dolan is not just some nice camera-ready prelate with a proposal. He's a radical revolutionary. The truly Christian always are.
Planned Parenthood was given a commercial in Time magazine. Catholics were given a wake-up call.
Fiat has to be the storyline we tell with our lives.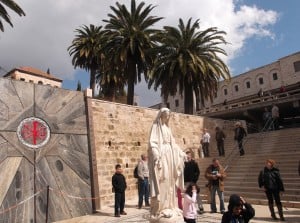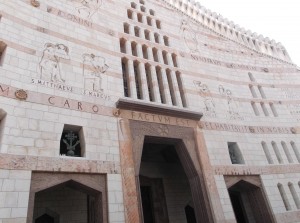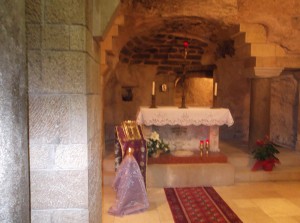 (Photos from the Church of the Annunciation in Nazareth.)
This, by the way, is the photo I would have used of Cardinal Dolan, had I had a hand in the Time feature:
It is from his pilgrimage with priests from the Archdiocese of New York earlier this year, on the steps of Calvary.