As you know, Paul Ryan has been subject to the criticisms of a minority of Catholic bishops, questioning his commitment to Catholic social teaching in regard to budget policy-making.
(George Weigel has addressed this here.)
On EWTN's The World Over last night, Raymond Arroyo asked Congressman Ryan's bishop about his budget. Bishop Robert Morlino of the diocese of Madison, Wisconsin, spoke as a shepherd, encouraging discerning policy-making from Ryan and all Catholics in public life.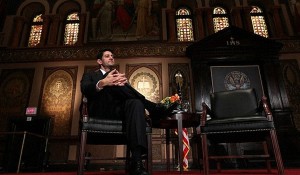 Pointing out "I don't think that he really needs any particular affirmation from me," the bishop was encouraging toward Ryan: "He is a very responsible lay Catholic, who understands lay mission and who makes his judgment very much in accord with all the teaching of the Church and he knows how to do that."
Video here:
It is not an endorsement of the Ryan budget, but of taking what you claim to believe seriously.
That is in no small way a challenge to us all: Rather than sit around wanting the bishops to weigh in one way or another on what's in the news, we could afford to take up the call to be discerning, vocal Catholics, taking our faith seriously in every aspect of our lives. With his engagement on economic matters, taking Catholic social teaching seriously, Paul Ryan is a model in public life, one to nudge us during this tipping point kind of election year, but always.
Harvard professor, Ambassador Mary Ann Glendon still has one of the best calls to action Catholic laity. She also happens to model it.