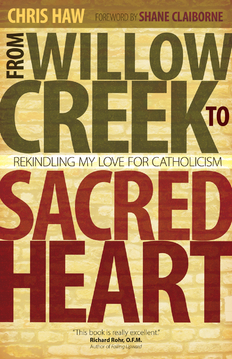 Chris Haw's journey—from lukewarm Catholicism, into earnest Evangelicalism, and finally to a renewed and vigorous Catholic faith—is a familiar one.
Like Chris, I too was raised in a Catholic home but was drawn away from the Catholic faith in early adulthood.  Peer pressure, lack of understanding, personal pride, and the tumultuous '60s came together in a perfect storm of  dissent—and for a number of years, I scarcely looked back at the 2,000-year-old tradition I'd left behind.
When I did experience a resurgence of spiritual hunger, I—like Chris Haw—was attracted by the energetic faith of the evangelical community, where worship was devoid of what I then regarded as "musty old rituals."  It was only after several years in an evangelical community that I reexamined my basic suppositions and returned to my Catholic roots.
From Willow Creek to Sacred Heart is Chris's personal travelogue through the denominational morass toward union with the Catholic Church.  With the perspective acquired during years in the nation's largest evangelical community, Haw has much to offer:  Wide-eyed, he gapes at profound mysteries of the faith, and his awe is contagious.  I, a Catholic for many years, have come to take for granted the mournful silence of the Good Friday liturgy, the provocative image of Christ crucified.  Haw teaches me to be still and to reflect on familiar treasures.
But while Haw, as a Protestant, had once been offended by some of the common expressions of Catholic piety, now at Sacred Heart in Camden he inhaled the fragrant spirituality in Catholic art and traditions.
Teetering on the wall between his newfound Catholic faith and his recent experience at Willow Creek, Chris Haw experiences the point/counterpoint of Protestant asceticism and Catholic aesthetics, and finds peace amid the Church's great beauty and seeming wealth.  He considers what had been a flashpoint during his Willow Creek years—the ordained priesthood, versus the priesthood of all believers—and he finds the grace to embrace and defend the Catholic understanding.
I was puzzled, though, that as the book neared its end, Haw outlined those many things in contemporary Catholicism which he still dislikes:
  an unsatisfying homily, an occasional boredom at Mass, the difficulty in stepping outside his comfort zone to fit into an unfamiliar rhythm.  He writes of a distrust which "has still not entirely left him."  Why, I wondered—why, when he had traveled this far along the road toward a full appreciation of the Catholic faith—didn't he suspend writing for another two months or two years, until he had made his peace with these other things, too?  For yes, there are times when human talents fail, when a homily is cobbled by the priest's limited vocabulary and fails to ignite the congregation's hearts with love and apostolic zeal.  Sometimes the liturgy becomes so commonplace that its beauty is overlooked.  But Haw is still on the road, and if he's completed only 80% of his journey home, he might better have waited until these challenges, too, found their answer in the divine presence.
The popular evangelical preacher Dr. John MacArthur once told a story about two men who tried to jump toward heaven.  One, an average man, could jump only a few feet; while the other, a world champion pole vaulter, could leap four times higher.  From the vantage point of earth, the second man jumped much higher; but when examined against the scale of the universe, neither man's insignificant leap could even reach the nearest star.
Perhaps Chris Haw could look at the Mass and at our Catholic prayer with a forgiving eye:  One homily is better constructed and more insightful than another, one church building is more skillfully designed to point the soul toward God; but like MacArthur's earth-bound leapers, bound by gravity and still light years from the nearest celestial body, none approaches the greatness of God and the beauty of the heavenly liturgy.
*     *     *     *     *
 This review is part of the Patheos Book Club.