In the long, harsh winter of 1835, Father Frederic Baraga trudged through the snow, carrying the gospel to the Ojibway tribe in northern Wisconsin and Michigan.
In the region south of Lake Superior, the average snowfall is 300 inches.  Undaunted, the native Slovenian priest traveled thousands of miles on snowshoes, ministering to the region's Native American population.
It was the Ojibway (Chippewa) tribe that gave Father Baraga his nickname, "the Snowshoe Priest."  But the young priest's missionary efforts were not limited to the Ojibways:  At the request of Cincinnati's Bishop Edward Fenwick, he ministered to the Ottawa people in the missionary territory.  In fact, Father Baraga wrote the first book in the Ottawa language, Otawa Anamie-Misinaigan, a Catholic catechism and prayer book.
In 1853, the young missionary was ordained a bishop and was named to lead the new Diocese of Sault Sainte Marie, Michigan (now the Diocese of Marquette).  His far-reaching flock included the Ojibway, but also French-Canadian settlers and immigrants from Ireland and Germany.
*     *     *     *     *
Bishop Baraga's story is told in The American Catholic Almanac
,  a daily reader just published by Image Catholic Books.  Authors Brian Burch and Emily Stimpson offer a story a day–featuring patriots, saints, rogues, and ordinary people who changed the United States.
There are names you'll recognize, to be sure:  Father Michael McGivney, founder of the Knights of Columbus; St. John Neumann, bishop of Philadelphia; Thomas Merton, the Trappist monk who has inspired many with his spiritual autobiography "The Seven Storey Mountain"; and William F. Buckley Jr., founder of National Review.  There's an essay, of course, on Dorothy Day, and another on Cardinal Avery Dulles, and a page devoted to the Marquis de Lafayette, one of General George Washington's most trusted commanders.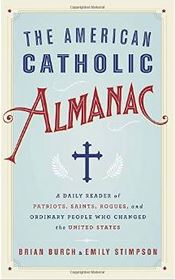 But there are many Catholic heroes who may be new to you, like Father Mathias Loras, first bishop of Dubuque, and musician Mary Lou Williams; and Ann Glover, Irish Catholic who was the last person to be hanged in Boston as a "witch."
In all, Burch and Stimpson capture the stories of 365 Catholics who helped to build America.  In the Preface to the book, the authors explain what motivated them to take on this hefty project:
"But for all that American Catholics know about Church history elsewhere, much of our own history remains a mystery.  We don't know about the suffering and sacrifice that went in to building Catholic parishes in Maine and Catholic schools in Oregon…. 

Because we don't know those stories, because we don't know what those early American Catholics sacrificed, we also don't know how much we've gained.  And that puts us at a serious disadvantage, especially when it comes to the ongoing debate over the place of religion in public life."
The American Catholic Almanac
is a tool in the New Evangelization, equipping Catholics to tell their own story.  It's also a good fireside read or a great bedtime meditation.  One person, one story, one page each night–and in just a year, you'll have gained rich insights into our noble past and will have become friends with our spiritual forebears.