A Guest Post by
Monsignor Richard Soseman
Hilaire Belloc was French born of an English mother, and he maintained dual citizenship throughout his life. Although he lived at a time in England when there was still a very anti Catholic atmosphere throughout society, he remained a fervent Catholic as he lived his many faceted career as a serious writer and scholar, satirist, Member of Parliament, and mentor and friend to many of the other writers of that period, people like G.K. Chesterton and Evelyn Waugh.
Hilaire Belloc is famous for a phrase which I think is important to remember on Shrove Tuesday, Mardi Gras, the last day before we begin the rigors and self denial of Lent. Mardi Gras is perhaps one of the best celebrated days of the Christian dispensation, although it is nowhere mentioned on that official calendar of celebrations. It is a wonderful day in which we might throw off the rules of the coming season of Lent, even throw the rules of normal life aside a bit, and splurge. I plan to enjoy the three pieces of candy, unavailable in Italy, but which I procured at Camp Darby a few weeks ago and stumbled upon last evening: Reese's Peanut Butter Cups. Belloc is famous for many phrases, but one which I seldom repeat, but which is appropriate, perhaps, like no other, for Mardi Gras is this:
"Wherever the Catholic sun doth shine,

There's always laughter and good red wine.

At least I've always found it so.

Benedicamus Domino!"
As you may know, I am not a fan of spirits in general, and certainly not of red wine. This is rather a personal preference, though, as moral theology allows the enjoyment of the good things which God has provided directly or through human invention. So beer, red wine, alcohol, food, all these things can be enjoyed, even sometimes immoderately, I might venture to say, as long as we don't lose control of our faculties. So, this Mardi Gras, enjoy yourself. Drink a glass of red wine if you are inclined to, or eat a banana split. Watch a comedy movie, or engage in a raucous conversation. Tomorrow, Lent, starts soon enough. Shrove Tuesday is a day of celebration, so please do try to do something to enjoy yourself. Belloc ends his quote with the words "Benedicamus Domino!" which means "Let us bless the Lord!" As St. Francis de Sales wrote, "As long as he who fasts, fasts for God, and he who fasts not, fasts not for God, God is served." Please do not fast today, enjoy yourself! The Spirit which sustains us in suffering also enlivens our hearts with joy. Make today, not a day of woe, "Benedicamus Domino!"
* * * * *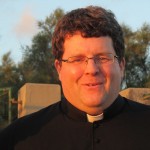 Monsignor Richard (Mons) Soseman lives in Rome, where he serves as an Official with the Congregation for the Clergy.