On the Witches' Grand Sabbat on May Eve, take this mystical journey to our home along The Starry Road.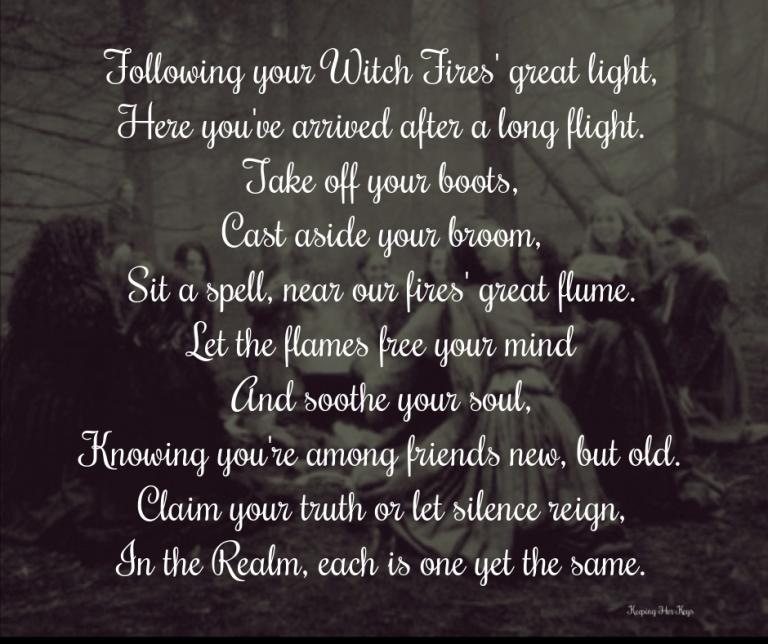 Trudging Through History
Witches and brooms have been linked throughout western history, and not usually in a good way. I love the symbolism of being a broom rider – escaping the everyday world to discover the mysteries. I see it as part of the Old Time Witchcraft spirit that I've been connecting with for the past several months.
A few months ago (as part of my Old Time Witchcraft Revival,) I got hit with this burning desire to find out more about the lived experiences of practical witches throughout history. How those ancient women actually understood Hekate, for example. I wanted to go deeper than the usual knowledge about my ancestral sisters. I walked away feeling frustrated because there isn't a great deal written from a female perspective. There's a lot of lore about witches and their brooms, though. Like Walpurgis Night, celebrated on May Eve. This tradition came to be seen as a Great Witches' Sabbat. Hosting a Grand Witches' Sabbat at the end of April does reflect the spirit of modern Beltane. I love the symbolism of rising up to greet the moon on a Grand Sabbat.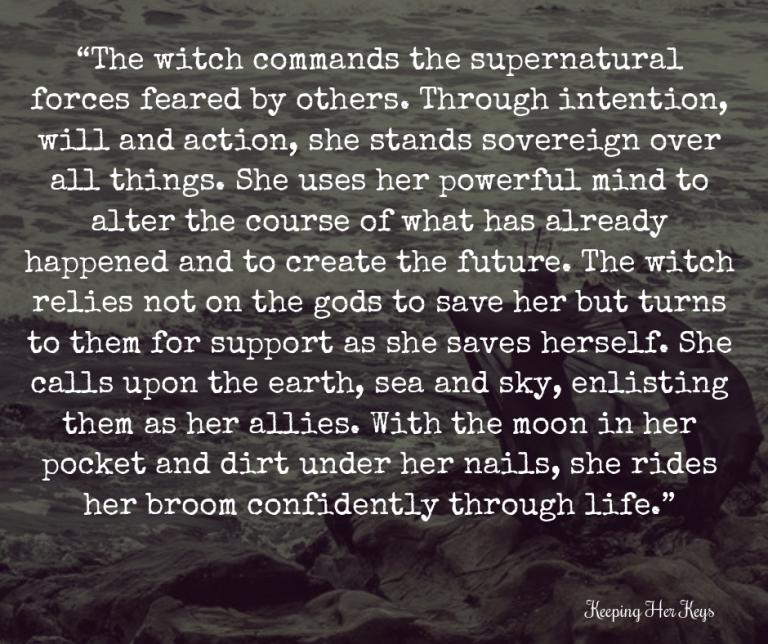 Why Trudge When I Can Fly?
In one of those truly mystical moments (after I had already started working on this Witch's Eye activation article), I got hit with a  *BOOM* moment – the message came through loud and clear. If I wanted to know what those ancestor witches were like and how they practiced, I could journey to them. Why didn't I think of that sooner? 
The Witches' Realm
I envision the Witches' Realm to be a hidden part of The Starry Road behind the moon. This is a place of celebration, support and wisdom that any witch can access. Perhaps I needed to go deep into the male dominated academic world of historical research to figure out that my answers could only be found through the witch within me. To have my own mystical Grand Sabbat. To return to the home of my witch's soul. UPDATE: Low and behold – this is what has been created. I love it when witchcraft does that. The Witches' Realm is an amazing living organism that is exactly how my vision looked. Abracadabra.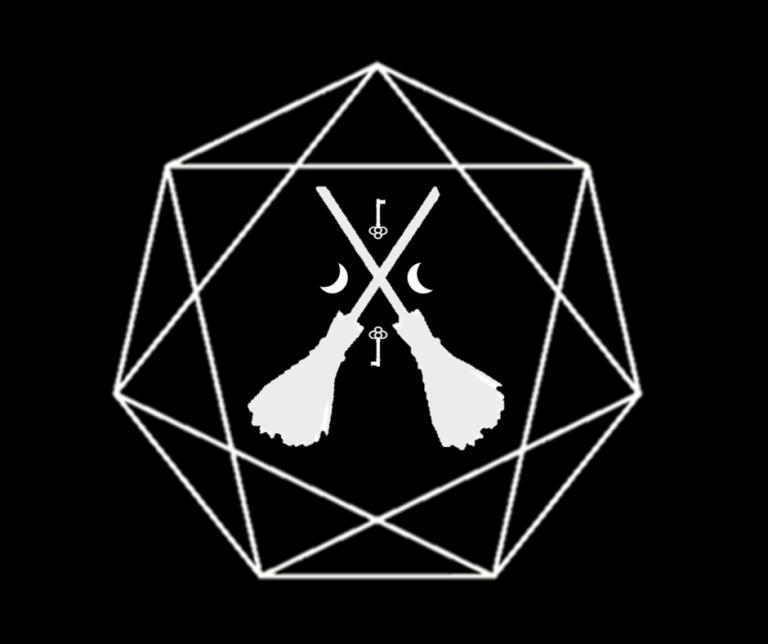 My Witch's Soul
I've written before about my witch's heart. It's a black, candle-lit cave deep within me. At the center is my witch's soul. The unborn part of me that comes along for the broom ride in each incarnation. Perhaps learning more each flight. Frankly, I have no idea how this reincarnation thing actually works. I gave up trying to sort it out intellectually years ago. It simply is. You know what the cool thing is? This is fine with me. I don't know much about how my SUV works, but it does. It takes me everywhere I want to go without fail. My witch's broom is the same. She takes me to the realms and beyond, showing me the mysteries, introducing me to metaphysical beings and revealing whole new worlds. How fortunate am I to be able to fly?
Broom Riding
For me, the imagery of broom riding usually includes flying to the moon and beyond to the Starry Road, the mystical path of enlightenment and wonder. Herein lies the Witches' Realm, hidden from view from all those except those whose soul calls this place home. This is the location of our mystical Grand Sabbat.
Seemed to me that the answers to my questions about how my ancestor witches lived and practiced could be answered by travelling from whence I came. I enjoyed this journey so much (I honestly feel completely de-grumped today) that I thought I would share it with all of you.
What a Ride
The full moon is an ideal time to do this journey, but you can certainly do it at anytime.  My intention was to open my Third Eye that's the Sight of my Witch's Soul. Our Third Eye is connected to our Higher Selves (that's just another label for Witch's Soul), the eternal energy that lives within each of us (witch or not), connecting us to the past, present and future. As witches, our past is both painful and hidden (as I found out in my academic pursuits). But, I could feel that there was a place somewhere out there where the witches celebrated all that they were, completely free of patriarchy and other forms of bullshit. Off I went. What a ride it was. If you're interested in a similar flight, here's what I did.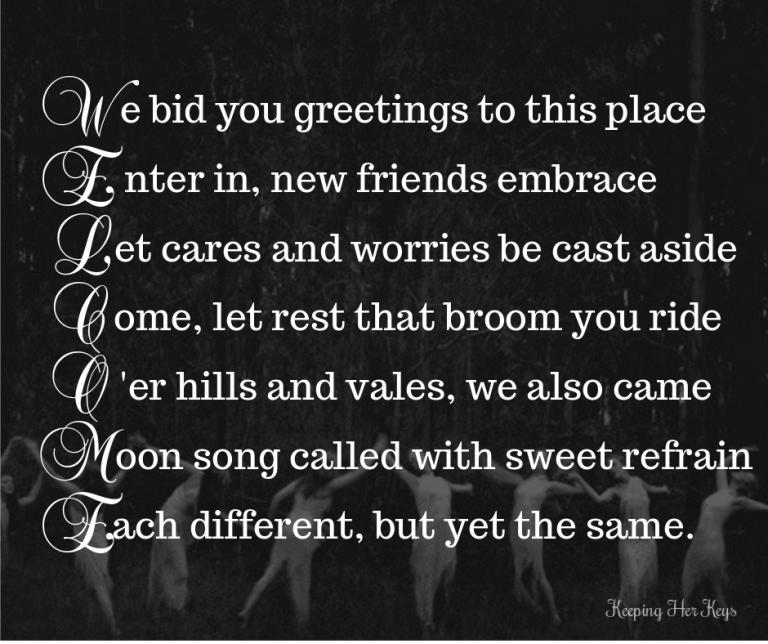 Hop on Your Broom
The three key ingredients in almost all of my witchery are botanicals (herbs, plants, etc.), the ocean and the moon. You don't need the actual ocean for this ritual, but I am recommended a preparatory ritual bath. I used an infusion of ginger and yarrow that I mixed with sea salt. This doesn't smell the best, so I added an Under World botanical that's very nose-friendly, rose water. This ritual purification focused on releasing nasty emotional cords to painful memories.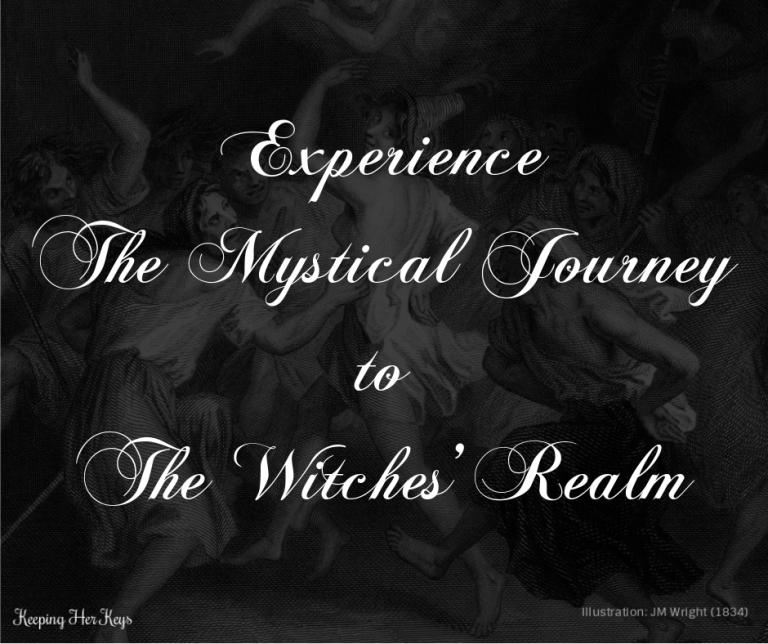 Flying Incense
For the incense, I blended frankincense, mugwort and myrrh:
Frankincense: Safeguarding in astral realms (you don't want any turbulence on your night flight); purifies and releases the Witches' Soul.
Mugwort: The witches' best plant buddy (you should get to know Artemisia Vulgaris if you don't already); both protects and opens the third eye. Fantastic for all sorts of psychic development work, including the visions in mystical journeying.
Myrrh: Super charges any magickal working; reflects and enhances the contented solitude of an independent witch practitioner. We ride our brooms alone, after all. A little aid from myrrh is lovely.
This is an attraction blend, so I worked it clock wise with the moon shining down. Burn on a charcoal disk in a heat-proof dish. If you don't have access to these things or the ability to burn things, here's an image of my set up that you can energetically connect with. Not the same as the real thing, but it'll do nicely.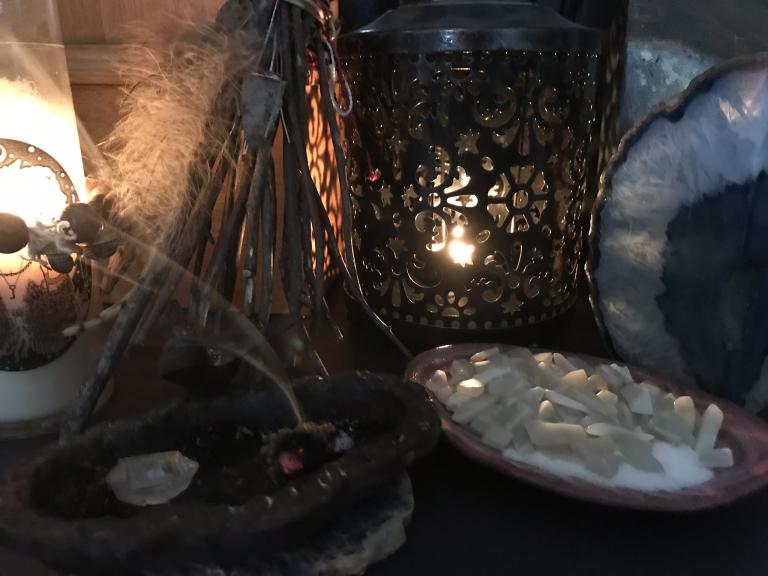 Improve Your Vision with the Third Eye Open Wide Tonic
My third eye has been twitching lately, so the bath helped to calm it down. If yours is feeling gunky or you're mundane self is feeling distant from your Witch's Soul, here's an info sheet about my Third Eye Open Wide tonic. This is one of the original blends from when I used to sell herbals back in the day. You can source the ingredients from any major online herbal retailer.
The Journey to The Witches' Realm
Once cleansed, I lit the incense and cast a circle. Prior to this, I had set up an energetic grid with the incense, my little balai (besom), other correspondences and a plate of moonstone chips (on salt). I used the chips to help activate my Witch's Soul. She responds well to the call of the moonstone. These can be placed on the forehead. I also like to make an arrow of them going up my torso.
Then I let my Witch's Soul free from my human form, traveled to the Liminal Realm (that's where she keeps her mystical broom) and then flew off behind the moon to find my home. If you're interested in experiencing this as a guided journey, I made an audio talking about the whole experience including the guided journey so you can listen as you fly. 
Links:
Tonic Recipe and Practice Instructions – Third Eye Open Wide Tonic
Audio for the journey (includes shamanic drumming and me talking): Journey to the Witches' Realm
The Sacred Seven: A Path of Applied Modern Witchcraft.

Apply to join The Witches' Realm on Facebook.