Self love is so much more than taking a magical bath or buying a new crystal. It's the ongoing process of practicing putting ourselves first in our lives. That's truly magical. This challenge consists of 13 steps using the magic of colors and other correspondences, designed to be done on your own schedule, because part of self love is knowing when to take a break and when to do the work. Use the tips recommended to inspire you to create your own self love challenge.
This is a slow read. Get a self lovin' snack and beverage to sip on as you digest my guide to self love and the 13 steps of the challenge.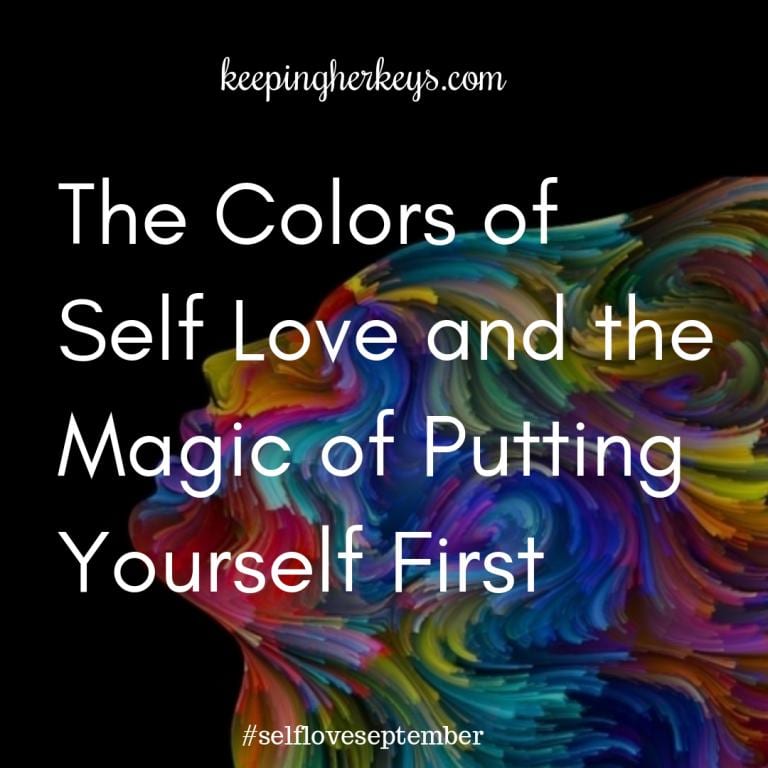 Defining Self Love
Self love is the intentional practice of putting ourselves first. Simple definition, but difficult to put into practice. We have responsibilities to others, from jobs to partners. Add in our homes, children, pets, families, friends, organizations, covens, groups, etc., and it's far too easy to forget that we serve all these best when we put ourselves first.
I had my oldest son when I was quite young, so I never had the experience of being an adult without being accountable to another human being. I know far too well the damage done by neglecting to take good care of myself in mundane ways, but also the fallout from leaky boundaries where I defined my own happiness in terms of the others I cared about and for.
Not surprising at all is that my early motherhood influenced my passion for exploring the nature of the self, especially for ways to help others like me practice effective self love in spite of massive responsibilities. The alchemical formula for achieving this has long held my attention.
The Alchemy of Self Love
I've been studying the self from an academic perspective for twenty years trying to understand the alchemy for achieving personal contentment, what I now call living our truth. It all began with a massive project in graduate school on theories of the self. I was, and remain, fascinated with the uniquely human way that we experience the world. Our consciousness includes both us as actors, doing the business of living, and the evaluators of our actions, feelings and thoughts. Particularly, I have dedicated a big chunk of my career as a research psychologist to understanding the self in relation to others, and ways that we can practice self love that leads to improved psychospiritual functioning. The way our views of who we are interact with others, from the imagined voices to our closest relationships, greatly influences us. How then do we go about practicing self love when we are inherently interdependent? The answer is by energetically keeping our own keys of self love: acceptance, accountability, affection, care, compassion, confidence, efficacy, empowerment, esteem, honesty, nourishment, openness, protection, and sovereignty.  
The alchemical process is ongoing, self love is achieved over time and practice for many of us. It is the acceptance of who we are and trust in our ability to be true to ourselves. Knowing ourselves is truly the great work of our lives.
The Corporeal and Spiritual Selves
The self is an amalgam of our earliest relationships, our personality characteristics and our experiences. We are so much more than the sum of these things. We are spiritual beings, reincarnated souls travelling a sacred crooked path with the ultimate goal of shedding our skin suits when we no longer need the lessons of the corporeal world.
All corporeal, or embodied, aspects of the self are reflected in our spiritual beings, from self protection to self efficacy.
Based on my research, I started referring to the self as comprised of actions, thoughts and feelings for my academic work and as the Middle, Higher and Lower Selves for spiritual teaching. These Selves have correspondent Souls and are reflected in the Etheric Worlds. All is interconnected. The unified self is the wholeness of our selves and souls. This is the embodied Sacred Seven reflected in the energetic forces.
We experience wholeness when we practice self love on a daily basis. Taking time each day to engage in spiritual activities, from meditation to drawing a card for guidance, is self love. An intense period of self love over a month strengthens our spiritual and corporeal selves creating enduring wholeness.
Preparing for The Colors of Self Love Challenge
The conceptual framework for understanding self love is complex, but the challenge requires very little in terms of material objects. All you need for the Colors of Self Love Challenge is paper and pen. Excellent ways to connect to the power of the colors invoked are representations of each of the colors, such as markers, paper, cloth, or candles. A journal is helpful for exploring each of the themes. If you are so inclined, you can concentrate on the energy of the day and then pull a card, rune or whatever your favored form of divination may be. A Self Love Altar can be constructed to focus the power of the challenge and to help you connect with the spirits that you'll be working with. Add these as you feel led.
Origins of The Colors of Self Love Challenge
This challenge started last September in the sort of truly magical organic way that many of the most amazing things do. It evolved over the month with hundreds in the Keeping Her Keys community engaging in acts of radical self love and then sharing them. Honestly, this was so uplifting for me personally and everyone involved that there was no way I wasn't doing Self Love September again this year. If you, like me, see this month as the swan song of the year, but also the beginning of renewal, then the timing of the project makes sense.
The Colors of September
September is a liminal month when the seasons change. For many of us, it marks the beginning of a new academic year. Here on the Atlantic coast, this is also the start of hurricane season. There is definitely a frisson of destruction in the humidity here this evening as thunderstorms skirt the shoreline. September also brings the Full Harvest Moon, a time for spiritually taking stock of both our bounty and our failures.
Using the power of colors is so appropriate for this most colorful of months for those of us who will transition from all the glory of the vibrancy of summer to the incredible pallet of autumn. September is the month with ALL the shades and hues. Seems a fitting time to embrace our true colors. However, do this challenge when the time is right for you.
The Colors of Self Love Challenge
Each step includes an evidence-based aspect of self love with the color that best captures the spirit of the concept. Each concept is further divided into constructs that are part of it which are associated with the color. These are labelled as applications, drawn upon the energy of the color associated to activate their power within you.
Concentrate on the color while saying the affirmation for each step, further activating it by creating your own using the colors and other correspondences. The journal prompts help you dive deeper into each step. Stones and botanicals are included in the steps. Use them to boost your work. Candles in the corresponding colors are beautiful tools for self love.
Use the color to contemplate the aspect of self love presented on each step by wearing them, creating an altar, talisman, lighting a candle, making a sigil, etc.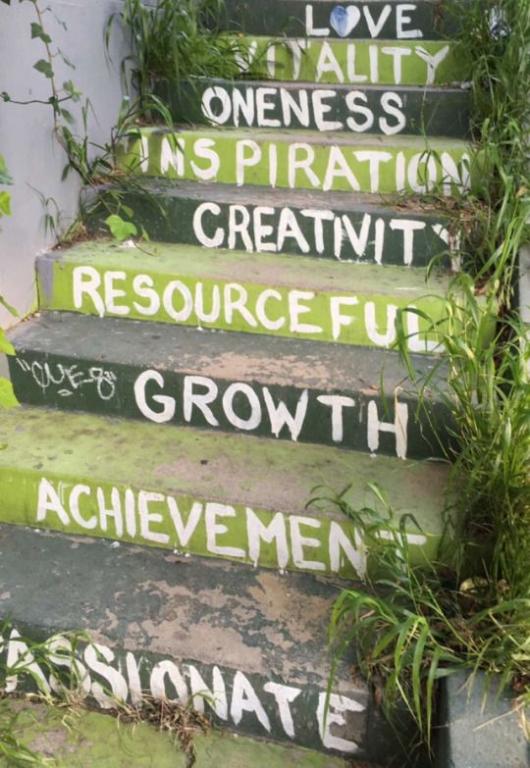 #1: Commitment/All Colors
The first day should be your commitment ceremony, which can include the creation of an altar and a talisman in your journal. Keep it simple with a candle or by standing under the moonlight or go all out. Self love requires doing things that speak truth to you as much as accountability to ourselves. Marking the beginning of your self love challenge with a ritual ushers in the energy of the correspondences and spirits you'll be working with during the coming weeks. Include your spirit guides and companion deities. I've found that in addition to Hekate; Persephone, Lilith, Lucifer, Hades, and Isis are fantastic companions for doing the deep work of self love.
Alert your housemates that you'll be spending time within yourself for a chunk of each day over the coming weeks. Block off time in your calendar. Organize your supplies.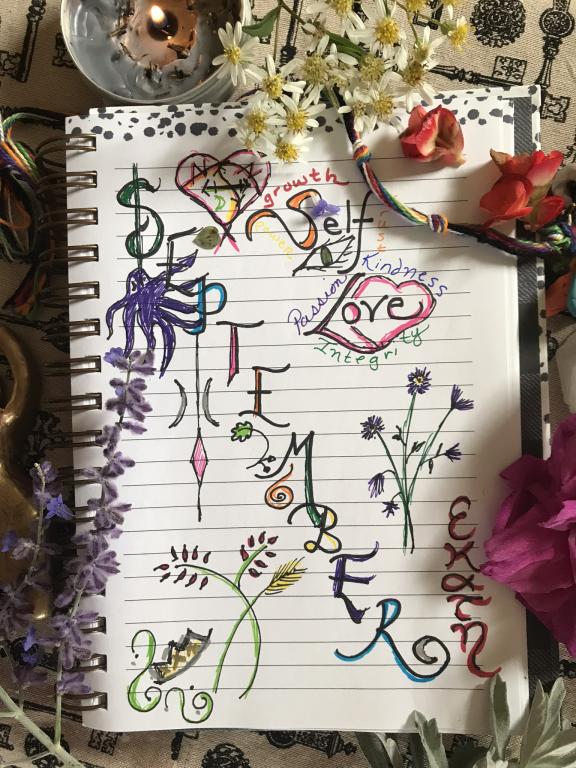 Read more: New Moon Rising: Time to Say ENOUGH 
#2: Protection/Black
My favorite color, more like my second skin, my protection and identity. Black is the color of the witch. Entering into this sacred time of intense self love requires retreating into our truth. The challenge starts with reinforcing boundaries, knowing what to keep in, and cutting cords that no longer serve.
Affirmation: I am protected from all harm.
Practice: Shielding
Applications: protection, witchcraft, emotions, healing, rebirth and removal magick (banishing, reversals, etc.)
Stones: Jet and obsidian for protection.
Botanical: Sage (Read more here.)
Journal Prompt: What's inside my magic circle.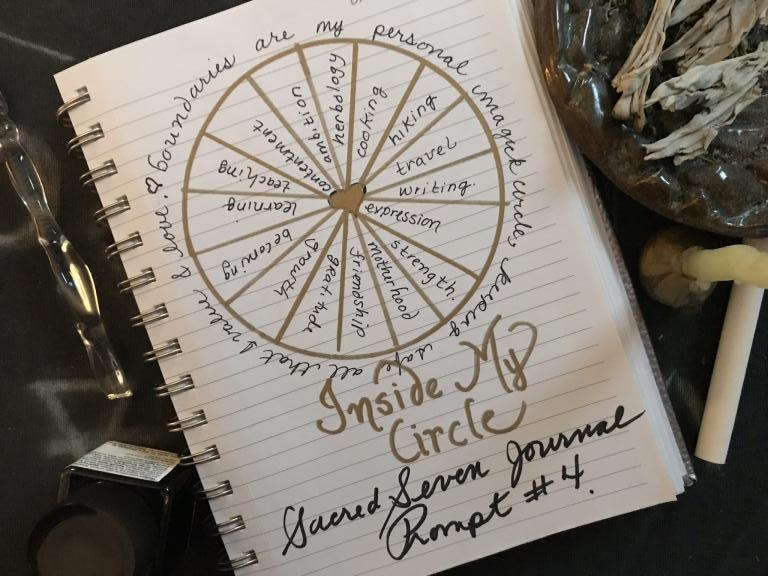 Read more: Ways to Practice Healthy Self Protection
#3: Care/White
On the crooked path to wholeness, taking care of ourselves can quickly be forgotten. I'm telling you to drop the whole notion of perfection. That's the key to self care. Cleansing of the body, mind and spirit are the activities of self care, whether it's getting a pedicure or taking a course.
Oh, white…you are such a demanding color! Prone to stains and greying, why would we ever wear you? All your magickal properties of cleansing and releasing have much to teach us if we can be brave enough to face our imperfections. Like your stains, they only speak to imperfection if we choose to see them that way. Here's to wholeness through the energy of white, stains and all.
Affirmation: I am whole.
Practice: Honor yourself with a ritual milk bath (oat milk, plain yogurt and honey with a touch of botanicals is excellent) that is cleansing, nourishing and will leave you feeling whole.
Journal Prompt: Explore what types of self care nourish you.
Applications: Upper World, Higher Self, mysticism, unity, wholeness, psychic development; protection (attracting); purification, death, rebirth.
Stones: moonstone, clear quartz
Botanicals: White aster, jasmine, lily
Read more: Are You A Firewalking Truth Weaver Or Are You Desperately Seeking Magic?
#4 Nourishment/Red
Blood nourishes our bodies, keeping us strong. Red is the color of both. Red speaks to me of mystery. The magic of creativity, power of passion and the life force of blood. Nourishing, indeed. Blood only turns red once it is shed: alchemy. The cleansing power of being washed in the blood.
Affirmation: I nourish my mind, body and spirit.
Practice: Make a meal of red energy that's truly nourishing.
Journal Prompt: List ways you nourish your mind, body and spirit.
Applications: Bravery; willpower; growth; life force; creativity; passion; romance; sexuality; purification through blood
Stone: Red jasper is an excellent addition to workings about focus, energy, grounding, healing, optimism, protection, prosperity, strength, well-being.
Botanicals: Cayenne, chili powder, hawthorn, radish, arugula
Read more: Using Mars in witchery is one of my favorite practices. Read my monograph here.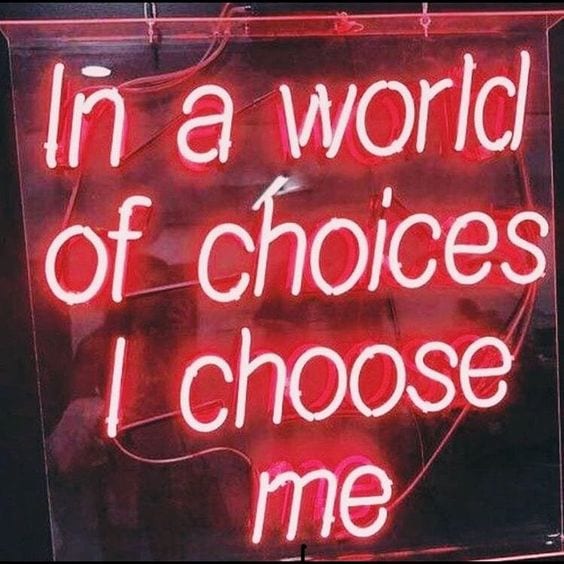 #5 Relationships/Orange
Relationships are our greatest treasures, but also the source of our worst pain. Orange is the color of healing from the damage of relationships, and to bless our beneficial ones.
Affirmation: I trust myself.
Practice: Do an energy exchange with a trusted friend sharing your love.  Read how here.
Journal Prompt: Describe the relationships that bring you joy.
Applications: Action, attraction, balance, control, courage, creativity, discipline, fear, healing, insight, memories, optimism, reconciliation, relationships, reversal, strength, transformation and well-being.
Stone: Orange calcite is great for courage, confidence, intuition and protection, rendering it an excellent companion for work on our boundaries.
Botanicals: Oranges, skullcap (for binding), Dittany of Crete (blessing)
Read more: Boundaries Are Your Personal Magic Circle
#6 Awareness/Yellow
Beautiful, sunny yellow is the color of self awareness, of loving who you are.
Affirmation: I am aware of my abilities, powers and weaknesses. I accept them all.
Practice: Make a citrine amulet of awareness and protection.
Journal Prompt: List your favorite things about yourself.
Applications: Awareness, change, clarity, the mind, self work, skills, spirits, visions, willpower, wisdom.
Stone: Yellow citrine brings balance, connection and protection. Excellent stone to get to know yourself better.
Botanicals: Chamomile to guide us towards awareness and self acceptance; goldenrod for encouragement and psychic awareness; lemon to remove blockages to self awareness/love.
Read more: 13 Things We All Need To Stop Right Now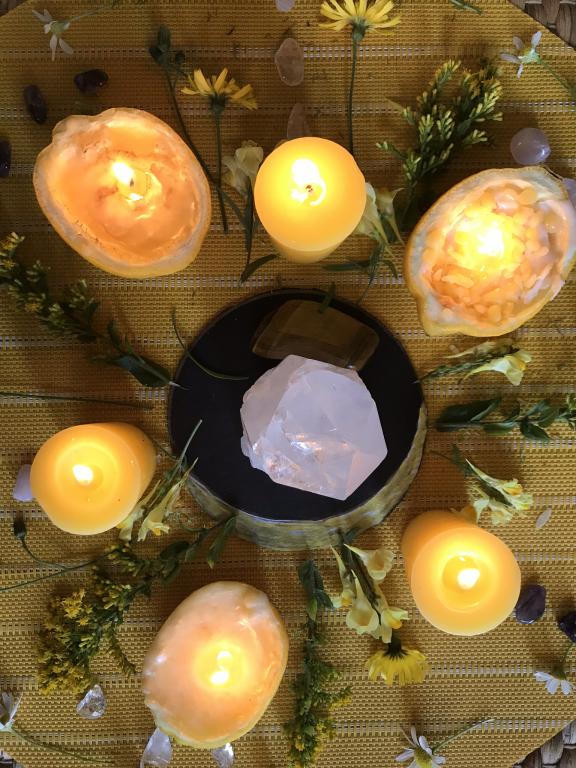 #7  Compassion/Pink
A color of compassion, kindness and support is also one that rouses strong emotions. I can't think about pink without remembering my beloved Aunt Val who wore it everyday. My earliest memories of pink are of this fierce woman absolutely committed to wearing it. When I was in university, there was a pink backlash (isn't there always?) because of its use to divide the genders: pink/weak vs. blue/strong. I still wear it quite often, with black, of course. To me, it is a color of resistance and self acceptance. Moreover, pink is a color of gentle love, wonderful for expressing affection to ourselves.
Affirmation:
 I am gentle with myself.
Practice: Try a little tenderness with yourself. Replace harmful self talk with gentle reassurance that you are doing the best you can and that you are becoming your best self.
Journal Prompt: Write a love letter to yourself.
Applications: Acceptance, affection, compassion, emotions, healing, inspiration, caregiving, passion, peace, wholeness, self work.
Stones: Rose quartz, pink calcite
Botanicals: Allspice, hawthorn, rose (wild or pink)
Read more: April Full Moon: The Power of Becoming
 #8 Abundance/Green
Green is the color of abundance and action regarding the material world. We turn to green to activate an abundance of self love. Abundance comes from self efficacy, our belief that our actions have the power to achieve our goals.
Affirmation: I am abundant in self love.
Practice and Journal Prompts: The Botany of Self Love
The soil is nourished by all that no longer serves us. Holding onto rotting things blocks us from growth. Let it go, be cleansed and be born a new. Just like the life cycle of the plant that dies in the fall, what it releases nourishes the ground, protects it and, ultimately creates the conditions necessary for it to grow again.
Think of the seeds of your self love. What are the seeds you are sowing? What will they need to grow?
How strong are the roots of your self love?
The stem refers to our physical being. It represents the energy of actions. Are you practicing self love for your body? How do your actions reflect self love? Are there areas you can correct?
Flowers and fruit are the rewards of your self love. What are they? What might they be?
The bark is the outer layer that we present to the world. Is it strengthened by your self love? Is it healthy? How could you strengthen it?
The branches are the mind, the Higher Self, wisdom and our connection to the mysteries. Stretch your branches up to connect with the part of yourself that is ageless and wise. Listen to the wisdom of your Higher Self. Sharpen your mind through positive affirmations, self study and choosing your words wisely.
Applications: A happy heart doesn't need to have an abundance of earthly goods, but we all have the right to claim an abundance of earthy self love. Other themes of green include: abundance, accomplishment, adaptability, action, prosperity, protection, rebirth, success, trust, well-being and wisdom.
Stones: Aventurine, fluorite
Botanicals: Bay Laurel is such a favorite of mine that I wrote an entire article about it. Keep bay laurel in a bowl of salt in your home to encourage an abundance of all things, including self love.
Read more: Prosperity Magick: A Spell and Correspondences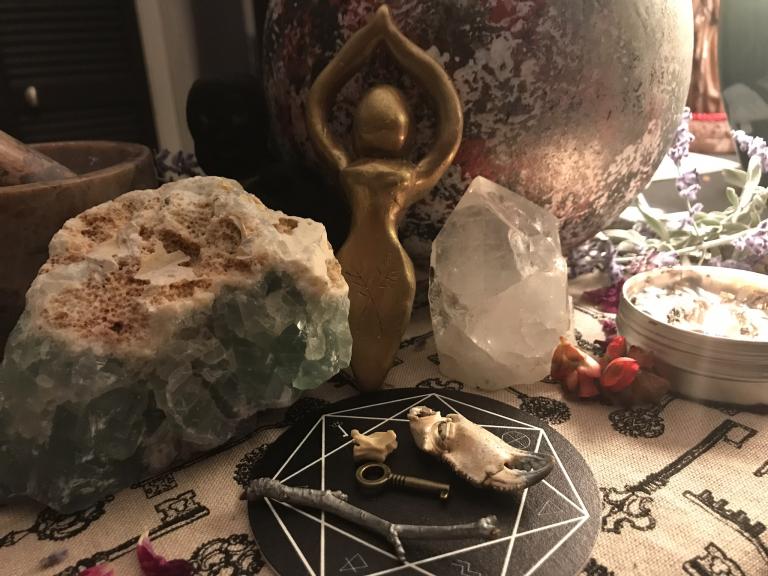 #9 Openness/Blue
True blue, the color of communication, water and fidelity. This is the color of connection. As magical practitioners, we seek to connect to the energetic properties of plants, stones and other objects. We pursue connections with the mysteries. In everyday life, we often desire connection with others. This can be so challenging if we don't love ourselves.
Affirmation: I am connected within, embracing all that I am.
Practice: Have a heart-to-heart with one of your spirit guides, opening up to them more than you previously have.
Journal prompt: Record your intuitive experiences for the day. You'll be  pleasantly surprised at how connected you are within and without.
Applications: Blue represents communication which is the essence of connection. Blue is associated with the astral realm, or the Other World. It's also associated with awareness, intuition, protection, truth, visions and Upper World wisdom. It's also connected to mugwort. A most excellent herb for helping you open your heart to the mysteries.
Stones: Banded blue agate is ideal for activating the aspects of self love associated with communication, although other types of blue agate will work just about as well. Ask a piece to help it give yourself a good talking to.
Botanicals:
Mugwort: psychic abilities, astral realm, animals (it will help keep unwanted animal attention away on your journey), dream work, messages, power, protection, rebirth and visions. So many ways to use mugwort and it depends on your comfort level. Burn it, drink it, smoke it, wear it. A weak decoction anointed to the third eye is a good place to start.
Oak: shamanic work, rebirth, purification, protection, energy, healing, independence, power, spirits (animal and nature), wisdom and witchcraft. Weave a crown of oak leaves to activate your self love and connect with Hekate, who was often described as wearing one.
Read more: The Power of Vulnerability
#10 Sovereignty/Purple
Cast off the mantle of self doubt as you claim the cloak of self love. Sovereignty is the essence of self love, standing in our power is the key to achieving our magical life. The shadow healed, the sovereign true self emerges, empowered and limitless. Intentionally wearing purple to activate your personal power is an excellent form of wardrobe magick.
Affirmation: I am powerful, sovereign and free. (Say it until you believe it. Sometimes, we have to fake it until we make it.)
Practice and Journal Prompt: You are much more powerful than you know. Today's exercise is a simple one. Set the timer for 10 minutes. Get comfortable. Think of all the times in your life you have solved your own problems, stood up for what you believe in or took a risk. Contemplate how you felt during those moments. Wrap that energy up into a ball and store it deep within your Inner Temple. Know that you can easily access it whenever necessary. Make a list in your journal
Applications: Purple is the color of royalty, associated with the element of water and the crown chakra. Characteristics associated with purple include accomplishment, awareness, freedom, personal development, sovereignty, transformation, and wisdom.
Stones:
Amethyst which can be varying shades of purple, from deepest violet to the palest mauve, is the stone of sovereignty. Associated with the element of water. Properties of amethyst are like purple, including balance, focus, the mind, personal development, protection, rebirth, transformation, stability, strength and wisdom.
Leopidite is a great "bra" or pocket stone for self confidence. Connect with its powers to support your personal power. Pink quartz can be activated as a stone of self love. Yellow citrine is great for tempering the activating of your personal power with understanding of others.
Botanical: Frankincense oil can be used to activate your personal sovereignty, as it is associated with royalty and magic. Make a sovereignty oil by diluting a few drops of essential oil into a 1/4c of high quality organic Greek olive oil. Just a few because it can be irritating to the skin. Burn frankincense as a resin for a personal power incense or the oil in your diffuser. Concentrate on mingling the power of the botanical with your own, strengthening your sovereign self lovin' self.
Read more: Sovereign Goddesses Ritual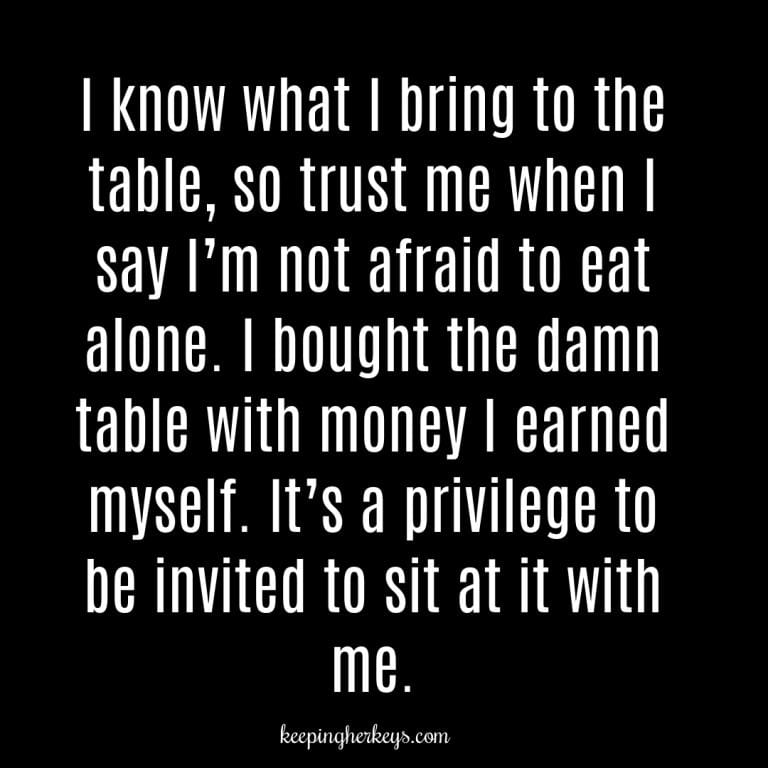 #11 Honesty/Brown
The color of dirt is the color of truth. Brown is the low down, concealer and revealer. The earth from which all life comes and to which we all return. Get grounded in honest self love.
Affirmation: I am grounded within myself.
Practice: Grounding, such as the technique in The Whole Moon Ritual. Better yet, get your feet dirty. Become a dirty footed goddess (or other title of your choosing).
Journal prompt: List the activities that keep you grounded. Create a handy reference for emergency use.
Applications: Balance, concentration, deceit, friendships, grounding, healing, honesty, animal magic, nurture, organization, revelation, truth.
Stones: Petrified wood, smoky quartz are brownish stones excellent for grounding.
Botanicals: Thyme is excellent for self honesty, as well as encouraging ambition, banishing, cleansing, courage, purification, and as offerings.
Read more: The Whole Moon Ritual
#12 Confidence/Silver
Mercurial, strong and valuable. Gets dirty but looks better for it. What isn't there to love about my favorite metal, silver? The metal of the witch. Alchemical. Transformation. Mystery. The moon and stars.
Let silver flow in your veins, invigorating your confidence. Stand tall and true, aware of your strengths, in honesty and humbleness.  Silver endures and improves with use. Wisdom of silver.
Affirmation: My confidence empowers and motivates me.
Practice: If you, like me, wear a lot of silver, cleanse it and then perform a blessing over it, pouring in confidence and protection. Attune the pieces to your energy.
Journal prompt: The silver spiral of confidence. Reflect on one of your accomplishments, breaking it down into segments along a spiral from the beginning to end. Use the spiral as a sigil to boost your confidence, drawing on the energy of past success.
Applications: Ambition, confidence, consciousness, creativity divination, fame, healing, insight, inspiration, power, purification, spirits.
Botanicals: Yarrow is excellent for boosting confidence, as well as being an overall tonic.
Read more: Three Simple Spells for Personal Development: Confidence, Opening Up and Standing in Your Power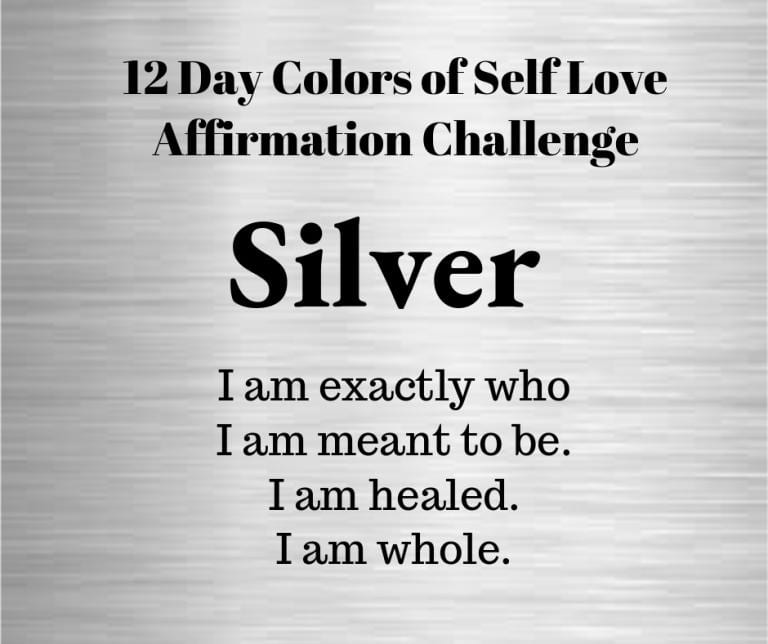 #13 Esteem/Gold
All hail the color of the divine! Gold, like silver, has so many meanings that I'll only highlight a few. Often considered precious, it is the metal of kings and queens throughout the ages. It is symbolic of the sacred and divine, of the esteemed. As you finish the challenge, here on the last step, claim your golden crown.
Affirmation: I am sacred.
Practice: Take up the crown that grows from within you but is connected to the divine of your understanding.
Journal Prompt: Contemplate how the divine as you understand it/her/him is within you. To fully appreciate that there is no separation between you and whatever forces you believe are greater than you.
Applications: Gold is associated with mysticism, the mysteries and higher consciousness. Gold is completion, unity and divine wholeness. Gold is the color of esteem, which is self pride tempered with humility.
Botanicals: Myrrh, incense of royalty, initiation and rebirth. Boosts any magical experience, offerings, sacred rituals. Incorporate it into your golden completion ritual as you claim your self love crown.
Read More: Seeking Hekate and the Deeper World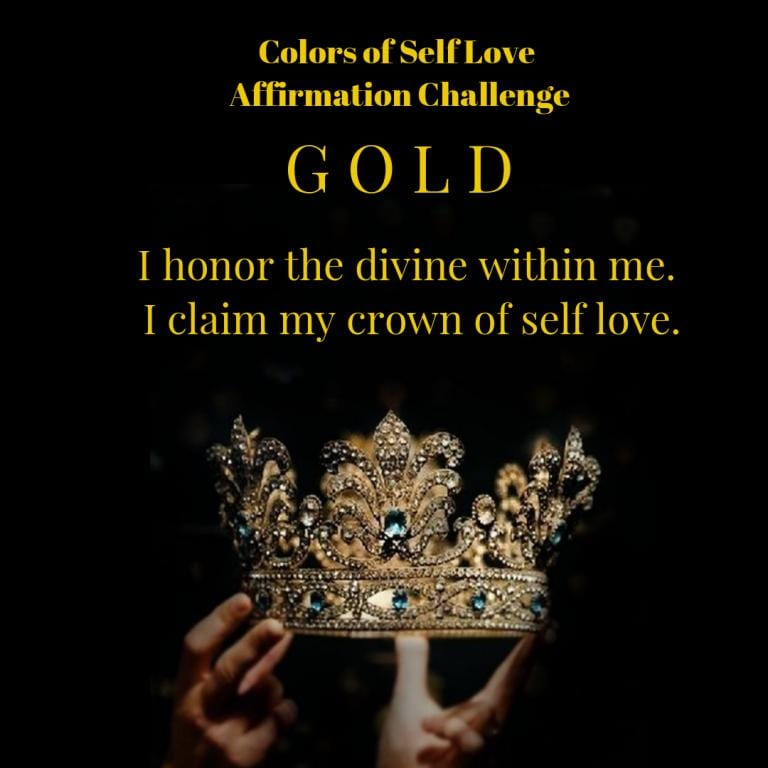 How Others Are Practicing Self Love 
Why Self Love is the Way of the Witch on Owl in The Oak Tarot
Of Light & Shadow: Death, My Prelude to Self Love by Charlie Larson
Magick IRL: I Can't Loving Myself by Vincent Higginbotham