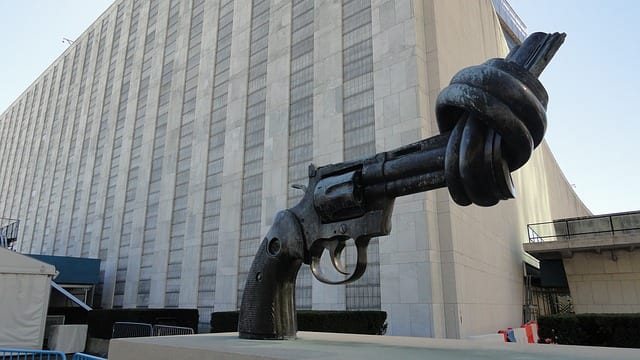 There's a famous song written by Pete Seeger, yet popularized by The Byrds way back in 1965, called "Turn! Turn! Turn!"

You've probably heard it before. It takes the words from Ecclesiastes, chapter 3 and sets them to a groovy tune and says: 

"To everything there is a season, and a time to every purpose under the heaven:
A time to be born, and a time to die; a time to plant, a time to reap that which is planted;
A time to kill, and a time to heal; a time to break down, and a time to build up…
A time to love, and a time to hate; a time of war, and a time of peace."

It's fascinating to me how often I hear Christians refer to this verse of scripture as a way to justify violence. 
"It says in the Bible, 'there's a time for war and a time for peace; a time to kill and a time to heal', so obviously God makes room for violence when it's necessary."

But is that really so?

I would argue that there is a time for war and a time for peace, but that Jesus (our Lord) has established for us what "time" it is now. 

Jesus showed up and announced that the Kingdom of God had come. Then he gave us – his followers – a very specific command: "Love one another."

Next, Jesus commanded us not to hate our enemies, but to love them. 

Then, he rebuked Peter for using a sword by saying, "Put that away! Those who live by the sword shall die by the sword."

Then he told Pilate "My Kingdom is not of this world. If it were my disciples would fight."

So while there may very well be a "time to kill" and a "time for war", Jesus has made it very clear that we are now living in a "time of peace" and "a time to love". 

The question is: Are we following Jesus?

One last thought: What if our Judgment Day before the Lord Jesus consists of Him calling our enemies forward to ask them if we loved them as He commanded us to do?

What would they say?

How would we defend our lack of obedience?

The time for love is now. We are in a season of love, not a season of war or hate. 

Let's get busy loving.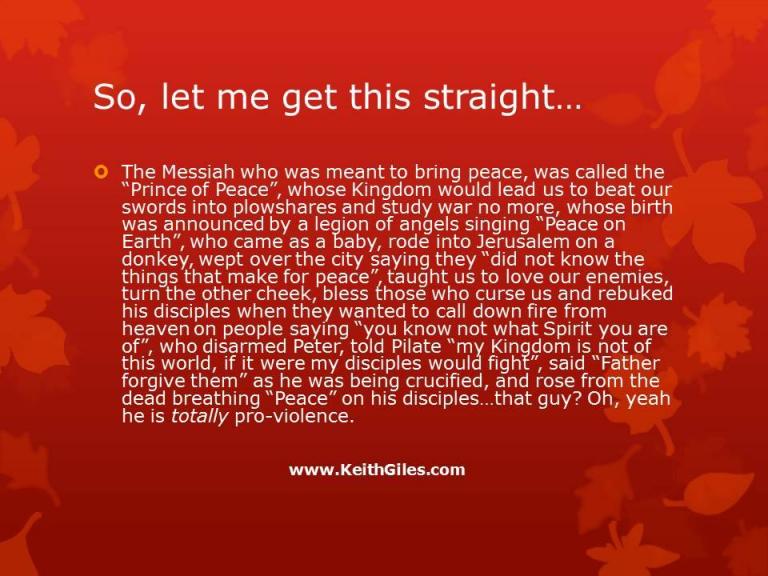 **
Keith Giles was formerly a licensed and ordained minister who walked away from organized church 11 years ago, to start a home fellowship that gave away 100% of the offering to the poor in the community. Today, He and his wife live in Meridian, Idaho, awaiting their next adventure.
His new book "Jesus Unbound: Liberating the Word of God from the Bible", is available now on Amazon and features a Foreword by author Brian Zahnd.
He is also the author of the Amazon best-seller, "Jesus Untangled: Crucifying Our Politics To Pledge Allegiance To The Lamb" with a Foreword by Greg Boyd.
Keith also co-hosts the Heretic Happy Hour Podcast on iTunes and Podbean. 
BONUS: Want to unlock exclusive content including blog articles, short stories, music, podcasts, videos and more? Visit my Patreon page.