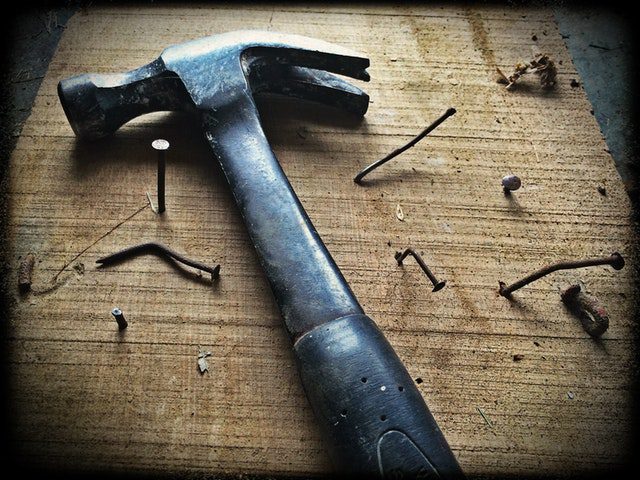 In January of this year, I lost my job. It was devastating. I wasn't sure what to do. We had moved away from our home in Orange, California and left behind friends we'd made over a 25 year period; not to mention our two sons who were still finishing up college.
Here we were, in a strange place, with almost no friends or connections, and no job.
It was terrifying.
But, ever since, my wife Wendy and I have been making it. Mostly from freelance jobs I've picked up here and there, and a little income from my book sales, and podcasting and the incredible generosity of my Patreon supporters.
A few months ago I also started teaching online classes through BeADisciple.com and Southwestern College.
My wife also got a job locally at a plant nursery and that's been a blessing, too.
So, here we are, six months later, and we're still doing something that, honestly I had dreamed about, but never really believed was possible: We're making this full-time author thing work.
I've likened this to walking on water. We're doing it, even though I'm not entirely sure how we're doing it, and I'm not sure I want to examine it too closely or else we might start to sink beneath the waves.
Even as we continue to defy physics and live out the impossible dream over here, it can sometimes get fuzzy.
For example: We were offered a job in Shanghai, China a few months ago. It looked great. We decided to accept it. But, suddenly, that fell apart. We realized we couldn't make it work, financially and logistically, so we had to decline their offer.
In the process, I received a very encouraging word from a friend online who really had no real idea what we were going through. In fact, Wendy and I had prayed the night before we received this word of encouragement and asked God to give us wisdom. The next morning I jumped on a Skype call with my friend Jose Bosque and this is what he told me:
"As I was preparing to speak with you… the Lord gave me a word for you.
"He said that China was a misdirection for you. Not that it was evil but not His best for you. The Lord spoke to me about how it would get in the way of your best work…He said that you were a spear point, a pioneer and that you had fearlessly represented Him in Social Media. This is your best work. The Lord is proud of you and He knows you battle with Faith for finances but that He had never failed you.
"If the enemy can not stop you he will send you a misdirection. You will later know it was not God's best for you but the time will never be returned to us.
"As my friend Mike Rose says "keep singing your song" leave the finances and the fruit up to the Lord."
That really blessed us. And we've been holding tight to our calling ever since.
Until about a week ago. That's when I interviewed for another job. It wasn't ideal, but it did promise us a bit more steady income. I was inclined to accept. But, one night, after Wendy and I had prayed together about this and turned off the lights to go to sleep, she broke the silence and asked me something:
"If you're thinking of accepting this job, ask yourself if you want it because it's something you really want to do with your life, or if you're only taking it out of fear of what might happen if you don't take it?"
That really hit me.
So, fast-forward a few days. I get their offer. It's not great. I push back. They try to meet me half-way.
Wendy encourages me to go back and re-read that word of encouragement we received from Jose a few month's back.
This morning over breakfast I find it and re-read it.
It resets my compass. I decide that I want to continue to pursue my calling as a writer, author, teacher and podcaster rather than take another job working 9-to-5 to build up someone else's business.
Then, I check my Facebook messages and this is what I read:
*A friend in North Carolina sends me a few hundred dollars to fully-fund my event in Southern California to make sure we don't need to cancel it. Her note to me says:
"Be bold and courageous. Tread serpents underfoot. Never grow weary. Because Christ is in solidarity with you in your trials and in your joys. Go to Costa Mesa!"
*Another message from a radio station in Kentucky inviting me to be a guest on their show to talk about my books:
"Good evening! I work for a Christian radio station in the Ky/Indiana area and I was wondering if you would consider being a call-in guest on our daily talk show, The Bible Breakfast Club? It airs live weekdays at 7:00-9:00 am CT on our 4 local stations (and 1 in Ennis, Texas) as well as live streamed on Box2Radio.com…We would love for you to be a guest and let us know what God has been doing in your life and thru your ministry…..Let us know if this is something that interests you,and we will find a date that works with your schedule. Thanks and blessings!!"
*Then another message from a stranger who says: "Good morning I was told by s good friend you were very knowledgeable on many bible subjects i have a few questions…"
I spend the next half hour encouraging this brother that God doesn't use fear to manipulate us and he thanks me for taking the time to comfort his heart.
This is my life. This is what I was made to do.
I'm also moving forward with a few new ideas about online coaching and finding new ways to help people who need help with things like marketing their small business, promoting their books online, learning how to be a copywriter, and even how to survive toxic Christianity.
So, as my friend's word pointed out, I do sometimes "battle with faith for the finances" but I can't deny that God "has never failed" to provide for us.
We're provided for. We're safe. God is good. God loves us.
We are reminded that God has made us for certain things. When we go all-in and walk in those things God has made us for, great things happen.
For now, I'm very blessed to have a wife who encourages me to follow this dream. I'm very blessed by friends who send me encouraging words at just the right time. I'm very blessed by friends who donate the funds we need to continue our ministry and live out our calling. I'm very blessed by those who send me emails and messages urging me not to give up and to keep on going.
I have to say, it kinda feels really good to trust God's goodness and see the fruit of that in my actual life.
Thank YOU for being part of this with me.
Peace,
Keith
**
Keith Giles was formerly a licensed and ordained minister who walked away from organized church 11 years ago, to start a home fellowship that gave away 100% of the offering to the poor in the community. Today, He and his wife live in Meridian, Idaho, awaiting their next adventure.
His newest book, "Jesus Unveiled: Forsaking Church As We Know It For Ekklesia As God Intended" released on June 9, 2019 on Amazon, and features a Foreword by author Richard Jacobson.
His book "Jesus Unbound: Liberating the Word of God from the Bible", is available now on Amazon and features a Foreword by author Brian Zahnd.
He is also the author of the Amazon best-seller, "Jesus Untangled: Crucifying Our Politics To Pledge Allegiance To The Lamb" with a Foreword by Greg Boyd.
My Podcast: Heretic Happy Hour Podcast on iTunes and Podbean. 
Bonus content: Patreon page.
Upcoming events:
*Costa Mesa, CA – June 22 "United We Stand" -FREE!
*Hot Springs, NC – July 11-14 "Wild Goose Festival"
*Woodstock, GA – July 27-28 "Unleashing the Word of God" [With Richard Murray] – FREE!
Want Keith to come speak at your church or in your home town? Learn more HERE