A trio of children's books arrived in bookstores this week, carrying a message that can be neither overstated nor overvalued. Caryn Rivadeneira and Beaming Books launched Raise Generous Kids, a website featuring Caryn's three new books: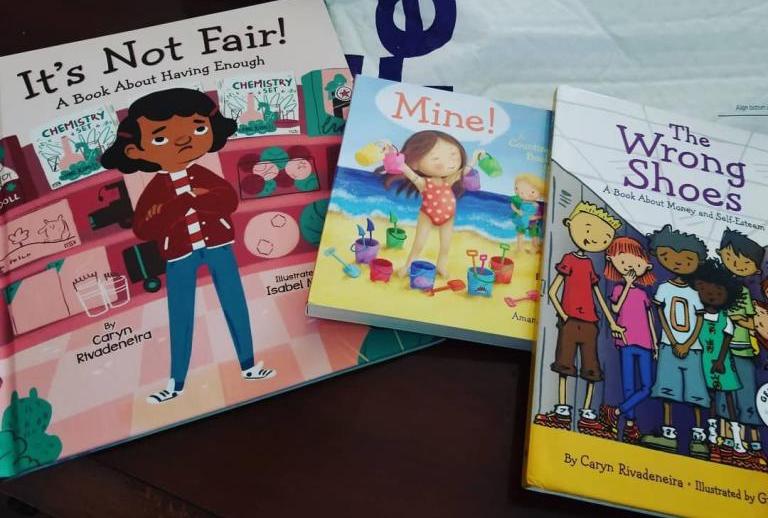 Mine! A Counting Book about Sharing teaches babies and toddlers to count things that belong to them, and then share with others. The author co-ops that favorite word of toddlers, "mine," and makes it a teaching tool about math and manners. Obviously meant for adults to read aloud to them and eventually with them, this book lays a foundation for generosity in a creative, colorful, engaging board book.
It's Not Fair! A Book About Having Enough speaks to early readers (age 4–6) through the story of Roxy, a young girl on her way to buy her long-awaited chemistry set. Girls loving science—excellent sub-message! Roxy has brown skin—another great way to include all readers. Roxy starts her walk with enough money, but she keeps meeting friends along the way who need just a little help. What will happen when she finally reaches the store? This work includes multiple lessons: the obvious—money matters, how to count change, subtract and add, and save for something long-term. But generosity flows through the entire 32-page story. Roxy is always happy to help a friend in need, without a grumpy "if I have to" attitude. So kids will find a positive, cheerful giver role-model in Roxy.
The Wrong Shoes: A Book About Money and Self-Worth explores the connection between material stuff and self-worth. Marco loved his shoes when they bought them in the store, but on the first day of school he discovered that "everyone else" had a different brand of shoes. He wanted to fit in, and the shoes became that material item he thought would pull him into the crowd. But mom and dad would not hand over the money, so Marco had to earn it himself. How does he do? Is it worth it? Did new shoes bring him all the inner satisfaction he thought they would? Marco's journey explores the concept of earning, saving, and investing money, overcoming challenges, working hard, discovering true self-worth, and generosity. Especially designed for kids 7–8, The Wrong Shoes will resonate and entertain. Parents can't go wrong with the positive, educational content.
The publisher of this trio, Beaming Books, partnered with  Brightpeak Financial to create Generous Kids, a movement to help families and churches come together around the shared goal of loving others by living generously. While individuals can purchase the Generous Kids books, the publisher also offers churches and families the opportunity to participate in 30-day challenges designed to help turn generosity into action. To learn more about the challenges, visit the Raise Generous Kids site.
*All links to books are affiliate.