Studies for Small Groups
One of my passions is creating resources for small group studies by lay persons seeking to know more about the bible. I currently have two published books that are designed to engage the reader and study group in deeper understanding and lively discussion.
In The Parables for Today I make the familiar parables come alive with new meaning, utilizing biblical scholarship to provide an easy entrance to this major form of Jesus' teachings. I cover the purpose, properties, and proclaimers of Jesus' parables before focusing on several of the key parables that form much of the text of the first three Gospels. The questions for discussion at the end of each chapter were created to facilitate personal and group study.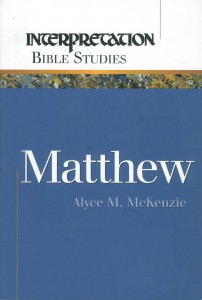 Endorsements: "Alyce McKenzie's work is a fresh perspective on the parables. This book is exciting and fundamental. It invites conversation, which is why it is such a great study book for every church. Whether you are a beginning bible student or have been around the block a few times, McKenzie offers readers the opportunity to wrestle with Jesus' parables. This study is a tremendous tool for the church." -Debra Carl Freeman, Copastor, Westover Hills Presbyterian Church, Little Rock, Arkanas
Buy The Parables for Today from Cokesbury Buy The Parables for Today from Amazon
I wrote Matthew for the Interpretation Bible Study Series focusing on 10 key passages from the gospel of Matthew. Matthew tells us the story of Jesus, the presence of God, who has come to call the faithful to a new level of righteousness. He challenges disciples to live each day as participants in God's kingdom—to be poor in spirit and pure in heart, to turn the other cheek and to love one's enemies. Through his teachings and healings, Jesus breaks the bonds of evil and sin and frees each one for a life of celebration and service. By his resurrection, Jesus continues to be present, even until the end of the age. It includes illustrations, maps, definitions of key terms, relevant biblical facts, and questions for reflection or discussion, as well as a leader's guide with suggestions for group use.