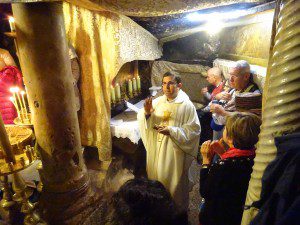 Earlier this year, I had the tremendous blessing to celebrate Mass at the Basilica of the Nativity in Bethlehem. About thirty pilgrims crowded into the small crypt beneath the main altar of the ancient basilica where a silver star placed by Crusader knights marks the place where Jesus Christ was born. For seventeen centuries, the Basilica of the Nativity has safeguarded the location where one of the most frequently told stories of humanity occurred. A story that has sparked faith, inspired artists, granted hope and encouraged hospitality.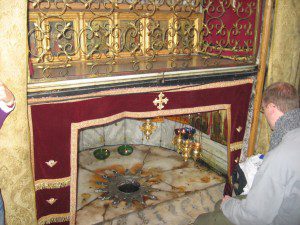 In the second century already, Saint Justin Martyr recorded what he had learned about the birth of Jesus. He wrote, "at the moment of the birth of the child in Bethlehem and not having a place to stay in that village, Joseph stopped at a grotto near the populated area; and while they were there, Mary gave birth to Christ and laid him in a manger." Pilgrims today have the opportunity to pray in that very same grotto, to touch its walls and to kiss the ground where humanity and divinity touched so that we could be saved.
As Mary and Joseph contemplated the face of their newborn child, they became the first to see God face to face. The invisible God of their ancestors appeared in their midst. In the words of Saint Paul, in that grotto Jesus gave us for the first time in history the "image of the invisible God." What was hidden was revealed, and what was inaccessible suddenly could be held in the arms of a joyful mother.
The good news was first announced by angels to shepherds nearby. In the fourth century, Saint Jerome described a "church of the shepherds" near Bethlehem where there was a grotto and an altar marking the place where angels appeared to the shepherds. It is insightful to consider that the good news of salvation was first announced to a group of nomadic and unsettled men who wandered the countryside seeking food and water for their sheep. Borrowing the expression Pope Francis often uses, the angels took their message to the margins of society, and the news was well received there. The shepherds immediately went to the grotto to adore the newborn baby. In contrast, when the wise men announced the birth of the king of the Jews to Herod, he became greatly troubled and began to consider how he could eliminate him.
Our creator has become like us in all things but sin: this is the mystery of the incarnation and the source of Christmas joy. This Christmas Season, we celebrate that God loves us so much that He has come to dwell among us in order to reconcile us to Himself. Not all may have the opportunity to be pilgrims in the Holy Land and to visit the grotto of Bethlehem, but everyone can rejoice at the announcement of the good news of salvation and welcome the Christ child into their hearts.
Pictures are mine, all rights reserved.