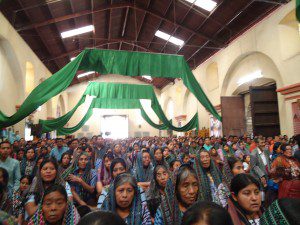 Pope Francis is putting his words into action: go out to the margins of society!
Yesterday he celebrated Mass in the poorest and most populous suburb of Mexico City, Ecatepec, where nobody dares to enter due to its high crime and violence. Even the police is afraid. Most of its 1.7 million inhabitants live in deplorable conditions, and an estimated 100,000 live in extreme poverty. It is here that Pope Francis chose to celebrate Mass and speak against the "father of lies" who wishes to make a "divided and fractious society. A society of the few, and for the few." He spoke of the pain and suffering which arises when the dignity of the human person is not recognized. He highlighted the three temptations that corrode us as human beings and tear us town: wealth, vanity, and pride. His words expressed profoundly the reality of Ecatepec and every other urban desert where people not only live in the margins, but are oftentimes excluded completely from every benefit of society.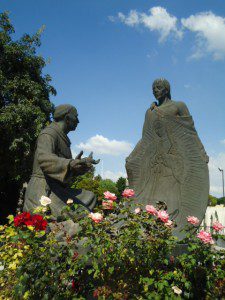 The day before, at the Shrine of Our Lady of Guadalupe, Pope Francis also lifted up the poor and suffering. "Mary continues to reveal herself to all of us, especially to those who feel like Juan Diego, worthless." He stressed that the apparition of Our Lady not only gave hope to Juan Diego, but that through Our Lady, God has "roused the hope of the little ones, of the suffering, of those displaced or rejected, of all who feel they have no worthy place in these lands." The Pope's words spoke to a people accustomed to oppression and suffering, a people who identify with the cross of Jesus Christ and the littleness of Juan Diego. Those unfamiliar with the harsh realities of Latin America often find our bloody crucifixes and our dramatic plays during Holy Week a bit too gory, yet it is in the suffering of Jesus Christ that the Latin American peoples find hope for a better tomorrow. The suffering of Christ does not push us away, but rather, it helps us identify more deeply with Him who has suffered for us. The Pope continued, "In Mary, God has made himself our brother and companion along the journey; he carries our crosses with us so as not to leave us overwhelmed by our sufferings."
Today the Pope celebrated Mass in the southern state of Chiapas with those who have suffered the greatest in Latin America, the indigenous. At a beautiful Mass where various Mayan dialects were spoken and sung, the Pope brought a message of hope and mercy. A vastly agrarian and poor state where the dignity of the indigenous has not always been respected, the Pope recognized that too often they have been excluded from society. "Your peoples have not been understood and have been excluded from society. Some have considered your values, your culture, and your traditions inferior. Others, dizzy by power, money and the laws of the market, have expelled you from your lands or have contaminated them. How sad. How good would it be for us to do an examination of conscience and learn how to say 'I am sorry.'"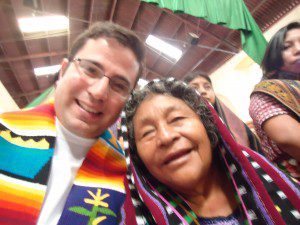 Continuing his desire to reach the margins, on Wednesday Pope Francis will visit Ciudad Juarez where thousands have lost their lives crossing to the United States. Here, he will highlight the plight and suffering of immigrants.
This apostolic visit to Mexico once again shows that the Pope is a faithful witness of the Gospel. He is faithful to Jesus' desire to reach out to the neediest to offer a message that will lift them up. The Pope shows by his actions that he means what he says. He has called us to reach out to the margins of society, to seek out the neediest, and he is leading the way by his example.
All these pictures are mine, all rights reserved.