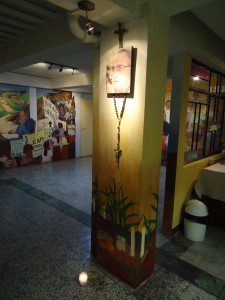 In 1998, the Guatemalan government murdered Bishop Juan Jose Gerardi of Guatemala City in his house two days after the Bishop presented an official report compiled by the Archdiocese detailing years of right-wing government and military oppression towards the indigenous population.
In 1991, two young Franciscan Polish priests, Blessed Michele Tomaszek and BlessedZbigneo Strzalkowski, were brutally murdered in my home country of Peru by the Shining Path, a Maoist Guerrilla, since the friars did not agree with their revolutionary ideas.
In 1984, the Polish communist party murdered Father Jerzy Popieluszko in an attempt to silence his harsh and public condemnation of communist authorities.
In 1981, an American missionary from Oklahoma, Father Stanley Rother, was killed in his parish rectory by the conservative Guatemalan military because he was ministering to the indigenous people.  He was considered subversive for teaching his parishioners how to read and write, and for organizing their farming efforts.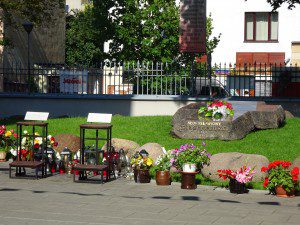 In 1980, the Archbishop of San Salvador, Blessed Oscar Romero, was shot while celebrating Mass at a hospital by government agents, right after he concluded the homily. His call to soldiers the previous Sunday to stop murdering their fellow countrymen was unacceptable.
On August 9th, 1942, Saint Teresa Benedicta of the Cross, also known as Edith Stein, was sent to the gas chamber in Auschwitz with over 200 Dutch Catholics when Nazi authorities retaliated against the Archbishop of Utrecht for condemning the treatment of the Jewish population of Europe.
And on a day like today, seventy-five years ago, August 14th, 1941, a Franciscan priest, Saint Maximilian Kolbe, died in Auschwitz after freely volunteering to die in place of another prisoner.  Saint Maximilian died along with over 3,000 Polish priests who were murdered by the Nazis during World War II.  The preaching of the Gospel was a threat.
"I have come to set the earth on fire, and how I wish it were already blazing! Do you think that I have come to establish peace on earth?  No, I tell you, but rather division."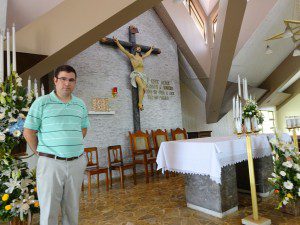 Many throughout the centuries have wondered what exactly Jesus meant when he uttered these puzzling words.  If Jesus is the Prince of Peace, if Jesus has come to reconcile us to the Father, how can Jesus say that he brings division and that he has not come to establish peace on earth?
Today's readings point to the reality that the preaching of the Gospel causes deep tensions in the world.  Considering these twentieth century martyrs also reminds us of this reality.  Many do not want to hear the Gospel, and even wage war against it.  In the preaching of the Gospel, we do not have to go looking for enemies.  We do not have to go looking for division.  The Gospel itself has enemies, and will cause a negative response from hearts that are distant from God.
Consider also the recent gruesome murder of Father Jacques Hamel, killed in France while he celebrated Mass.  The preaching of the Gospel led to his death at the hands of ISIS militants.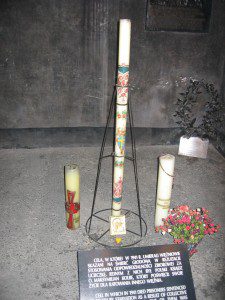 The puzzling words of Jesus become understandable when we consider the persecution that has existed throughout the history of the Church, beginning with the execution of Jesus himself.
The prophet Jeremiah was called by God to preach repentance at a time when many Jews had turned away from God.  He warned them that if they did not repent, Jerusalem would fall into enemy hands and be destroyed. Nobody listened, he was persecuted, many wanted him dead.  We heard in the first reading how he was put into a cistern because people found him bothersome.
The truth Jeremiah preached was not welcomed. His divine message divided people and did not bring peace, and eventually, it is believed, led to his death. Just as many waged war against the words of Jeremiah, many have, and continue, to wage war against the Good News of Jesus Christ.
The Gospel in itself is not a divisive or conflict-ridden message.  Conflict does arise because it is impossible to remain indifferent to the Gospel.  Some accept it joyfully and transform their lives for good.  Others reject it with great hatred and scorn.  We all know individuals; they may be co-workers, family members, even friends, who become enraged at the mention of Jesus Christ and his message.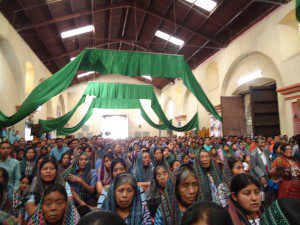 As disciples of Christ, we must strive to remain united.  When conflict arises among us, we are doing it wrong.  We already have enough enemies; we should not make fellow Christians the enemy!
As we remember the countless men and women who have lived their lives as faithful disciples of Christ, giving witness to the Gospel they received, we pray to remain steadfast in our own discipleship of Jesus Christ.
The world rages against our message, a message that does not belong to this world.
We are aware that the world has time and again rejected what we preach, waging an irrational war full of hatred and malice towards the Church.  May God the Father, who gathers us together at this Holy Eucharist, help us to live united through the one baptism that we share, and through the one body of Christ that we receive.  May we remain steadfast like those before us, despite contempt and scorn, knowing that Jesus Christ remains with us always.
All the pictures are mine, all rights reserved.  Featured image from public domain.