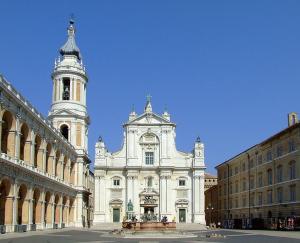 Earlier this year Pope Francis established a new feast on December 10th in the Church's liturgical calendar: the Feast of Our Lady of Loreto.  The decree which established the feast day states, "this celebration will help all people, especially families, youth and religious to imitate the virtues of that perfect disciple of the Gospel, the Virgin Mother, who, in conceiving the Head of the Church also accepted us as her own."
Loreto is a small town on the Adriatic coast of Italy where a beautiful basilica is believed to encase the house of the Virgin Mary.  For about seven hundred years, faithful pilgrims have visited the Holy House of Mary creating a magnificent site to visit.  Tradition tells that the walls of this ancient house were transferred from Nazareth to Italy by angels, but it is more likely that the man who funded the transfer of the stones had the last name Angeli (angels) as historical records show.  Archaeologists have confirmed that the materials of the House of Loreto match materials used in ancient Nazareth, including the particular technique used to carve the stones.
Since it is within the walls of this small house that the Blessed Mother accepted her vocation, Pope Francis recently emphasized that Loreto is "a privileged place where young people can come in search of their vocation."
Many Catholics have experienced a link to the Marian Shrine of Loreto without even knowing it.  The Litany of Loreto, which asks the Virgin Mary to pray for us while invoking her under various titles, is oftentimes prayed at the conclusion of the rosary.  It was first prayed at the Sanctuary of the Holy House of Mary in the early 1500s and was later approved for universal use.  For those unfamiliar with the Litany of Loreto, you can find it
here
.
Our Lady of Loreto, pray for us.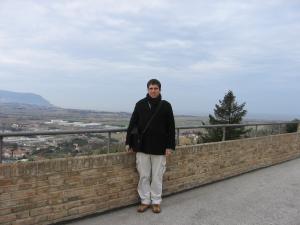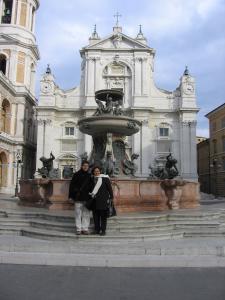 With my mom in Loreto, February 2006.  Pictures are mine, all rights reserved.
Picture above is not copyright.