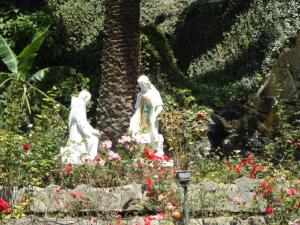 Hoy celebramos a la mujer que mejor nos enseña cómo vivir este tiempo de Adviento: la mujer que nos enseña el valor de esperar… y no esperar por simplemente cualquier cosa, pero el valor de esperar por la venida de su hijo, Jesús.
Vivimos en un mundo que no le gusta esperar. Todo lo queremos rápido. Vivimos tan atareados y nunca terminamos, vivimos agobiados con todos nuestros quehaceres. Tenemos acceso una cantidad infinita de información en nuestros celulares, todo accesible en tan solo segundos. Ya no nos gusta esperar para nada.
El domingo pasado visité un centro de detención de inmigración con nuestro obispo para celebrar la Fiesta de Nuestra Señora de Guadalupe. Todos los años por estas fechas el obispo celebra una misa con aproximadamente 250 hombres en esta cárcel, todos sentados afuera en una cancha de básquetbol porque no hay salón suficientemente grande para la Misa. Se confirmaron siete, y ocho hicieron su primera comunión.
Durante un momento inesperado de sus vidas, en un momento difícil donde se encuentran separados de sus familias y en medio de gran incertidumbre, Dios les presentó una invitación, una gran oportunidad para acercarse a él, y recibir los sacramentos.
Dios si espera. Dios nos espera con tanta paciencia. Por algunos de estos hombres, Dios espero por muchos años. ¡Qué bueno es Dios con nosotros que nos tiene paciencia! Que espera, y espera mucho tiempo, para que nosotros mismos cambiemos nuestras maneras de pensar, de actuar y de vivir. Dios espera sin cansarse de ofrecernos oportunidades para reconciliarnos con él y los demás; oportunidades de hacer recto nuestro camino.
Con esa misma paciencia esperó la Santísima Virgen la venida de su salvador, su hijo Jesús. Con esa paciencia esperó María Santísima que San Juan Diego entendiera lo que ella le pedía, que el obispo creyera el mensaje, y que se construyera un templo en el Tepeyac donde nosotros, sus hijos, pudiéramos ir a recibir su amor y auxilio. La infinita, divina paciencia de Dios es para nuestra propia salvación.
When the Mother of God, the Blessed Virgin Mary, descended to the Tepeyac Hill on December 1531, she brought a message of love and hope to a people plagued by uncertainty due to the changes they were encountering. The arrival of the Spanish had revolutionized the lives and beliefs of the indigenous. The discovery of a new world with new peoples had cast doubt on many European beliefs causing much confusion.
The Blessed Mother asked in her own words that a temple be erected in that place so that she may exhibit and give all her love, compassion, help, and protection and for all the inhabitants of the land to invoke and confide in her. There she would listen to their lamentations, and remedy all their miseries, afflictions and sorrows.
What a consolation for Saint Juan Diego to hear these words! Mary gives him comfort and help during a time of instability and doubt. This message of the Blessed Mother was directed towards those living in 1531, yet the message continues to be relevant today. The Virgin Mary wants to be our protection; she wants to help us by giving us the fruit of her womb, Jesus.
She patiently waits for each of us, prayerfully and faithfully. She waits during this time of Advent for us to once again turn to Christ her Son with renewed hearts. She waits as God waits, patiently and steadily, calling us to a deeper relationship with Jesus Christ.
¡Que difícil se nos hace a nosotros esperar!
Que difícil se nos hace tener paciencia con otras personas que no piensan como nosotros. Con que facilidad juzgamos a los demás, y dejamos de esperar que ellos cambien. Muchas veces estos son miembros de nuestras propias familias, nuestros vecinos, personas con quien trabajamos o incluso miembros de nuestra parroquia. Perdemos la paciencia y creemos que el prójimo no puede cambiar. Dejamos de esperar que haya un cambio.
Que difícil se nos hace tener paciencia con nosotros mismos. Nos condenamos nosotros mismos creyendo equivocadamente que no podemos cambiar, que hasta Dios se ha dado por vencido, que nuestro pasado o presente no tiene ni remedio ni perdón. Le cerramos las puertas a Dios porque creemos que Dios ya no nos espera.
Que Dios se ha cansado de esperar.
Cuando la verdad es que Dios nos demuestra lo contrario. Nunca es tarde para transformar nuestro corazón. Dios con su divina paciencia nos espera. Te espera. Te espera con su divina misericordia que transforma nuestras almas. Para Dios nunca es tarde. ¿Porque hacerlo esperar más? ¿Porque no hoy hacer un cambio en nuestras vidas?
God has sent us his mother to aid us in the struggle of everyday life, to comfort us in our sorrows and to strengthen our faith. Our Lady of Guadalupe brings to us the message of her Son which is a message of faith, hope and charity.
Our Lady of Guadalupe assured us we would find all we need in her maternal love, especially happiness. Through her words to Saint Juan Diego recorded in the Nican Mopohua, Our Lady tells us, ""Hear me and understand well, my son, my daughter, that nothing should frighten or grieve you. Let not your heart be disturbed. Do not fear any sickness or anguish. Am I not here with you who am your Mother? Are you not under my shadow and protection? Am I not your health? Am I not the source of your happiness? What else do you wish? Do not grieve nor be disturbed by anything."
May our hearts be transformed throughout these days of joy as we approach the arrival of Jesus Christ at Christmas. May we join the prayer of Pope Francis who in his exhortation Evangelii Gaudium teaches us to pray like this, "Lord, I have let myself be deceived; in a thousand ways I have shunned your love, yet here I am once more, to renew my covenant with you. I need you. Save me once again, Lord, take me once more into your redeeming embrace."
Nuestra Madre de Guadalupe nos aseguró que en su amor materno encontraremos todo lo que necesitamos, especialmente la felicidad. La Virgen nos dice a través de las palabras que le dijo a San Juan Diego, "Hijo mío el más querido, Hija mía la más querida: No es nada lo que te espanta o te aflige, que no se altere tu rostro, tu corazón. ¿Acaso no estoy yo aquí, yo que tengo el honor de ser tu madre? ¿Acaso no estas bajo mi sombra, bajo mi amparo? ¿Acaso no soy yo la fuente de tu alegría? ¿Qué no estás en mi regazo, en el cruce de mis brazos? ¿Por ventura aun tienes necesidad de cosa otra alguna?"
Transformemos nuestros corazones durante estos días de alegría al acercarse la llegada de Cristo Jesús en la Navidad. Oremos junto con el Papa Francisco quien en su exhortación Evangelii Gaudium nos enseña a rezar así, "Señor, me he dejado engañar, de mil maneras escapé de tu amor, pero aquí estoy otra vez para renovar mi alianza contigo. Te necesito. Rescátame de nuevo, Señor, acéptame una vez más entre tus brazos redentores."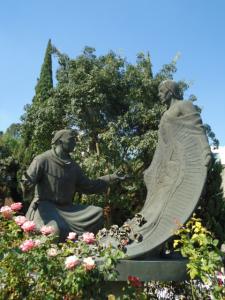 Pictures are mine, all rights reserved. Mexico, 2012.
Homilia bilingue Nuestra Señora de Guadalupe.