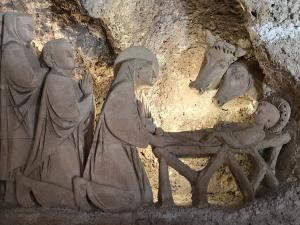 Last year I had the opportunity to visit the town of Greccio on the Sabine Hills north of Rome, known as the site of the very first nativity scene.  A sanctuary uphill from from the beautiful town of Greccio encases the cave where Saint Francis of Assisi recreated the familiar scene of Bethlehem with an ox, a donkey and a manger on Christmas Eve of 1224.  Villagers from town gathered outside the cave to admire the scene.  A few years later Saint Bonaventure wrote about the night:
"Then Francis prepared a manger, and brought hay, and an ox and an ass to the place appointed. The brethren were summoned, the people ran together, the forest resounded with their voices, and that venerable night was made glorious by many and brilliant lights and sonorous psalms of praise. Francis stood before the manger, full of devotion and piety, bathed in tears and radiant with joy; the Holy Gospel was chanted by Francis, the Levite of Christ. Then he preached to the people around the nativity of the poor King; and being unable to utter His name for the tenderness of His love, He called Him the Babe of Bethlehem."
The Sanctuary of Greccio is not only known for the Grotto of the Nativity, but also because it contains the very first chapel dedicated to Saint Francis after his canonization.  Both Saint Francis and Saint Bonaventure spent time in the hermitage that became the sanctuary.
We spent about one hour in the sanctuary on a chilly October morning.  We did not run into a single soul – not another pilgrim, not a friar, not a gift shop worker – even though about 100,000 pilgrims visit each year.  We spent time marveling at the exhibit of nativity scenes from around the world, we prayed at the grotto, and spent time in the old friary.  We took a few souvenirs from the gift shop and left an envelope with cash as well as a detailed list of the items we bought.
A nativity scene – something everyone today is very familiar with – was once a novelty.
May we share in the same love that Saint Francis had for the newborn King!
Merry Christmas.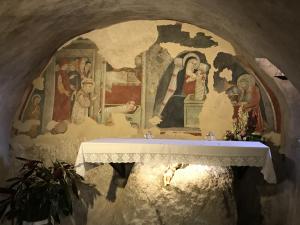 The Grotto of the Nativity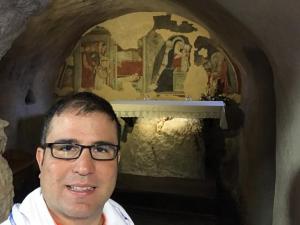 Selfie at the Grotto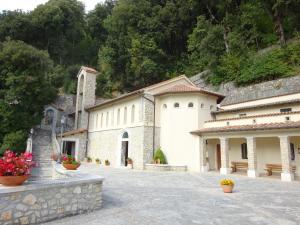 Sanctuary of Greccio
Pictures are mine, all rights reserved.  Greccio, 2018.