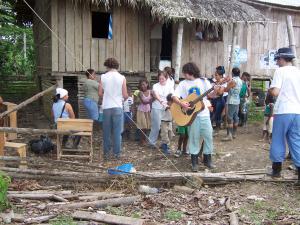 A friend invited me to lunch early one chilly morning before we went to class, and I agreed to meet him later that day.  Minutes after we sat down to eat at the university dining room, he revealed the reason for the invitation: "I need you to come on the medical mission trip to Ecuador because my two translators backed out yesterday.  I need a translator."  I knew Joe was in charge of the upcoming mission trip, but I had no desire to participate in any of the many mission opportunities offered by the university during Spring Break.  After listening to him for about ten minutes, I interrupted him, "by when do you need an answer?"  He smiled and said, "by the time lunch is over."
Four weeks later I boarded an airplane to Quito, Ecuador, and on the following day I was on a bus to the coastal town of Muisne.    Though a small hostel in town became our home base, a small group of us traveled by horse for several hours into a remote village to run a clinic for three days while sleeping on a wooden floor and eating whatever the village kitchen prepared for us.  One morning we boarded a small boat on the Muisne River and fearlessly headed into the raging Pacific – up we rose to the crest of the waves and splashed down on the other side.  It was the ultimate roller coaster – but with the possibility of being swallowed up by the Pacific Ocean.  We reached the village of San Francisco where we took our shoes off, rolled up our pants, and walked onto the shore carrying our supplies.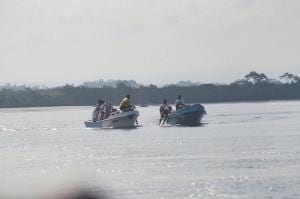 During the days of mission I saw two women fight over the last tube of toothpaste available.  I watched a priest baptize and confirm a dying newborn baby whose mother had brought to the clinic but was unable to make the difficult and distant journey to the hospital.  I translated for twelve to fifteen hours each day for a pediatrician, who saw child after child, family after family, all seeking healing and hope in a society that offered them very little.  Using the words of Pope Francis, I found myself in the margins or peripheries of society, and experienced first-hand the reality of grave human suffering.  At the same time, I was aware of the hope that the Gospel brought into the lives of the people we served.  A local woman who worked with us stated that seeing twenty young men and women from the United States filled with joy encouraged her and her community.  "I always thought people in the United States had no use for religion, but this shows me otherwise," she confided in me.
Saint John Paul II, a man who personally experienced tremendous pain and suffering, stressed the need for acts of love in response to human suffering in his Apostolic Letter Salvifici Doloris.  Whenever we perform an act of love to remedy human suffering, it is Jesus who experiences its effects.  "[Jesus] himself is the one who in each individual experiences love; he himself is the one who receives help, when this is given to every suffering person without exception. He himself is present in this suffering person, since his salvific suffering has been opened once and for all to every human suffering."  Suffering confounds all of us – yet two things are certain: Jesus accompanies those who suffer, and Jesus compels us to respond with compassion toward those who suffer.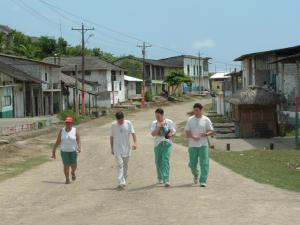 I'm second from the left
Pictures are mine, all rights reserved.