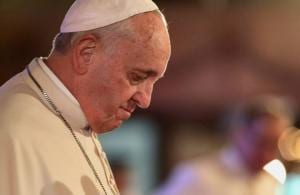 Pope Francis invites all the Christian faithful to participate in a special time of prayer led by him at Saint Peter Square on Friday, March 27th, 2020. The ceremony will include readings from the Scriptures and adoration of the Blessed Sacrament. It will conclude with the Pope imparting the Urbi et Orbi blessing which is usually held only twice per year, at Christmas and Easter, from the balcony over the entrance of Saint Peter Basilica. The prayer and blessing will be live-streamed on the Vatican News website (WWW.VATICANNEWS.VA) at 6:00 pm Rome time, which is 1:00pm EST.
When Francis addressed the faithful from the Apostolic Palace to call for this moment of prayer he offered the following words:
"During these days of trial, as humanity trembles at the threat of the [coronavirus] pandemic, I would propose that all Christians join their voices together to heaven. Next Friday at 6pm I will preside over a moment of prayer over the loggia of the Basilica of Saint Peter with the square empty. At that time I invite all to participate spiritually through various media outlets. We will hear God's Word, we will raise our prayers, we will adore the Blessed Sacrament, and at the end I will impart the Urbi et Orbi blessing with which it will be possible to receive a plenary indulgence. We wish to respond to the pandemic of the virus with the universality of prayer, compassion and tenderness. Let us remain united."
El Papa Francisco invita a todos los fieles cristianos a participar en un momento especial de oración dirigido por él en la Plaza de San Pedro el viernes 27 de marzo 2020. La ceremonia incluirá lecturas de la Biblia y adoración del Santísimo Sacramento. Concluirá con el Papa impartiendo la bendición Urbi et Orbi, que generalmente se otorga solo dos veces al año, en Navidad y Pascua, desde el balcón sobre la entrada de la Basílica de San Pedro. La oración y la bendición se transmitirán en vivo en el sitio web del Vaticano (WWW.VATICANNEWS.VA) a las 6:00 pm hora de Roma, que es la 1:00 pm hora del este en los Estados Unidos.
Cuando el Papa se dirigió a los fieles desde el Palacio Apostólico para invitar a este momento de oración ofreció las siguientes palabras:
En estos días de prueba, mientras la humanidad tiembla por la amenaza de la pandemia quisiera proponerle a todos los cristianos de unir sus voces hacia el cielo. El viernes 27 de marzo a las 18 horas presidiré un momento de oración en el atrio de la Basílica de San Pedro, con la plaza vacía. A partir de ahora les invito a todos a participar espiritualmente a través de los medios de comunicación. Escucharemos la Palabra de Dios, elevaremos nuestra súplica, adoraremos el Santísimo Sacramento. Al final daré la bendición Urbi et Orbi con la cual será posible recibir la indulgencia plenaria. Queremos responder a la pandemia del virus con la universalidad de la oración, de la compasión, de la ternura. ¡Permanezcamos unidos!
Picture is not mine. Public Domain.