On Tuesday, June 28th, about eighty people gathered at my parish, Corpus Christi Catholic Church, to pray for peace in Ukraine, and to express support to the Ukrainian community in Savannah, in particular one of our parishioners who arrived to Savannah in March and is expecting a child.  The event served as a baby shower.
After Mass, we shared a meal together.  It was a wonderful event, and I am grateful we can show our support to the Ukrainian individuals who attended.  Here is my homily for that evening: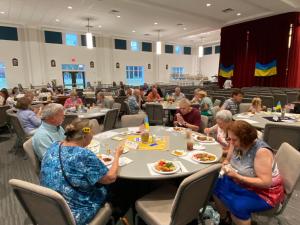 "We gather tonight to pray for peace on the Feast of Saint Ireneus, an early church bishop who lived eighteen centuries ago in Central France, whose name itself means "Peace" in Greek.  "Irene" or "Eirene" is the Greek word for peace.  So tonight, we ask Saint Ireneus to pray for us, that we may find true peace not only in Ukraine, but also within our community, our families, and our hearts.
For months now, we have experienced the turmoil of war between Ukraine and Russia.  Some of us have watched and heard from a distance, others unfortunately have lived through it, experiencing it first-hand.  This reality has drawn us together, our hearts feeling close to all those who are unjustly suffering, especially children.  Many have lost their lives, and the lives of those who remain have been changed forever.  We gather here in Savannah, so far away from Ukraine, to combine efforts, to show support, and to express solidarity, that despite so many things that could keep us apart, we are here tonight united in prayer and united in mission.
We gather tonight also to welcome our brothers and sisters who have left everything that was familiar behind, arriving to Savannah looking for some peace and stability.
Thirty-one years ago, my parents, my sister and I boarded a midnight American Airlines flight in Lima, Peru with Miami, Florida as its destination.  We left because our home country no longer welcomed us.  Remaining home meant at best the kidnapping of my father or a family member, at worst, the assassination of one of us.  We came to an alien land though we had visited the United States numerous times.  We unwillingly left everything that was familiar for the sake of finding peace.
Being uprooted is one of the most traumatic experiences a human being can live through.  If a person is able to work with dignity to make a living, and be part of a peaceful society, that person will not migrate.  The vast majority of immigrants do not leave their home country willingly.
Being an immigrant or refugee is living an uprooted existence, and experiencing displacement.  It is living with a blurry identity of who you are and where you belong.  The immigrant struggles to find a solid identity since he lives in between two worlds – you belong to both yet belong to neither.  Even if rooted in a new land and new society, the link to the mother country remains.  The immigrant will always "look differently", "speak differently" or "think differently" even if he or she feels rooted in the host country.
When a plant is uprooted, soon the plant withers and dies.  If an immigrant remains with the sense of being uprooted, he or she too will wither and die.
At a time of upheaval and feeling uprooted, just like the disciples in the boat during the storm, we turn to our faith in Jesus Christ to find a solid foundation that roots us.
We can take the words of Saint Paul quite literally when he writes, "we are citizens of heaven."  The immigrant, rising from feeling uprooted, lost and displaced, can find his or her identity in Christ.
Jesus alone is the one who has the power to calm down the storms of war, hatred, and suffering.  Jesus has the power to calm down the storms of fear, insecurity and despair that arise deep within our hearts.
As war rages on in Ukraine, and many are displaced, we turn to Jesus Christ who always welcomes us with open arms.
We are in the midst of the storm: how will we respond?
Will we despair and grow angry?  Will we try to calm the storm ourselves and fail miserably?  Or will we reach out trustingly to Almighty God who is close to the brokenhearted, and close to those who suffer injustice?  We may be far away and unable to do much, but we can do something here and now.  Our presence tonight expresses that reality: this we can do.
In the midst of the storm, tonight, we reach out to Almighty God in prayer as He manifests himself in our midst through his Word and through the Eucharist.  As Catholics and as Orthodox, we believe Jesus is in the boat with us always, right here in the Eucharist, and choses to enter our hearts to calm the storm that rages within.
Let us remain together in prayer and in mission, that peace may be restored."