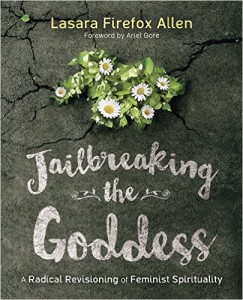 by Lasara Firefox Allen, Llewellyn Publications (July 2016)
Summary: Jailbreaking the Goddess is a revolutionary revisioning of the feminine divine. Where the maiden, mother, crone archetypal system is tied to female biology and physical stages of life, the fivefold model liberates the female experience from the shackles of the reproductive model.
Manifestation Magick – a primer
by Lasara Firefox Allen
(pdf format booklet) $15.00
The deal with manifestation magick is this: desire+action=result. The universe does not usually move the course of the river on its own…it takes a bit of helpful trenching to create a new route. A trickle, then a gush, then a torrent.

I know that somewhere, in this very moment, that which you desire is waiting for you. I will introduce here some ideas about the right combination of events that will allow that which you desire and YOU to be sitting in the same moment at the same time.

Manifestation is really very much about re-wiring our expectations.

"We get what we expect, not what we desire."
— Chris Howard
Sexy Witch – with bonus gift item, The Pussy Poems

by Lasara Firefox Allen (Llewellyn Publications, 2005 – currently out of print)
Signed collectors copy: $35 plus $6 shipping
Love Your Yoni Eggs
I will be in touch promptly to help you decide on your perfect stone.
$45 + $6 shipping.