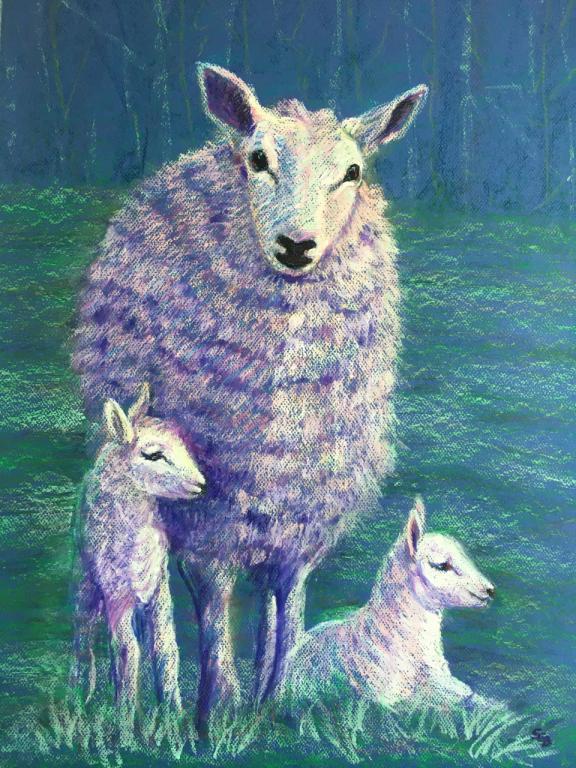 Most probably we are in Eden still. It is only our eyes that have changed.
Spring Fever
I'm so excited about spring. Every year it happens again, but I am like a small child who never tires of jumping into her parents' arms. I can't wait to get outdoors. A couple of years ago, I started going out weekly with a group of plein air painters. We all love to set up our easels out in the fresh air and absorb the beauty in nature, in the changing lights and in the patterns and chaos of the plants, trees and streams.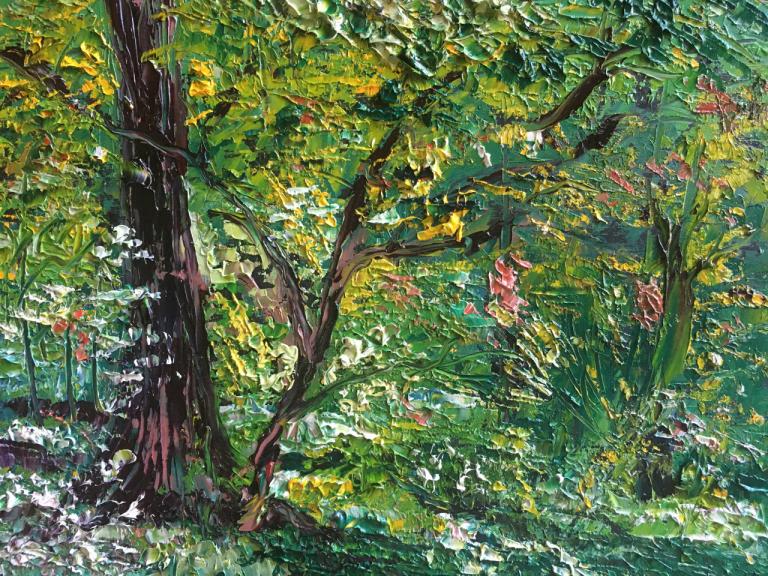 Conservation and Local Farms
Such beauty surrounds us in parks and gardens, on the banks of rivers and in the woods of the nature reserves. I am so grateful for the work of conservationists who care for the land so our grandchildren will be able to enjoy it. As I paint, I take photos, but the photos never reveal the light and the colors as I see them. The intensity of hues and the way the light penetrates the leaves from behind, for example—I never see that in a photograph. Nothing can replace breathing the cool air and seeing the sunlight sifting through the branches.
In addition to conservationists, I'm thankful for local farmers who preserve and protect the land. I know little about farming, but I know the sweetness of a locally grown tomato. And I want my grandchildren to be able to visit local farms to see reds, yellows and oranges against a green backdrop in the vegetable gardens, and newborn lambs, and fields of grass stretching wide, healthy and life-giving.
Why Be Concerned About Local Farms and Local Forests?
Jeremiah 29:7 says, "Also, seek the peace and prosperity of the city to which I have carried you into exile. Pray to the Lord for it, because if it prospers, you too will prosper" (NIV). Granted, this verse is in the context of an exiled people, but the principle holds true. Seeking the peace and prosperity of our city secures a better future for our communities. Taking care of our green spaces and our local farmers is a way to care for ourselves and our neighbors. It seems that conservationists have many champions, and I'm glad. But we may need to change our priorities a bit and focus more on helping local farmers.
Creative, Both/And Solutions
Because buying local is expensive and out of reach for many people, some organizations are finding creative ways to help local farmers and help families who are food insecure. I recently heard about grants to deliver boxes of fresh, local food to refugees and other families in need of assistance. The relief organization pays the farmer, and families receive farm boxes. Local non-profits distribute the vegetables and fruits to those who need access to healthy food. This is just one creative model. Instead of thinking we can't help both low income families and the local farmers, let's think "both/and."
Seeking Inspiration
When we need inspiration, we can venture out into nature and ask God to speak to us. If I can walk and pray in the fresh morning air, my mind opens up to new ideas and the guidance of the Spirit. Sometimes I sit watching the birds, remembering that Jesus said not to worry, for God takes care of the birds, and we are so much more precious to him than they.
The world may seem to be falling apart, but in nature we see tremulous beauty all around us, whispering that God is real, loving, and attentive to our needs. When the ascending sunlight filters through the delicate leaves, we need to be still, open our eyes, and listen. May the creativity of God inspire us to find new ways of blessing our communities this spring.
Can you share your ideas about helping local farmers or the name of a favorite CSA farm? I'd love to hear in the comments.
I'm an artist who loves to write. If you'd like to get to know me better, please follow me on social media.
My Blog: susanebrooks.com
Instagram @sebrooks81 (Mostly Art)
Facebook, Susan E. Brooks, Artist,
Twitter @sebrooks81
YouTube Susan E. Brooks, Artist