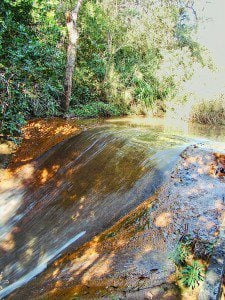 Lectionary Reflections: The Third Sunday of Advent
December 16, 2012  
Christmas is coming!  Joy is in the air!  Today's scriptures center around joy, but joy is the result of spiritual practices not hedonism or accidental good fortune.  As improbable as it may seem, the irenic Philippians and the bombastic John the Baptist have much in common.  Both see joy as the result of a transformed lives and lifestyles.  As Paul says elsewhere, be not conformed to the world but be transformed by the renewing of your mind.
As we read Philippians, we are tempted to break out a few Christmas carols in worship this week.  The waiting is over, God is near.  Philippians 4 speaks about joy as the heart of Christian life.  Rejoice – again I will say rejoice – Paul exclaims from prison.  The joy of Philippians comes from a vision of realities and practices that help us experience that joy in our daily lives.  The vision at the heart of Philippians finds its foundation in the intimate providential activity of God.  Last week, we heard about God's work in our lives moving toward fullness and a harvest of righteousness.  Divine providence is immanent, persuasive, and inspiring, and like the Tao eventually prevails despite its apparent powerlessness.  God is present and active in our lives; God seeks our partnership in changing the world.  For this, we can be grateful and commit ourselves to blessing others.  This same joy is evident in Zephaniah's affirmation that God will bring joy to the nation and that divine providence will be evident in God's salvation of the lame and outcast, reversing their fortunes and restoring their place in society.
Visionary theology leads to life-transforming spiritual practices.  We are to work out our salvation with awe and excitement – fear and trembling – knowing that God is inspiring us to shine like stars in the world.  Philippians 4 outlines practices that transform our lives and awaken us to God's providence: gratitude, petition, intercession, gentleness, peaceful living, and affirmative faith.
Affirmative faith is central to the Advent and Christmas messages.   In this time of polarization and spiritual superficiality, we need spiritual soul food not fast food.  We need to live affirmatively focusing on what unites us, what leads to fulfillment, and what is transformative, not what separates us and minimizes the stature of others.  As scripture says time and time again, there is a deeper realism that takes us beyond the bottom line to experience abundance in a world of scarcity. From prison, this deeper realism inspires Paul to assert that God will supply our deepest needs and that we can do all things through Christ who strengthens us.
John the Baptist unites realism with the possibility of transformation.  His harsh words are a call to changed priorities and lifestyles.  What is central to John's speech is not the harshness of his language – indeed, his inflammatory rhetoric – but the possibility that we can change our lives.  We can let go of injustice, materialism, consumerism, and inequality to become citizens of a realm of freedom, love, and abundance.  John always points to Jesus' messianic age: his refining fires temper the dross of our lives to make our lives something of beauty and love, and prepare us to meet the coming Christ. The good news is that when we change our lives, we open to a wellspring of new possibilities for ourselves and our communities.
The final note comes from Isaiah: "With joy you shall draw water from the wells of salvation."  Healing and wholeness are abundant and available to all. There will be streams in the desert; the fields and orchards will bear fruit; and humankind will find abundant life through new values and restored relationships.