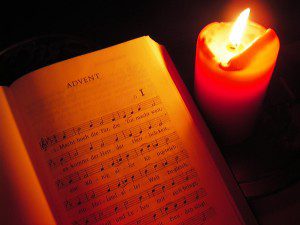 Lectionary Reflections for the Fourth Sunday of Advent, December 23, 2012
Micah 5:2-5a; Psalm 80:1-7; Hebrews 10:5-10; Luke 1:39-55
On occasion, I will be asked the question, "When does life begin?" by a curious or confrontational inquisitor.  Such questioners are often surprised when I respond, "Oh, about 14 billion years ago."  My response, while occasionally startling, is intended to point to the fact that such questions of individual birth and death are somewhat irrelevant and unanswerable, especially for politicians, in a mysterious, and interdependent universe in which each moment's transformation involves both death and resurrection.  My young grandchildren are made of star stuff and bear the imprint of the emergence of the universe and planetary life. Surely in a God-inspired universe, the possibility of intelligent life was present in an open-ended way in the very beginnings of our current cosmic epoch.  Our particular type of intelligence was, I suspect, the result of the interplay of chance, good fortune, divine providence, and creaturely intentionality over billions of years.  Moreover, in a God-filled universe, various degrees of wisdom and reality are always co-existent whether in the womb or among those who debate questions of fetal life and death.
Today's passage from Luke's Gospel involves a fetal synergy.  When Mary, unexpectedly and mysteriously pregnant, comes to visit her close relative Elizabeth, perhaps, the only woman she could trust to support her pregnancy, John leaps for joy and excitement within her womb.  There is physiology involved – perhaps the fetus is mirroring his mother's excitement at seeing her beloved Mary.  Something more is also involved – a curious blend of interdependence and providence that I suspect joined John and Jesus in their respective wombs and throughout their personal journeys.  I believe that John and Jesus were spiritual twins and mirrors for one another – the Celts refer to this as "anamcara" or friends of the soul – who played together, went to temple together, explored adolescent romances together, experienced the mysteries of God together, and studied scripture and spiritual practices together.
Each one had a call, and their calls were intertwined as spiritual companions and teachers.  They even have served as "clearness committees," in Quaker parlance, listening each other into discovering their respective callings. John sees his adult call as preparing for the Messianic Way that will be embodied in his companion Jesus and Jesus trusted John's wisdom enough to seek his baptism as a sign of his coming of age as God's spiritual light to his world.  Neither is complete without the other, each needs the other to reach her or his calling in God's vision of Shalom.
John's mission is to turn the world upside down.  John will afflict the comfortable and comfort the afflicted.  He will call for redistribution of power, wealth, and privilege.  He will convict the wealthy and powerful of insensitivity and call them to integrity.  Painful as his message is, John's words are "good news" pointing his listeners to turn from the ways of death to God's way of life.  So, too, Mary's song of praise magnifies the presence of God in both boys which creates chaos among the unjust and complacent as a means of creating new and fluid "orders" of justice and Shalom.  The divine restlessness embodied in both Jesus and John questions our authorities, challenges our certainties, and deconstructs our orthodoxies so that we may become open to God's new creation in our midst and on our planet.
Micah's words reaffirm the spirit of the passage from Luke: small origins can lead to great things.  A fetus leaping in the womb prophesies wonders to come for itself and for the One it will proclaim.  In a providence-filled world, even a fetus can testify to God's vision. We can never underestimate the power of small beginnings or apparently minor events or chance encounters – the butterfly flapping its wings in "chaos theory" – to transform our lives over the long haul.  Freedom, chance, and choice are real along with providence in the shaping of our lives. Every child, and each moment, can be an angel in disguise, filled with possibility and adventure for those with perceptive senses.  A hobbit or teenager can go on a great adventure and, despite their apparent insignificance, small stature, or youth, a Bilbo Baggins, Harry Potter, or Hermione Granger can tip the balance between life and death of communities and the world. In the spirit of Psalm 80, God's spirit is always shining in our midst, but only those who notice will experience the fullness of its warmth and guidance.  Both the Psalm and the Micah passages beg the question:  Where are we seeing God's light?  What hidden wonders are right in front of us that we are not currently noticing? What small beginnings are emerging in our lives and communities that have the potential of becoming agents of providence in God's quest to heal the world?
It's only two days until Christmas and we are restless.  Our restlessness may be about having the "perfect" holiday, but it is more.  Behind the tree and mistletoe, the gifts and parties, is the quest  to live more joyfully and lovingly, and to embody Christmas in daily life.  We need, however, more than one day to awaken us to God's new vision of Shalom.  We need to wake up to God's restlessness and become, like Mary and Elizabeth, restless ourselves, exhibiting signs of God's new age in our cells as well as our souls.  Our hope as followers of Jesus is to move from complacency to action, to be dissatisfied with the status quo in our lives, in politics and economics, and in our religious traditions and global commitments. Our hope is to be bold in doing something new and beautiful for God and to be transformed people for a transformed creation.