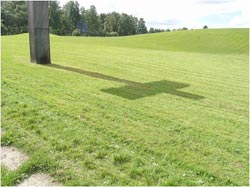 Lectionary Reflections for Easter Sunday
March 31, 2013
Acts 10:34-43; Psalm 118:1-2, 14-24; I Corinthians 5:19-26; John 20:1-18; Luke 24:1-12
Transformation can be disorienting as well as reorienting. Can you imagine how Mary of Magdala felt as she heard her name being called in the Garden? "Mary, Mary, Mary." Resurrection is always personal and intimate: although we may hope for a global and communal resurrection, resurrection always addresses us in the first person – "Bruce," "Anna," "Kate,","Jack," "Charisse," "Ignacio." Listen in this quiet moment for God's whisper to you? What name is God calling forth? What new life is emerging? What hopes are being revived?
Mary's immediate response is to reach out to hug her Teacher and Friend. Jesus' response to Mary is not a rebuff, but an invitation to experience him in a new way, both locally and globally, and to see him with new eyes – everywhere! "Do not hold onto me, because I have not ascended to my Parent." The resurrected Jesus is known by his wounds; and his woundedness joins him in solidarity with suffering humankind – everywhere! But, the resurrected one is also freed from the limitations of space and culture. "Do not hold onto me" may be Jesus' declaration that he now belongs to everyone. He is surely the Jewish teacher and healer, and now he is also global in impact and scope. He is the Galilean, and now he will be known in many ways in many cultural and ethnic contexts. The Jewish Jesus remains Jewish, but also becomes as manifold as the colors of the rainbow, creating his own Rainbow Resurrection. Resurrection liberates our imaginations to experience God in the most surprising places – including our enemy and ourselves!
We usually "rejoice" at our good fortune, often forgetting we are part of a vast and intricate network, embracing cells and souls. The Psalmist's words, "this is the day that God has made and we will rejoice and be glad in it" calls us to rejoice in the good fortune of others; the risen one is embracing them and appearing to them within the uniqueness of their own personal, cultural, and religious experiences. The great physician treats every condition on its own terms and heals, restores, and empowers in ways that address our hopes and dreams. The most universal is the most intimate.  Can we rejoice to hear that God has no partiality, as Peter proclaims to his companions and to Cornelius and his household?
The divine impartiality, however, is not generic. For the past two decades, I have been studying and writing about the healings of Jesus, with particular attention to how we can understand and live these healings in the context of complementary and technological medicine, Asian and Western medical philosophies, and global spiritualties. I have come to believe that God's movement toward healing and wholeness touches every moment of experience, but this touch in its universality is always as intimate as our next breath and speaks our name and our need, just as Jesus spoke to Mary of Magdala in the Garden. (For more on healing, see my texts: Healing Marks: Healing and Spirituality in Mark's Gospel; God's Touch: Faith, Wholeness, and the Healing Miracles of Jesus; Healing Worship: Purpose and Practice; and Reiki Healing Touch and the Way of Jesus)
Resurrection, like healing, disorients and orients. Resurrection is about experiencing miracles, when we least expect them. Resurrection emerges within our deepest needs when, unpredictably, a burst of divine energy changes everything, making a way where there is no way, and triumphing, as the apostle Paul proclaims, over all forces of death. When we least expect it, resurrection happens to us – just as it unexpectedly happened to Mary – and later to those who deemed it an "idle tale," Jesus' first followers and a few years later, to the apostle Paul. The good news is that the drama of resurrection is not anomalous: Jesus is risen and it is a glorious thing! Christ is risen and we are transformed!
Yet, we live in a world in which resurrections occur and are offered, albeit subtly and in the midst of hopelessness and fear, each moment of our lives. I believe Jesus' resurrection is part of a deeper energetic and synergetic divine presence, missed because of its ubiquity. God resurrects each dying moment and moves to heal each past trauma in a world where pain, tragedy, conflict, and death are all too real. I believe that Jesus' resurrection revealed a "deeper law of nature," a greater influx of energy, congruent with the energies of the universe that brought forth the "big bang" and the births of galaxies and planets. Surely, it was a quantum leap – this energy of life and love – gathering up the powers residing already in Jesus' healing touch and words. Could it have a burst of the energy that flowed from Jesus to the woman with the hemorrhage? Could it have been the imaginative power that enabled Jesus to bring forth food for a multitude from a few loaves and fish? Could it have been a precursor to the dazzling light Paul felt on the way to Damascus? Still, even if resurrections are "natural" and not violations of causal relationships perpetrated by an otherwise absent god, then these resurrections are never tame, predictable, controllable, or fully understandable. They disorient to orient, and deconstruct to transform.
Today, we need to be disoriented and deconstructed to let resurrection break through. We need to open our eyes to God's bursts of energy locally and globally, intimately and universally at work in our world, and we need to get on board, with resurrection life, practicing resurrection by awakening to it and opening our eyes to wonders of new life. Surely this in the resurrection miracle of this moment – the day that God has made – let us rejoice and be transformed in it!