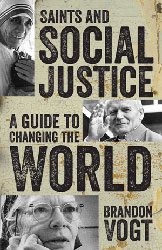 Although I am a progressive Protestant and by inclination feel some discomfort in setting apart certain people as saints, I found Brandon Vogt's Saints and Social Justice: A Guide to Changing the World is an inspiring book. While many of the stories of saints belong more to legend than fact, what shines through is that certain people answer the call of God and devote their lives to transforming our world so that it reflects the values of God's realm of Shalom. In their own time and place, God comes alive in them: they enter into dialogue with God, responding to the call, and expanding the call of God into the world. Initially and, I suspect, throughout their lives, these folk were saints in spite of as well as because of their fidelity to their vision of God's realm.
Brandon Vogt invites us to consider our potential saintliness. I believe that God calls each one of us every moment of the day within the normal circumstances of our lives. God presents us possibilities to embrace justice, beauty, love, and intimacy in every encounter. When we say "yes" to God, a more expansive array of possibilities emerges. We don't need a pope or council to define us, we need to tie together saintly moments one after another to create a lifetime of saintliness.
Saints are people of "size," who are able to embrace the fullness of life, including contrasting realities, and maintain their spiritual center. Saints see God in all things and all things in God, and out of this vision, discover that the well-being of others is just as important as our own well-being. While the Roman Catholic Church canonizes exceptional women and men as saints, I am sure that there are countless others, Protestant, Orthodox, Catholic, Buddhist, Hindu, and agnostic who also exemplify the saintly spirit. The importance of the canonized saints is not their uniqueness but their invitation. They are icons of the divine pathway that inspire us to travel that same road. "I did it," they say, "and if you devote yourself to holiness in your time and place, you can be one, too." While the Roman tradition glorifies the priestly, single saint, the quest for saintliness is just as challenging and just as possible in our domestic lives, with job responsibilities and children and grandchildren and spouses and partners vying for our attention.
Brandon Vogt's book is invitational and asks the question, "Why not you?" In the midst of our lives, could we also be saints, or sanctified persons, as Protestant spiritual leader John Wesley affirms. Jewish mysticism asserts that when you save one soul you save the world: the ninety nine sheep are not whole without the one lost sheep. Accordingly, in seeking to save your part of the world, to bring something beautiful to the world or "do something beautiful for God" (Mother Teresa of Calcutta), is to embark on the pathway of sainthood.
Although it's a bit of an era piece, I still find inspiration in Lesbia Scott's "I Sing a Song of the Saints of God." It reminds us that God wants us to aim high, expect great things of ourselves and also expect great things of God. For as Jesus says, we can do greater things than we can imagine when we are in tune with God's spirit and Christ's mission.
I sing a song of the saints of God,
Patient and brave and true,
Who toiled and fought and lived and died
For the Lord they loved and knew.
And one was a doctor, and one was a queen,
And one was a shepherdess on the green;
They were all of them saints of God, and I mean,
God helping, to be one too.
They loved their Lord so dear, so dear,
And his love made them strong;
And they followed the right for Jesus' sake
The whole of their good lives long.
And one was a soldier, and one was a priest,
And one was slain by a fierce wild beast;
And there's not any reason, no, not the least,
Why I shouldn't be one too.
They lived not only in ages past,
There are hundreds of thousands still.
The world is bright with the joyous saints
Who love to do Jesus' will.
You can meet them in school, or in lanes, or at sea,
In church, or in trains, or in shops, or at tea;
For the saints of God are just folk like me,
And I mean to be one too.
Yes, saints are all around, and I want to be one, too, at home, at church, in the shopping center, at the coffee house, on the beach, playing with children, giving comfort to the lonely, writing, teaching, and preaching, and being the good news that God calls me to share.
Read an excerpt from Saints and Social Justice at the Patheos Book Club here!