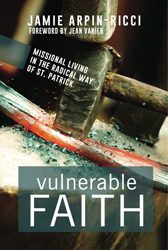 As a child growing up in the Salinas Valley in California, I grew up singing that grand evangelical hymn "Just as I Am," popularized by the Billy Graham Crusades. Jamie Arpin-Ricci's Vulnerable Faith brought me back to the revival meetings and evangelical theology of our small town Baptist church. While I no longer hold the theology of my childhood, there is still much truth in the hymn's recognition that we are lost apart from grace. That's the point of Vulnerable Faith. Economic, moral, and spiritual independence are an illusion. None of us can make on our own. We are finite, mortal, broken, and in need of one another. Transformation comes when we discover, as did St. Patrick, that we are in need of the grace of a power greater, wiser, and more loving than ourselves. The grace of God meets us in our interdependent weakness and empowers us to be graceful as companions with God in healing the world.
In moments of grace, we – like St. Patrick – discover that the self-made person is to be pitied. The one who must succeed on her or his own, always stand on her or his own two feet, and preserve the pretense of invulnerability will ultimately discover that no achievement is fully individual. A self-made life is an illusion, whether in economics or spirituality. We are responsible for ourselves but our actions emerge out of the grace of interdependence. We are intricately related to God and each other, and like branches on the vine, described by Jesus, we can do nothing on our own. In fact, disconnected from the lively vine, we will wither and die. Connected to the vine, embracing the poles of interdependence and responsibility, we flourish and grow.
A healthy life involves the interplay of self-affirmation and humility and celebration of our uniqueness and confession of our finitude. Though the original version of "Just as I Am" emphasizes the brokenness of human life, the hymn can both convict and empower us to trust God, affirm that giving and receiving are one dynamic reality, and then claim our personal power made perfect in weakness and interdependence.
Listen a moment to Charlotte Elliot's words. They sound remarkably like the wisdom of the Twelve Step Movement.
Just as I am, without one plea,
but that thy blood was shed for me,
and that thou bidst me come to thee,
O Lamb of God, I come, I come.
Just as I am, and waiting not
to rid my soul of one dark blot,
to thee whose blood can cleanse each spot,
O Lamb of God, I come, I come.
Just as I am, though tossed about
with many a conflict, many a doubt,
fightings and fears within, without,
O Lamb of God, I come, I come.
Just as I am, poor, wretched, blind;
sight, riches, healing of the mind,
yea, all I need in thee to find,
O Lamb of God, I come, I come.
Just as I am, thou wilt receive,
wilt welcome, pardon, cleanse, relieve;
because thy promise I believe,
O Lamb of God, I come, I come.
Just as I am, thy love unknown
hath broken every barrier down;
now, to be thine, yea thine alone,
O Lamb of God, I come, I come.
While we might not be fully comfortable with substitutionary atonement theology implicit in this hymn, the profound truth is that we will never experience the fullness of healing and grace unless we let go of pretense, individualism, moral superiority, and invulnerability. Every moment of the day, we are standing in the need of grace. The Twelve Step image of "one day at a time" is frankly too generous. We are healed and walk the path of grace one moment at a time, recognizing that our strength comes from recognizing our interdependence and need for God's grace each moment of the day.
Recently, I penned a complementary version of "Just As I Am," more appropriate for my own progressive theology and the community where I serve as pastor. While less sin-oriented, my version, including the second verse by Charlotte Elliot, describes the grace of interdependence and the love that brings us to life and receives us in death.
Just as I am without one plea
Your love is here surrounding me.
Your Spirit's near to set me free
O Loving God, I come, I come.
Just as I am, though tossed about
With many a conflict, many a doubt,
Fightings and fears within, without out,
O, Loving God, I come, I come.
Just as I am, I come to you
To trust your love my whole life through
I know your promise is always true,
O, Loving God, I come, I come.
Vulnerability is grace, and grace is vulnerability. Much as I like to go it on my own, my life is enriched when I embrace relatedness, grateful for all that I am receiving and out of gratitude for the grace of interdependence, reaching out to others to bless them and the world.
Read an excerpt from Jamie Arpin-Ricci's new book, Vulnerable Faith, here.