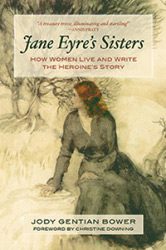 On my study desk sits a paperweight that announces "solvitur ambulando," or "it will be solved in the walking." Jody Gentian Bower's Jane Eyre's Sisters: How Women Live and Write the Heroine's Story could easily be described as "it will be solved in the wandering."
As I read this insightful text, transformative for both women and men, I couldn't help but remember the words of J.R.R. Tolkien, "all who wander are not lost." Bower's text, describing the journey of the heroine, often occurring despite the opposition of powerful male figures and society as a whole, gives witness to a vision of growth that is non-linear, often meandering, and with no clear or final destination. In fact, the destination may not be in the future or clearly marked, it may be found in the walking itself, or as feminist theologian Nelle Morton proclaims, "the journey is home."
The Quakers assert that a way will be made when there is no way, and surely this applies to the women cited by Jody Gentian Bower. The journey of these heroines involves facing daunting challenges and making a way in the wilderness "by standing up for themselves and at the same time building relationships with others – to win out and transform the world." The point is the journey itself and in the course of the journey, the challenges and limitations become the womb of new possibilities.
The apostle Paul, in many ways more friendly to women than his critics suggest, once counseled "do not be conformed to this world, but be transformed by the renewing of your mind." The heroines Bower describes in her book are creative non-conformists; they challenge the received world view, cultural norms, and vision of women and themselves personally. In the challenge, they discover a reformation and a renewing of their minds, the way they look at themselves, their gifts, and their worth, and become agents of transformation for themselves and others.
Recently, I attended "Seizing an Alternative: Toward an Ecological Civilization" at Claremont, California. Process theologian and environmentalist John Cobb, whose vision inspired the conference, asserts "to see the world with ecological relations at its core means never to see it in the same way again." This is the pathway of the wanderer (aletis), the path that has many possibilities, and no sure direction or final stopping point.
Linear thinking and acting has gotten us in the current ecological mess in which we find ourselves. While linear thinking may provide some solutions, the way forward is many ways, not just one, and holistic and not just linear or one-directional. We need heroes, yes, but heroes who embrace both yin and yang, and affirm the gifts of the heroine as mutual and equal. Like the heroines Bower cites, our current situation provides no clear way out or promise of success. The balance is tipped against planetary well-being and the challenge is daunting. But, the heroine's wisdom can provide a multiplicity of meandering, holistic, earth-supporting pathways. We need steadfast heroines to share their wisdom with the hero waiting to emerge in more holistic and life-supporting ways.
Whether we talk about personal self-discovery and healing or planetary healing and transformation, our times call for strong wandering heroines and new visions of the hero's journey. Apart from the other, the quest may falter, but together affirming, adventuring, and augmenting, hopeful meandering may bring healing to our earthly home.
Read an excerpt from Jane Eyre's Sisters –– and a Q&A with the author — at the Patheos Book Club here.