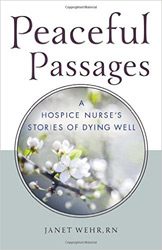 This post is part of a roundtable conversation for the Patheos Book Club on the new book, Peaceful Passages: A Hospice Nurse's Stories of Dying Well, by Janet Wehr, RN.
As a pastor, I have recommended hospice to congregants and friends for nearly thirty years. There comes a time when we need to let go – of our own lives and of the lives of our loved ones. We need to place them in God's care, trusting God's grace and eternal love for them even as their bodies diminish. The mortality rate is – and will remain – 100% and there's no way we can avoid the reality of death.
Lingering deaths are seldom easy, even if they are relatively painless. Nearly two years ago, my mother-in-law Maxine died at the age of 96. Her downhill descent lasted about six months, beginning with a urinary tract infection that morphed into pneumonia and then a gradual slide toward death. While her physical pain was modest compared to many, her growing frustration with her inability to help out around the house, her sense of being a burden, slow moving dementia and vertigo, and the transformation from activity to dependence was painful for all of us and most especially her. This is the way of all flesh, but that doesn't make it any easier. As we witnessed her decline, we wondered about our own deaths and lapses into dependence, dementia, and loss of agency. We hoped we would have the support of our family and institutions of caring at that inevitable time.
There is a season for everything and sooner or later, we face the season of dying for ourselves and our loved ones. In recent years, medicine has come to realize, for the most part, its limitations and has begun to ask questions of ethics and spirituality. One of my former colleagues Edmund Pellegrino, one of the founders of bioethics as an academic discipline, suggested that physicians should reflect on the following questions with patients and their families:
• What is the person's condition?
• What can we do?
• What ought we to do?
Hospice helps patients, families, and physicians deal with the question, "What ought we to do?" and supports a humane, dignified, relational death, with as much as agency as possible for the person facing death. Dying people are still living and can still fulfill certain dreams, explore new possibilities, and enjoy some of life's beauties.
In our case, Hope Hospice of Cape Cod (now Hope Health) provided regular visits by nurses, social workers, and care assistants. This supplemented the daily care of health care givers through Home Instead. We were blessed to have had the largesse to afford eight to ten hours daily CNA care that enabled my wife and I to have respite time and conduct our daily employment. These homecare givers enabled my mother-in-law to spend her life at home rather than an institution. As I read Peaceful Passages and Janet Wehr's accounts of her work as a hospice nurse, I was reminded of this challenging, yet precious, time of my mother-in-law's life and the positive role hospice played in improving all of our lives. We lived through a number of the vignette's Wehr includes in her book. We were grateful for the help we received from hospice.
It takes a village to raise a child. In this technological society, characterized by two income families and families often geographically separated, it takes a village to support the dying process. Hospice is doing God's work, and certainly embodies Mother Teresa's vow to "do something beautiful for God." For these caring professionals, my family gives thanks.
Read an excerpt from Peaceful Passages: A Hospice Nurse's Stories of Dying Well — and a Q&A with the author — at the Patheos Book Club.