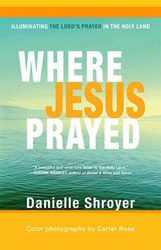 Editor's Note: This piece is a part of a conversation on the new book, Where Jesus Prayed, by Danielle Shroyer.
Every morning I reflect on words inscribed on a paper weight, sitting on my study desk, which read solvitur ambulando, "it will be solved in the walking." When we are on the move, new ideas come to us and new possibilities emerge.
Over the years, I have developed a walking spirituality. On the move, I garner ideas for blogs, books, sermons, and classes. On the move, I feel the energy of God flowing in and through me. On the move, my spirit and body both experience adventure with every step.
Jesus was a pilgrim and every walk is a type of pilgrimage from the known to the unknown. In her text Where Jesus Prayed, Danielle Shroyer takes us on a spiritual walk with the Lord's Prayer as her companion. She reminds us that faith is always on the move, and on the move, she discovers new dimensions of this ancient prayer, often lost when we repeat it sitting in church.
The Israel of Jesus' pilgrimages is very different geographically and topographically from Cape Cod where I live. But, there are great similarities. Both are characterized by quirky little villages, each with its own unique personality and historical contours. In my hometown, Centerville, one of the villages of the Town of Barnstable, and just a few minutes from the Kennedy's Hyannisport, you can create your own "stages of the cross" or "stages of the cosmos" as you go from gentle Craigville Beach to the historic Craigville Tabernacle and back around to the Penny Candy Store, the old congregational church (South Congregational) where I pastor, to ponds, the river, and cranberry bogs, each spot with a history and legends around it. Like Israel, this is holy ground, where I daily hear stories of joy and sorrow, and death and resurrection.
Our lives are a tapestry of tragic beauty, as the philosopher Alfred North Whitehead notes. The Via Dolorosa, the Way of Sorrows, winds its way through the shops of Jerusalem, and so do our own sorrows. Sorrow, whether Jesus or our own, is never abstract, but lived out in the concreteness of everyday life. Sorrow and joy surround our pathways whether in Jerusalem or Cape Cod, and in all of these moments, we can encounter the living Christ, enabling our lives to reflect God's wise vision "on earth as it is in heaven."
Along the pathway, we encounter both birth and death. Shroyer describes the Church of St. Peter in Gallicantu. Herein, Peter's mistake – his threefold denial of Jesus – is enshrined eternally. Yet, in the wondrous ambiguity of life, Peter's ultimate fidelity and transformation is also enshrined. Very few saints can escape their own sinfulness, and Jesus' followers are no exception. Without his humiliating denial, Peter might never have proclaimed the resurrection to Jewish and Gentile communities in the decades following the resurrection.
A short drive away, or a long walk from Jerusalem to Bethlehem, Shroyer introduces us to the Church of the Nativity, celebrating the birth of our Savior. Six miles! The distance between birth and death is infinitesimal, so it seems on certain days. In just a moment everything can change, and perhaps as her son Jesus hung on the cross, Mary remembered her own playful child as if it was only yesterday. Yet, the distance between Jerusalem to Bethlehem is also immense. It is the distance from Israel to Palestine, from friend to enemy, from wealth to poverty. The boundaries of life can be immense, and faith pushes us to the boundary with hope we can find unity amid diversity and oneness amid alienation. Imagine, the simplicity of Jesus' birth and the agony of his death, and then ponder the amazing fact that God was there, embodied, rejoicing and suffering as we do, as one of us, redeeming birth and death.
With Shroyer, I walk and open to insights on the way. Each day is a pilgrimage of spiritual transformation. I feel blessed that Shroyer has invited us to be on a prayerful journey, and along the way we may discover that in the chaos of life, God's vision of a heavenly earth will come to pass.
Visit the Patheos Book Club to read an excerpt from Where Jesus Prayed.