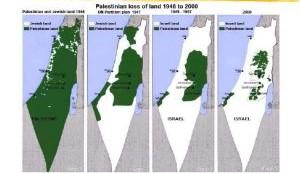 Dr. Mark Braverman is a Jewish American who speaks out for the rights of Palestinians and Israeli-Arab peace. A retired clinical psychologist who worked with individuals and groups undergoing traumatic stress, he has addressed the Israel-Palestine conflict full-time since 2006. That is when he witnessed firsthand the Israeli occupation of Palestine. While there, he encountering Muslim, Christian, and Jewish peace activists and civil society leaders.
To this particular moment in time, this Kairos, I attribute the necessity to let Braverman's and others' voices speak here. "Kairos," is the biblical name for moment of decision. It has undergirded the determination of oppressed groups from South Africa to Latin America. Palestinians appropriately have applied it once again in what became known as the Palestine Kairos document. The document is titled "A moment of truth: A word of faith, hope and love from the heart of Palestinian suffering."
Headlines and this moment of decision:
Latin Patriarchate criticizes Israel's 'illegal' nation-state law: Urges Christians to unite against racist legislation (La Croix International, August 1, 2018)

Bishops visiting Holy Land: Christians must oppose Israeli settlements (Catholic Herald, Jan. 19, 2017)

Mike Huckabee says he dreams of 'holiday home' in Israeli settlement: Former Arkansas governor made comment when laying a ceremonial brick at settlement in the occupied West Bank (The Guardian, August 2, 2018)
The first two of these articles highlight Israeli and U.S. Christians' concerns about Israel's continuing suppression of Palestinian rights. (I'll come back to their views.) The third brings home one example, as current as the day I wrote this, of ways Palestinians are being oppressed.
Braverman doesn't either ignore or attempt to justify Palestinian violence against Israel. Israel's safety and peaceful existence with its neighbors is his concern as much as anybody's. But Braverman sees how Israeli policies and actions have harmed Palestinians. He understands peace will never result from the Israel's reliance on its huge power advantage to enforce present repressive policies.
Braverman blogs and lectures for justice
On his blog, "The Politics of Hope," and in talks and workshops around the country, Braverman carries on the struggle. He criticizes both Republican and Democratic administrations. Republicans recently struck a provision from their party platform that formerly supported the United Nation's preferred two-state solution. That solution envisions Israel and Palestine at peace, side by side. The U.S. has long boosted this policy as the only way to peace with justice.
The Democratic Party retains its corresponding plank. That's a positive, but previous Democratic and Republican administrations both have shown that official U.S. policy is only lip service. They have mostly wagged a finger , but nothing more, when Israel pursued policies to make a Palestinian state impossible. Our government has financed Israel's unjust policies and has shielded its government from criticism by the international community. Palestinian rights regularly violated include: "territorial sovereignty, refugee rights, treatment of prisoners, access to natural resources, and freedom of movement." (July 26 blog entry)
Opposition
For his principled stand Braverman meets opposition from Jews who think of the whole of Palestine as Jewish homeland. Some imagine this Zionism derives from divine order. In the Exodus and Joshua stories God gives someone else's land to the Israelites, who eventually became the Jews. Or it may be a more human dispensation. After World War II the U.N. OK'd the Jews' return to a land once again called Israel. It was a neat solution to the European problem of displaced Jews. It also masqueraded as atonement for the millennia of widespread persecution that led naturally to Nazi holocaust.
Either way, in biblical story of escape from slavery (whose historicity is uncertain) or in recent history (whose anti-Jew horrors cannot seriously be doubted), suffering is transferred from Jews to innocent former inhabitants of Palestine. Braverman is arguing two wrongs don't make a right and will never lead to a secure Israel.
Palestinian and U.S. Christians respond
The Israeli Knesset just passed a new Basic Law titled "Israel, the Nation-State of the Jewish People." This law flagrantly excludes 20 percent of the citizens of Israel, Christian Palestinians assert. That's published in a Latin Patriarchate statement. The law "sends an unequivocal signal to the Palestinian citizens of Israel to the effect that in this country they are not at home." It contradicts U.N. resolutions and Israel's own Declaration of Independence. The statement continues,
the founders of the Country clearly and unequivocally committed to foster its development for the benefit of all its inhabitants and to ensure complete equality of social and political rights to all, irrespective of religion, race or sex.
The Christian leaders mention specific concerns: the downgrading of the Arabic language and "the commitment to work on the development of Jewish settlement in the land, with no mention of the development of the country for the rest of its inhabitants."
Catholic News Service reported on a fact-finding mission by bishops from the U.S., Canada, Europe, and South Africa. "It becomes clearer that [Israeli settlement policies] are not just about outlying settlements but something more systematic; more about infiltrating Palestinian land and forcing Palestinians out by making them so uncomfortable with such limited freedom they don't want to continue living there," said Bishop Oscar Cantu of Las Cruces, New Mexico.
In 2012 U.S. clergy, theologians, and lay persons issued "Call to Action: U.S. Response to the Kairos Palestine Document." The authors acknowledge "our shameful role in the historic persecution of the Jewish people." They confess to teachings that denigrated Judaism and to stereotyping, scapegoating, prejudice, and murder in the name of religion. They committed to examining flawed biblical interpretations and correcting perceptions that allow continued injustice toward Jews.
All of this history makes it hard for Christians to speak convincingly a challenge to the State of Israel, as brothers and sisters might speak to each other. But the authors insist this also must be done:
We recognize that it was this history of oppression that gave rise to the modern project of the Jewish people to establish a national homeland. We support the right of the Jewish people to live in security and to build a society free of the scourge of anti-Semitism. At the same time, we see clearly that the State of Israel's present course will not bring it the security it seeks nor grant the Jewish people freedom from fear. … [T]he cause of the current calamity is not the result of any historic or natural enmity between the two peoples. Rather, it is the overwhelming imbalance of power, Israel's practices of state violence, the ongoing abridgement of the human rights of the Palestinian people and the failure of the international community to hold Israel to principles of international law.
The statement concludes with a sobering thought for Americans and a challenge:
We hold our own government largely responsible for the continuation of conflict and suffering on the part of both Palestinians and Israelis because the conditions that stand in the way of such a peace are financed and diplomatically protected by our government. We therefore urge Christians in the United States to advocate with our government for a foreign policy that demonstrates a commitment to justice for Palestinians and to a sustainable peace for all the peoples of the land.
A growing number of Jews, Christians, and Muslims have become coworkers for justice for Palestinians. Dr. Braverman, Palestinians, Catholic bishops and the Latin Patriarchate all call for non-violent action to support the cause of justice and a viable Palestinian State at peace with Israel. Braverman and Palestinian groups have advocated actions known by the acronym BDS – boycott, disinvestment, sanction. The international community pursued this tactic successfully in the case of South African apartheid. Many people see another apartheid shutting out Palestinians from their rights and their livelihoods. Some have gotten into political trouble for saying it and even faced the accusation that it's another form of anti-Semitism. Political trouble with false accusations may be one of the rewards of facing this kairos, this moment of decision.