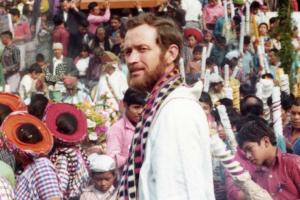 Yesterday, July 28, was the first feast day of Blessed Stanley Rother (ROW-ther). Fr. Rother, a priest of the Archdiocese of Oklahoma City, served in the diocese's mission in Guatemala during the dangerous years of gorilla uprising and government oppression. He was killed for speaking out for the poor and for his parishioners, who were being tortured and killed by government forces.
My pastor at St. Ray's Church, Springfield, MN, also served in a mission parish in Guatemala. He informed me about yesterday's celebration.
In the eyes of his flock, who came by the thousands to his funeral, Fr. Rother died as a friend and a martyr. Pope Francis officially verified his martyrdom on December 2, 2016. He was beatified in a ceremony at the cathedral of the Oklahoma City Archdiocese on September 23, 2017. July 28 is the day Fr. Rother was martyred in 1981.
---
A few days after posting this article on Fr. Rother, I received a long article about him published in Notre Dame Magazine. It includes much more of Fr. Rother's story.
………………………………………………………………………………………………………………………………………………………………………………………………………………………………………………………………………………………….
An ordinary martyr
Stanley Francis Rother grew up on a farm near the town of Okarche, Oklahoma. Along with farm chores, he participated in the normal activities of growing up in a small town. That included praying the rosary with his religious family, serving at the altar in his parish church, and playing school sports. During his high school years he began to think about a vocation to the priesthood.
Many years later he would find practical experience as a farm boy to be a great help in his mission work in Guatemala. But the immediate task of getting through seminary studies, with the entire curriculum taught in Latin, was a challenge. After almost six years, during which he was sacristan, groundskeeper, bookbinder, plumber, and gardener, the seminary staff asked him to withdraw. He was failing academically.
Rother still felt called to the priesthood, and he found a supporter in Bishop Victor Reed of Oklahoma City. The bishop assigned him to a different seminary. Fr. Rother was ordained to the priesthood on May 25, 1963 after graduating from Mount Saint Mary's Seminary in Emmitsburg, Maryland. After five years serving at various parishes he learned that the diocese's new mission in the rural highlands of southwest Guatemala needed a priest. Bishop Reed accepted his application in 1968.
You can learn more about Fr. Rother from the You-tube video "An Ordinary Martyr: The Life and Death of Blessed Stanley Rother."
Fr. Rother, pastor in Guatemala
The seminarian who couldn't learn Latin became the pastor who, in order to minister well to his flock, learned Spanish and Tz'utujil, the indigenous language spoken in Santiago Atitlán, Guatemala. In a letter home Fr. Rother shared his joy that "I am now preaching in Tz'utujil."
Other accomplishments of Fr. Rother were establishing a school, a hospital, and a radio station. He also helped translate the New Testament into Tz'utujil. Surrounded by extreme poverty, Fr. Rother lived a simple life. Sharing meals in the people's one-room huts, visiting the sick, working in the fields, and building an irrigation system were parts of his Jesus-like ministry.
Civil war and murder
Civil war raged in Guatemala during the years Fr. Rother served there. Corruption, injustice, and extreme poverty alongside the affluence of a few sparked a guerilla movement. The Catholic Church became a government target because of its option for the poor and insistence on educating them.
At first the violence centered in and around cities, but eventually it spread to the rural areas. Fr. Rother wrote to his bishop about the killing of priests and catechists. People slept in churches for protection as death lists circulated. The Oklahoma City Archdiocese sponsors a Fr. Roper website, which states:
Eventually, Father Rother's name appeared on the death list after a parishioner from an Oklahoma parish sent a complaint about Father Rother to the Guatemalan embassy, saying he was advocating for the overthrow of the government in his preaching ….
Father returned home to Oklahoma, but he didn't stay long. His heart was with the people of Santiago Atitlán. It was the winter of 1980-81, and he longed to celebrate the Easter mysteries back in Guatemala. "The shepherd cannot run at the first sign of danger," he said.
Shortly after midnight on July 28, 1981, three men entered the rectory, fought with Fr. Rother, and killed him. Within weeks the government arrested three men. They confessed to entering the rectory to rob it and killing Fr. Rother when he tried to stop them. Many people believed the confessions were false and part of a cover-up of the role of forces loyal to the government. A Guatemalan court overturned their convictions. Fr. Rother's real killers are still free.
Martyrdom "In odium fidei"
The Archdiocese of Oklahoma City opened the cause for canonization of Fr. Rother on October 5, 2007. The cause first had to be transferred from the Guatemala diocese in which the martyrdom occurred. On November 25, 2009, Fr. Rother received the title "Servant of God." Beatification proceeded after the unanimous vote of the Congregation for the Causes of Saints and the approval of Pope Francis, who confirmed that Fr. Rother died "in odium fidei," because of hatred of the faith.
Fr. Rother's body was returned to his home diocese, but the people of Santiago Atitlán requested that his heart be kept in Guatemala. There it remains enshrined today.
Since Fr. Rother's martyrdom his Guatemalan parish has produced nine vocations to the priesthood, with seven men currently studying in the seminary.
Plans for a Blessed Stanley Rother Shrine Complex are underway in Oklahoma City. The shrine will include a large church with a chapel, religious education classrooms, and indoor and outdoor ministry facilities. The new event center will serve a growing Hispanic community, which is contributing to overflowing crowds at local churches. Masses at the center will be in English and Spanish.
Prayer for the Cause for Canonization of Blessed Stanley Rother
O God, fount of all holiness, make us each walk worthily in our vocation, through the intercession of your saints, on whom you bestowed a great variety of graces on earth. Having graced your Church with the life of your priest and martyr, Blessed Stanley Rother, grant that by his intercession this humble flock may reach where the brave Shepherd has gone. Grant that your Church may proclaim him a saint living in your presence and interceding for us all. Through Christ our Lord. Amen.
Prayer for the Intercession of Blessed Stanley Rother
Blessed Stanley our brother, you poured out your life in service and spilled your blood as a witness to the faithfulness of God's love. Those you loved so deeply and served so completely knew you to be their pastor and their priest, interceding for them as their open door to the presence of Christ. Pray for us now and intercede on our behalf, as we ask you to walk with us on our journey through life, that the redeeming presence of Jesus might touch us now and restore us to wholeness and peace.

I ask in this time of need [state your need] that your prayer accompany us; may the mercy of Christ, echoed in your ministry and your martyrdom, renew us and bring us the graces necessary to heal our brokenness, illumine our darkness, and restore the losses in our lives, that we may be, finally, one with you in praising God forever in heaven.

Through Christ our Lord. Amen.
Timeline of civil war in Guatemala, 1954-2011
From PBS News Hour
1954 – U.S. Central Intelligence Agency backs coup against democratically elected Guatemala president considered a communist threat. Colonel Carlos Castillo Armas, now president, reverses land reforms and removes voting rights for illiterate Guatemalans.
1960 – 36-year civil war begins. Violence includes abductions, mutilations, and public dumping of bodies. A 1999 U.N. commission concluded that state forces and groups aligned with the state perpetrated 93 percent of human rights violations.
1966 – Civilian rule is restored with Cesar Mendez president; but an army counter-insurgency campaign intensifies violence.
1970 – President Carlos Arana, with military backing, places country under state of siege. For a decade violence against guerilla groups and indigenous communities escalates. Fr. Rother served the people of Santiago Atitlán during this period.
1981 –The Inter-American Human Rights Commission blames Guatemalan government for thousands of illegal executions and missing persons.
1982 – One of the most violent periods of the civil war begins with a coup that enshrines Efrain Rios Montt in power. Congress is dissolved and political parties suspended.
1985 – A new constitution is drafted and democratic elections for president held.
1994 – Government and rebels reach agreements on several issues including human rights.
1996 – Under President Alvaro Arzu peace accords end the 36-year conflict.
2011 – Violence, intimidation, and crime continue to be major problems in political and civilian life.
Today global warming has added crop failures to the political and civil instability of life for the poor in Guatemala and other Central American countries.
Blessed Stanley Rother, pray for justice for the people you love and pray for the safety of those who must flee to other lands.
(Besides the PBS report, information for this article comes from the Blessed Stanley Rother website and Wikipedia.)
Image credit: Catholic News Agency