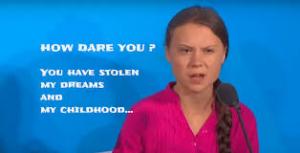 Greta Thunberg, young Swedish climate activist, has spoken in several venues since arriving on our shores by solar-powered sailboat. When testifying before a Congressional committee along with three others young people, she was mostly silent. She gracefully let the others carry the ball, including one Republican who carried it sideways or even a little backward. But speaking on her own, she has been precise, eloquent, and devastating.
We have a "CO2 budget" of 350 gigatons to keep global warming to a manageable limit. We spend 42 of that every year.
Nobody knows these figures from the IPCC report because "You are still not mature enough to tell it like it is."
"You have stolen my dreams and my childhood with your empty words."
I don't believe you understood because if you did and kept failing to act "then you would be evil."
"There will not be any solutions or plans presented in line with these figures today."
The prophet calls it right, sadly.
As Greta spoke these words at the U.N. forum on climate change yesterday, the audience interrupted her with applause several times. But that last statement turned out to be an accurate prophecy. General Secretary Antonio Guterres had called specifically for speakers to share only plans and initiatives that would move the world toward the goal of limiting warming to 1.5 degrees Celsius. Almost nothing of that sort came out.
India's Narendra Modi announced that "the time for talking is over" but neglected the key goal of phasing out coal.
Germany's Angela Merkel announced a coal termination about a decade too late.
China, which has been going backwards on coal, put forward nothing new at all.
The U.S., whose president contributed only mocking gestures and tweets, was not on the schedule to speak.
Like all true prophets Greta Thunberg has met hatred, threats, and mockery. She coolly responds, "When haters go after your looks and differences, it means they have nowhere left to go. And then you know you're winning!"
But in New York on Monday, Thunberg was among friends or, at least, well-wishers. And she seemed to know she was losing. For most of her four-minute speech, she appeared to veer from tears to rage to both at the same time, as in this final quote:
People are suffering, people are dying, entire ecosystems are collapsing. We are in the beginning of a mass extinction and all you can talk about is money and fairytales of eternal economic growth.
Image credit: Trendolizer via Google Images