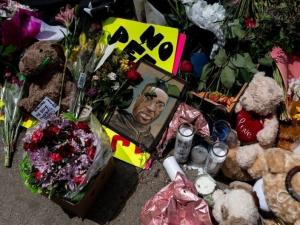 An on-the-spot reporter for Twin Cities WCCO TV thinks the country will look at Minneapolis and find an example of how to both protest and uphold the law. One can hope so. Last night Minnesotans demonstrated that there's a big difference between protesters and rioters. After days of violent confrontation, Saturday and Sunday saw peaceful civil disobedience and well-organized, measured responses by police and national guard.
I'm still waiting for clarity on the issue of outsiders vs. Minnesotans. In my last post I suggested that all the ingredients for the rioting that occurred last week were present in the city of Minneapolis. On Saturday, though, the common thought was that the violence of the previous days was not primarily homegrown. According to St. Paul Mayor Melvin Carter, everyone arrested in St. Paul Friday night was from out of state. Governor Tim Walz said only 20 percent of people on the streets were Minnesotans. Officials walked back that guess quite a way since then. But one still notes white supremacist organizers' online posts about going to Minnesota. (From CNN article "Minnesota officials say outsiders are hijacking protests and 'attacking civil society.'")
The picture isn't clear. Reporters on the protests of Saturday and Sunday nights found almost all marchers were local people. Both days were surprisingly peaceful. The deliberate setting of a fire that destroyed four Minneapolis businesses marred the peace of Sunday night. One of the neighborhood patrols (of which there were several in the city) reported suspicious activity. They witnessed someone from a truck throw something onto the roof of a building and smoke appearing after. No one knows who the people in the truck are or where they came from.
Protesters and law enforcement: "We're all human."
Other than that Sunday night was well-organized on both sides–protesters and law enforcement–and peaceful, even friendly, on both sides. Live cameras recorded the site of hundreds of protesters waiting to be arrested for violating curfew. "Incredible" and "uplifting" were among the words with which reporters described the scene. On TV you could see smiles on the faces and conversations between demonstrators and arresting officers. "Bonding" one reporter called it. Individual protesters were eager to distinguish themselves from those who had engaged in violence and vandalism two nights before: "We have a message to send." "Black lives matter." And, indicating "our friends in the state patrol," one individual summed up: "At the end of the day we're all human."
Earlier in the day there was a dangerous incident with a tanker truck driving through a peaceful and legal crowd on the I-35W Bridge. There were no injuries to demonstrators as people first scattered, then swarmed over the truck, forcing it to stop. One or more individuals starting punching the driver, but others intervened to prevent further injury. One of the punchers talked about it to a reporter later, admitting his own act of violence but hoping to distance himself and the protest itself from senseless violence. The driver of the truck was taken into custody. My guess is he had wandered onto the blocked off highway by accident.
Locals step up
In my earlier post on events in Minneapolis since the murder of George Floyd, I expressed two sympathies. I sympathized with the owners of businesses looted, damaged, and burned but more with the demonstrators. I need to add another sympathy – for the people who depend on all the shuttered stores.
Friends told of the difficulty they had buying needed medical supplies for a relative who lives in Minneapolis. Fear of a repeat of Friday night's violence, including against minority owned businesses, led many owners to close and shutter their stores. Ordinary people, neither participants nor direct victims of violence, suffer more than mere inconvenience.
Volunteer clean-up operations were already underway Saturday. Local small-business owners coordinated their defenses of their stores during the night. An impromptu citizens group patrolled streets at night and offered free food during the day. Meanwhile the area around the place of George Floyd's murder took on the air of a monument to peace and justice. All week all week people had been bring flowers and making signs as a memorial.
Across the country demonstrations continue, some peaceful, some turning violent. In Minneapolis, this weekend at least, three groups of people turned away from violence and toward cooperation at a difficult time. Protesters practiced civil disobedience peacefully, getting their message across. Law enforcement acted firmly but respectfully. And locals stepped up to protect and move on. Move on to where is still in question. Will the protests lead to necessary change? How much protesting for how long is enough?
Image credit Patch News